The weather gods delivered a king-hit of heavy rains and high winds over parts of the country today, causing flash flooding and closing off roads due to slips.
Things are looking better for many parts of New Zealand tomorrow.
However, another weather system is forecast to come our way tomorrow, once again bringing heavy rainfalls to parts of the South Island and strong gusts south of the North Island.
State Highway 73 through Arthur's Pass was closed off because of several substantial slips.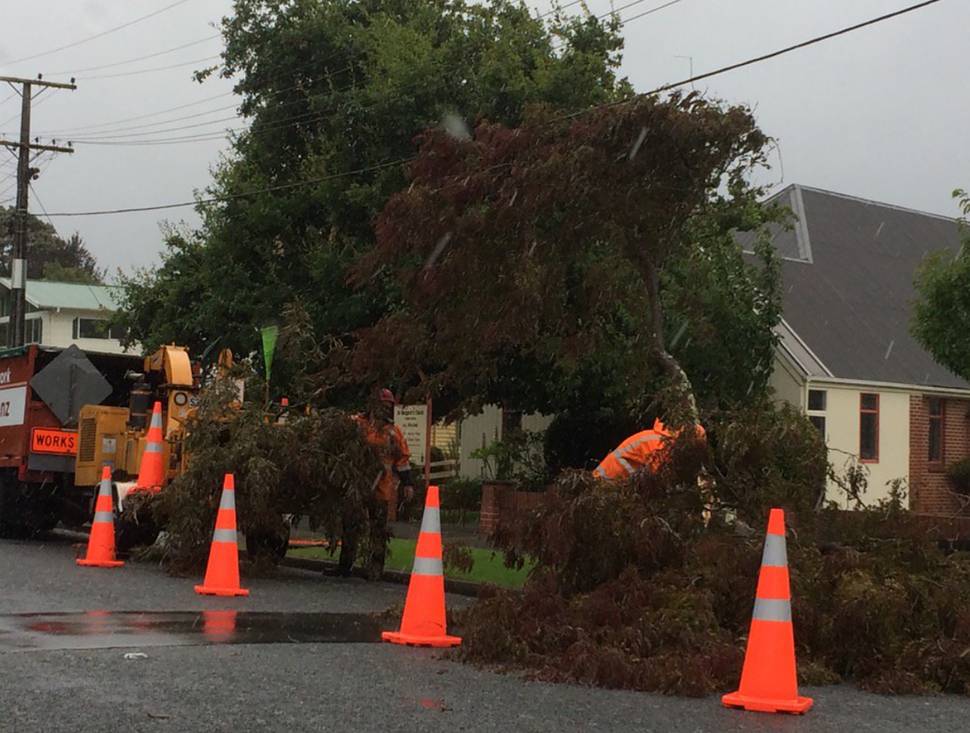 One of the landslides was so big it spilled into the Taramakau River; ensuring the road between Jacksons and Aickens would be closed off until further notice.
In nearby Otira, a woman and her son had a lucky escape after a massive slip demolished a car and spilled onto their house and property.
The woman told Fairfax: "We were first of all a bit shocked and then a bit frightened, but did the sensible thing and just got out.''
MetService recorded 209 lightning strikes over Westland from yesterday evening and more than 250mm of rain fell at Arthur's Pass.
Wind gusts of up to 154km/h were recorded at Rimutaka Summit, 118km/h at Wellington Airport, 172km/h near Mt Hutt and 124km/h in Banks Peninsula.
Last night, a Swedish couple were swept down a flooded Canterbury river while on a tramping expedition.
The man was able to get to the water's edge of Hawdon River, but his partner became stranded on an island in the middle of the river.
An emergency locator beacon would be what authorities credited to saving her life after she was picked up with the help of the Rescue Co-ordination Centre NZ.
MetService said another significant low pressure system is forecast to move eastwards across the South Island on Sunday.
"During Saturday, there is moderate confidence of significant heavy rain from Marlborough Sounds to South Westland, rising to high on Sunday.''
There was low confidence of warning amounts of rain around Fiordland on Saturday and Sunday, as well as the possibility of significant spill over into the headwaters of the Canterbury lakes and rivers on Sunday.
Places including eastern Otago, the Tararua Range and the North Island high country - from Mt Taranaki to the ranges of eastern Bay of Plenty - could all be in for rainfall amounts that would meet warning criteria, the MetService said.
Severe gale warnings were also likely in the Wairarapa, Wellington and Marlborough areas on Sunday.
In Auckland tomorrow, some isolated morning showers are expected. After that, the skies are looking fine and there is a temperature high of 21C.
People in Hamilton are in for a fine day tomorrow, with chance of early shower and a high of 21C. There is, however, an overnight low of 7C.
Further north, Kaitaia gets a mostly fine day as well with a temperature high of 22C. Tauranga has similar conditions, with a high of 23C and an overnight low of 12C.
Those in Gisborne will get fine spells, but also a few showers and southerly winds will be developing. A high of 21C is forecast.
New Plymouth will get fine spells and a chance of showers in the morning. People in Wellington will also need an umbrella, as a few morning showers are expected and a high of 17C and a low of 12C overnight.
There is a bit of a mixed bag in the South Island. Nelson is looking mainly fine and has a high of 17C. There is a chance of showers later in the day.
There will be some cloudy periods and a possibility of showers for those in Blenheim, while people in Christchurch will get a high of 17C and a chilly 7C low overnight.
In Dunedin, the sun will be out too, but there will also be some cloudy periods. Queenstown is mainly fine, with light winds, and a high of 16C and overnight low of 4C.
While those in Invercargill will also need to wrap up tight tomorrow night, as an overnight low of 5C is forecast after a mainly fine day save for some showers in the morning.
Forecast tomorrow:
• Auckland: 21C temperature high. Isolated morning showers, otherwise fine. Southwesterlies dying.
• Hamilton: 21C. Chance early shower, otherwise fine.
• Kaitaia: 22C. Chance early shower, otherwise fine.
• Tauranga: 23C. Fine. Westerlies dying out.
• Gisborne: 21C. Fine spells, a few showers. Southerlies developing.
• Wellington: 17C. Fine spells, a few morning showers.
• Nelson: 17C. Mainly fine, chance of showers later. Northerly winds developing.
• Blenheim: 18C. Fine, but some cloud and chance of showers later.
• Christchurch: 17C. Mainly fine, chance of evening shower.
• Dunedin: 15C. Fine, but some cloud and odd shower. Light winds.
• Queenstown: 16C. Mainly fine, chance of shower.
• Invercargill: 13C. Few morning showers, then mainly fine.