Helen Lee had only minutes to evacuate her Whitianga home, grabbing her cellphone and precious saxophone, leaving all her treasured possessions behind before fire razed the house to the ground.
All of the instruments used by the Mercury Bay Big Band were lost in the blaze.
"They'll all gone, everything," she said.
Despite valiant efforts by her neighbours Michael and Aaron Blowfield, who frantically cut down trees to slow the fire, the blaze surrounded her house and destroyed it.
Lee and other evacuated residents were this morning still in shock and many gathered at another resident's home at the cordon on Comers Rd, crying and hugging as their loss sinks in.
"The fire was too big, there was too many fronts," Lee said.
"It was everywhere. It was here, it was there, it was over there."
Firefighters are still battling the fire, near Whitianga, in the Coromandel. It has destroyed six homes and others remain at risk. The fire has now spread over 100ha.
Michael Blowfield told Lee to evacuate about 5pm as there was only one road out and about 50 residents - including those from the Wilderland sustainable farming community - had to use it.
There have been no reports of injury.
Lee's neighbour, Jani Dennis, is not sure if her house is okay as it was close to the fire's path.
"We don't know. Our house is definitely not out of danger. This morning the fire was heading that way but the choppers were doing a fantastic job. They're like stars, the fire service. They worked 'til midnight and were up again at 6am."
She said it was fortunate that the affected area was surrounded by an estuary, which helped the firefighters.
"They were able to put a lot of water on it quite quickly but that big wind didn't help last night, I don't think."
Dennis said it was unclear how the fire started but there were rumours it may have begun in a digger on a nearby hill.
The fire had been smouldering all day but neighbours weren't made aware of it until they were told to evacuate.
Lee thanked everyone for helping them.
"I would like to commend the actions of my neighbours and also the fire service and helicopters."
Lee praised Michael Blowfield for helping save the house of his mother, Heather Hanson, as not only did he chop down trees but also used a bulldozer in helping clear the area.
Fighting the blaze
It's a hot, dusty and extremely dangerous job on steep, fire-blackened terrain.
Welcome to the perilous work of the four ground crews now battling a bush fire near Whitianga that has already burned six homes to the ground and come close to destroying others.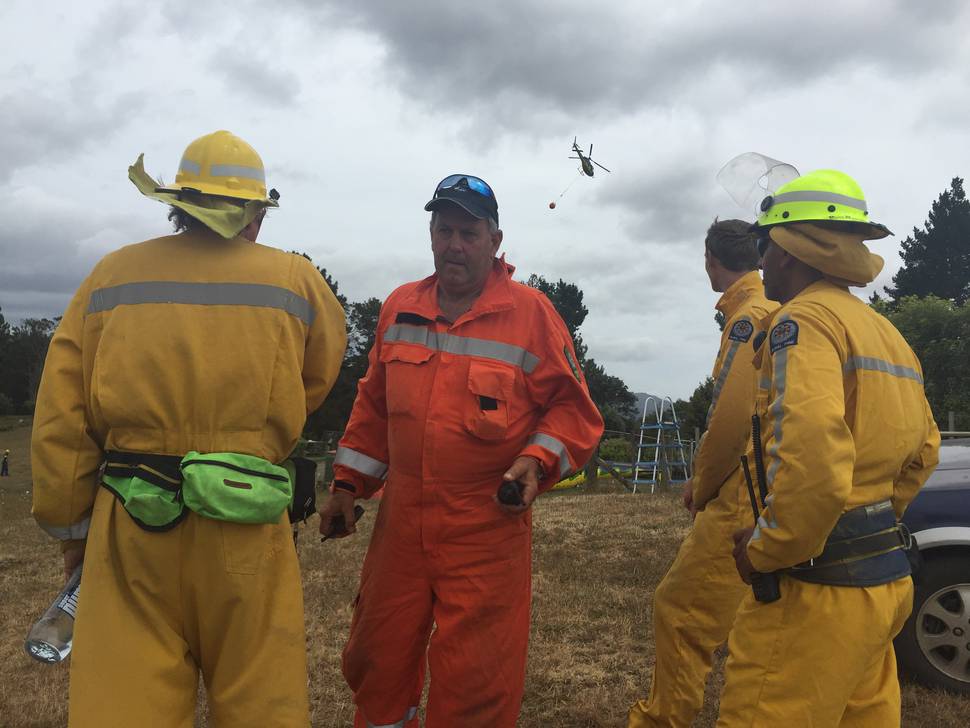 The blaze, which has spread to 100ha over the past 12 hours, has been fuelled by strong south-westerly winds.
Some of the firefighters who have been toiling overnight could this morning be seen catching a rest at a control point halfway along the fire's ground zero, Comers Rd.
Helicopters buzz overhead, as water tankers make their way down the dusty road.
Teams had come from nearby Kuaotunu and Colville, and as far afield as Hamilton.
"It's very steep terrain, it's hot, it's dusty, it's dirty and it's extremely dangerous work out there," said Peter Smith, deputy principal fire officer for the Thames Valley Rural Fire Authority.
Crews were now trying to put out the fire before coming bad weather potentially worsened the situation.
A fierce fire on the Coromandel Peninsula is continuing to burn out of control, claiming properties in a sustainable farming community.
"We're in the process of containing the fire," he told the Herald.
"We have three helicopters, four ground crews and we've got a digger in there that's cutting some extra fire breaks.
"There are hot spots, and they've gone into the roots of some trees as well, so it's a matter of knocking them out before the wind gets up again."
Asked if rain forecast for this week could help, Smith said it could mean the opposite.
"The trouble with the wet weather is you get the high winds, so we want to get it damped down and finished before the winds turn up.
"We haven't got an up-to-date forecast, but down the line it's looks like it could be pretty severe so we don't know if we're going to get there in time."
Coromandel's MP has described the devastation as "pretty scary".
Scott Simpson cancelled meetings today to drive to the scene and talk with affected residents.
"It's immedIately obvious that a big area has been devastated by the fire," Simpson said.
"It's pretty scary to be honest - it's scary because the conditions are windy and it's been very dry here on the peninsula this summer."
Simpson said his first priority had been to talk to residents from the Wilderlands Sustainable Community.
"They've lost dwellings and it's had a pretty serious impact on their community which has been around for a long time.
"It's an iconic part of the community.
"They are clearly at sixes and sevens and they're coming to terms with the situation.
"So they're pleased that nobody's been hurt but obviously they've lost a number of dwellings and they've got to come to terms with what that means over the next few days."
He hoped to speak with other residents later today.
"The community of Whitianga and Coromandel is a very supportive, very caring one so I'm sure, as has happened in other cases when there has been a need, this community will step up and do whatever it can to make sure that local residents are supported in every way possible."
- Jamie Morton