The Auckland City Mission agrees with property magnate Sir Robert Jones on the need to rid city streets of beggars.
"We share a common vision here. Sir Bob wants people off the street. So do we," city missioner Chris Farrelly told the Herald.
The number of rough sleepers in the central city doubled to 200 between 2015 and 2016, he said.
Farrelly was responding to an interview with Newstalk ZB where Jones said he could not believe there were still beggars in New Zealand.
"They're a bloody disgrace. They're an eyesore, it's a disgrace in a modern society that fat people - that fat Maoris as they mostly are - are lying on our streets of our city begging," Jones said.
He said begging should be made illegal.
"I was in the city yesterday, in Wellington, and one bugger was standing there, he had a message, this Maori bloke, 'I'm not on welfare' - and this apparently was an achievement - 'so give me money'."
Farrelly said people begging on the street was not the Auckland or New Zealand people want and it had to stop before it was out of control.
We share a common vision here. Sir Bob wants people off the street. So do we
He called on the multi-millionaire businessman to help find houses for people who are genuinely homeless, saying 55 per cent of the 200 homeless surveyed in May last year were Maori. The other 45 per cent were Pasifika and non-Maori.
Farrelly said a two-year, $4 million programme funded by the Government was under way this year to house the homeless and provide wrap-around social services.
The Auckland City Mission and Lifewise had joined up in central, west and south Auckland to commence the housing-first programme. The longest and most chronic rough sleepers would be targeted first, he said.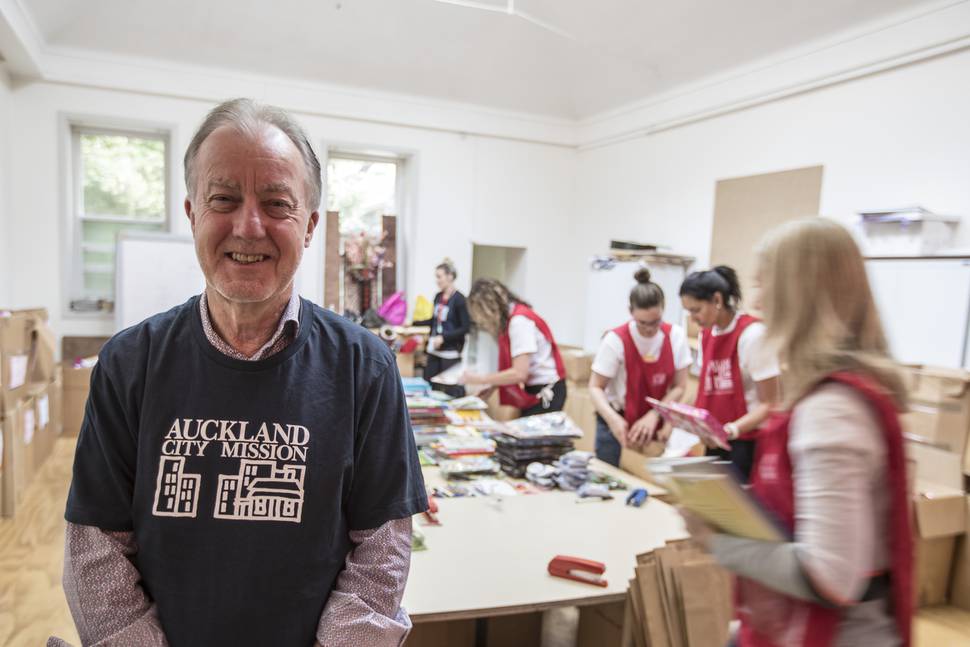 Auckland Mayor Phil Goff is proposing to put $500,000 into this year's budget to co-ordinate the efforts of those involved in the homelessness problem.
A spokeswoman for the mayor said he was not commenting on Sir Bob's views.
A homeless expert also agrees with Jones that begging is a blight on society but disagrees on why New Zealand has the problem.
"We need to look at inequalities and growing poverty, and these things are getting worse and we are going to get more of it," said Massey University Professor of Psychology Darrin Hodgetts.
Blaming the people at the bottom was not going to address the causes, said Hodgetts, who has researched homelessness in New Zealand, the UK and Canada.
Hodgetts and a senior lecturer in social studies at Waikato University, Bill Cockram, have been part of a research project that found about 25 per cent to 27 per cent of the Maori population were part of a group in precarious work and housing, which fed the homeless population.
Cockram called the figures conservative.
Jones' comments come two months after his Auckland general manager Greg Loveridge complained to the Herald about Queen St's homeless people.
"People with drug and alcohol addictions need to be cared for by society but they can't be around to impose on others in the street. Major international retail chains won't come here," Loveridge said.
"It makes it a less attractive place for people to shop and less attractive for international retailers to be and therefore deprives the greater Auckland area from increased prosperity."
A group of global retailers, including Louis Vuitton, Channel, Tiffany & Co, and others have opened near the waterfront in recent years.
But Loveridge said many more were not here, and would not come, in part due to the homeless. The city acted as a magnet for those who saw it as the most lucrative place to be, he said.
At the time, Michelle Kidd of the Te Rangimarie Charitable Trust said the commercial sector should consider helping the homeless and instead of criticising should be providing a night shelter.