Missing yachtie Alan Langdon says his daughter is "happy" after 27 days at sea with a broken rudder.
Langdon and his 6-year-old daughter Que have been found in Ulladulla, New South Wales, police have confirmed.
Langdon told the Milton Ulladulla Times that one of the 6m catamaran's rudders broke four days into the journey. He had steer with one rudder.
"I tell you I learned a lot about sailing," he said.
"Yes we are safe and well. We were always safe, we just couldn't let anyone know."
Langdon was seen walking around casually on his catamaran in Ulladulla.
Photos of Langdon's boat show bags, including a child's backpack, as well as packets of food, large plastic containers of water, a boogie board and several orange buckets.
Langdon said he had not been able to contact Que's mother but was "sure" the authorities had done so.
The Milton Ulladulla Times observed Que playing on a nearby boat looking happy and relaxed.
Langdon said he and his daughter were looking forward to much-needed rest and planned to spend the night in an Ulladulla motel.
When asked about his daughter's well-being Langdon said Que was "happy".
"We had plenty of food and saw lots of whales," he said.
"We just have lots to do now."
Border Force agents made a port to port request for the Langdons to travel north to Port Kembla Harbour.
While reporters were speaking to Langdon, he calmly sorted and tidied items on the boat including almonds, a saucepan, a body board and oars.
Soon after, he left the boat and asked reporters for directions to a Telstra shop.
The owner of a fishing charter said he saw a small empty catamaran tethered to the wharf about 4pm.
"I just wandered over to have a look.
"I thought 'gee that's a funny-looking thing'. It looks like a home-built thing."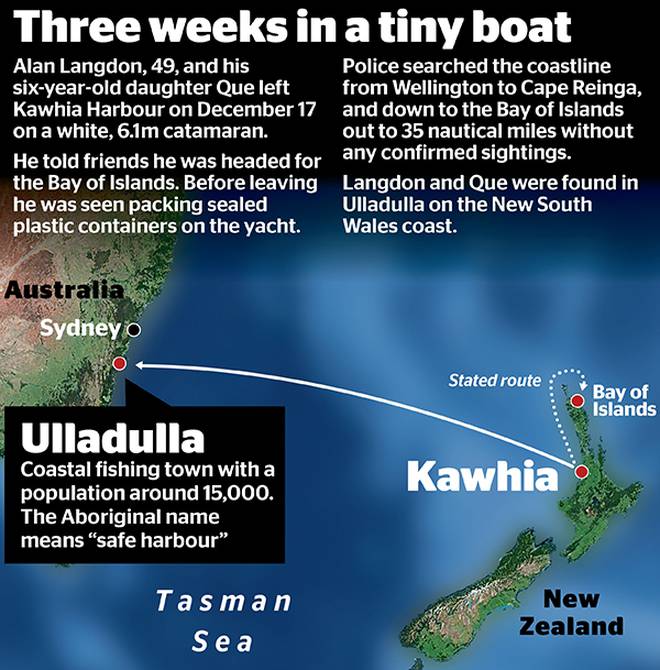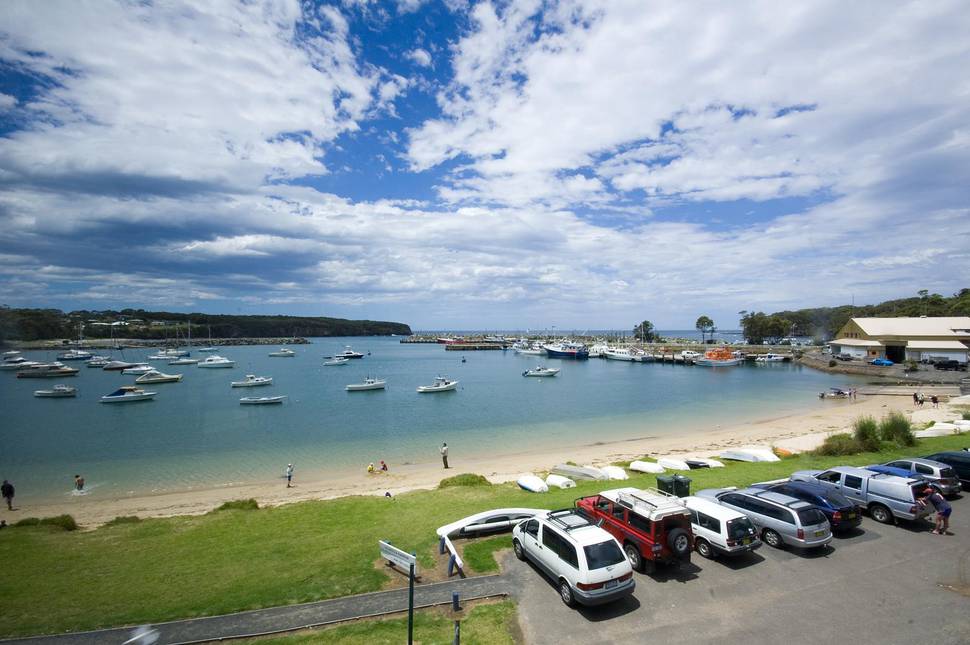 "They went to Alan and Que and said 'you guys were all over the internet, you were all over Facebook'."
Customs and immigration officials arrived at that point, taking the pair away for questioning.
Chapman said his organisation had plastered posters along the coast from Victoria to Queensland in ports, yacht clubs, "anything to do with the water".
Chapman said depending on how long official processes took Langdon and Que might be held in Australia for weeks.
"He should be facing border and immigration charges in Australia and he should be facing similar charges in New Zealand."
Police said although Australian authorities are yet to officially confirm their identities, they believe they have found Langdon and his daughter.
New Zealand police were notified yesterday by Australian authorities after the pair arrived at Ulladulla on Langdon's catamaran.
Police understand that Langdon and his daughter are well, and he is talking to Australian officials.
New Zealand police are liaising with their counterparts in Australia and awaiting further information about Langdon's journey.
An extensive search was conducted of sea and coastal areas between Wellington, Cape Reinga and the Bay of Islands. New Zealand police called off its massive air and sea search last Tuesday.
The alarm was raised on Boxing Day by local woman Mary Smith, who had opened her house to the Langdons.
The possibility that Langdon has sailed to Australia, not the Bay of Islands, had always been considered, police said.
Police will assess all the information about the Langdons' reappearance and the background before deciding their next steps.
Langdon, a stay-at-home dad, built the catamaran on Smith's front lawn.
Smith described Langdon as a competent boatman who doted on his daughter: "She was his best mate. He loved her to the max."
Chapman said he immediately thought that Langdon had made a dash for Australia in the 6m, white wooden Tiki catamaran. Langdon, Chapman understood, had told others the boat was capable of reaching Australia.
"He's announced to many people, friends, family, that this boat will make it to Australia and back 10 times, no problem," Chapman said.
"Some people say the boat was heavily stocked to the gunwales with no room left, and stores for over 30 days."
Wyler, Que's mother, told the Herald that she separated from Langdon last year and had been in a long-running battle to see her daughter.
Wyler, who lives at Golden Bay in the South Island but is now in her native Switzerland, hired Chapman to help find her daughter, whom she has not seen for 20 months.
"I am deeply distressed about this situation and miss my daughter Que greatly," she said at the time. She described Que as a "beautiful daughter" and a "gorgeous little person".
Chapman says it's not the first time that Langdon has gone on the run.
In March 2015 Langdon, Que and Wyler were in Port Vila, Vanuatu, when Cyclone Pam struck.
The severe category 5 tropical storm sank their 14m catamaran, Sanyasin, and the Langdons were lucky to escape with their lives.
After the cyclone, when the Australian and New Zealand air forces were repatriating people, Langdon took off for Australia with Que, Chapman says.
Chapman was enlisted by Wyler to find Langdon, who kept moving about.
Chapman says he eventually tracked Langdon to the New South Wales town of Nimbin where the father and daughter were living in a campervan.