The site where a nine-storey office block once stood on Wellington's Molesworth St is hardly recognisable.
All that remains of earthquake stricken No 61 is a pile of rubble.
Queensgate Shopping Centre, the Reading Cinema carpark and 61 Molesworth St are all in various stages of demolition following the magnitude 7.8 earthquake near Kaikoura.
At Molesworth St, streams of trucks have been on a constant rotation waiting for a digger to load them up with rubble so they can dispose of it.
Most Wellingtonians spared only a glance for the demolition site, something they have become used to since work started in November.
Meanwhile, plenty of sightseers were still gathering to check out the demolition of the Reading Cinema carpark, which started last week.
Contractors there have been working every day to bring the building down by March.
Ray Marckham brought his friend from Australia to watch.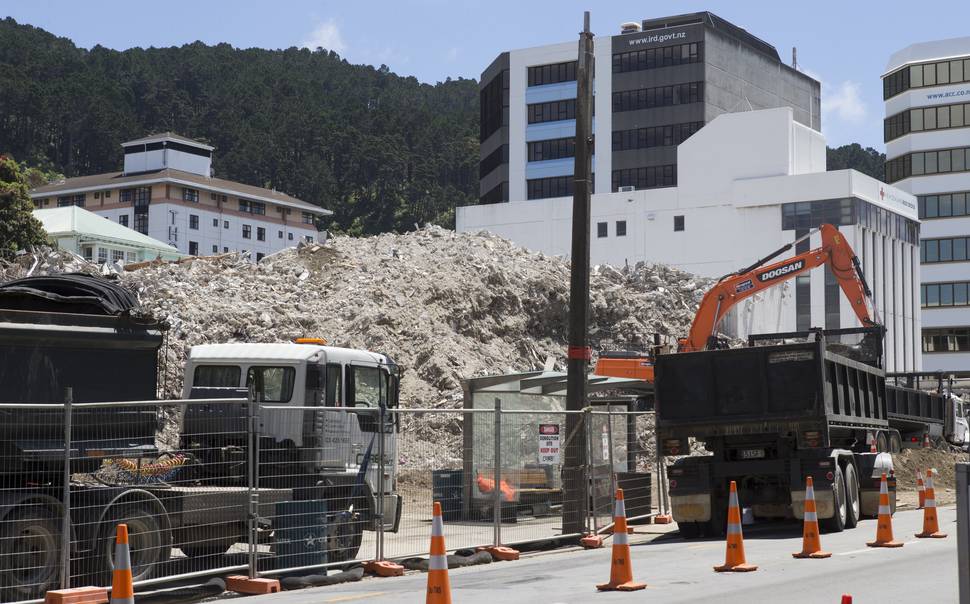 He felt sorry for the retailers and residents stuck in the cordon but was impressed at the rate the building was coming down.
"They're doing it very effectively but I do feel for those who only had 20 minutes or something to get their things out. You would have to be pretty unlucky for the building to actually fall down on you," he said.
Further North in Lower Hutt part of Queensgate Shopping Centre has been demolished.
An entire corner of the carpark and cinema complex has been eaten away by excavators.
One local man was filling his prescription at a pharmacy just outside of a cordon because his usual one was trapped in the closed part of the mall.
"Last week we could see all the seats from one of the other cinemas, it's very eerie," he said.
A purple curtain moving in the breeze and speakers dangling around was all that was left of one movie theatre.