When his hat blew into the lake, the 48-year-old "strong swimmer" didn't hesitate to jump off his boat to retrieve it. Minutes later - as his partner and 9-year-old son watched - he disappeared.
New details have emerged of Wednesday afternoon's tragedy on Lake Rotoiti, near Rotorua.
Yesterday the Police Search and Rescue Dive Squad spent more than eight hours searching the depths of the murky lake water for the Auckland man's body while his family waited at Otaramarae Bay. The divers will head back out today.
The man's brother told the Rotorua Daily Post the missing man, his partner and son had been on the water less than five minutes when his hat blew into the water.
He turned the boat around and jumped in to get it, with his lifejacket on. He was a strong swimmer who was raised around water, which made what happened harder to comprehend, the brother said.
When he hit the water his lifejacket came off and drifted out of reach. His partner and son were left alone on the boat, not knowing how to operate it to get to him.
Then, a gust of wind pushed the boat, quickly moving it further away. His partner tried to throw him a rope but it wouldn't reach.
"He was calling out 'come get me, come get me'," the brother said.
The woman and child watched him tread water for a short time before he went under. It was the last they saw of him.
"They had only just left. We have a beautiful photo of him two minutes before with his life jacket on, it's just a horrible accident," the brother said.
He said yesterday had been a long day, but he was confident his brother's body would eventually be found.
"They're doing a very thorough search, the conditions are as good as you could hope after a rough day [Wednesday]. He will be found, it's just when."
He said family and friends were holding up okay and were based at a nearby house generous locals had given them to use.
"The locals have been extraordinary, they put his son in the house next door with kids to distract him yesterday and welcomed us into their homes. They have just accommodated our every need," he said.
"We've got each other and that's the most important thing."
The brothers were Tokoroa born and bred.
He said they left the area in the mid 1980s, but often came back for family holidays, such as the one his brother was on this week.
"This is home. We have spent a lot of time over these ways."
Holding back tears, the man said they came from a big family and there was a lot of support for his brother's partner and son - who was now back in Auckland with his mother.
"The police have been amazing and the Coastguard as well. We had 14 boats searching after it first happened. It's been amazing, it's just an amazing community."
He said his brother was adopted and Australian police had gone to support his biological mother.
"There's a couple of lessons here, make sure it's not just one person who knows how to operate the boat on board and make sure your lifejacket is fit for use," the brother said.
The family gathered at the wharf on Otaramarae Rd early yesterday and his partner went out with the divers first thing to help map out the initial search zone.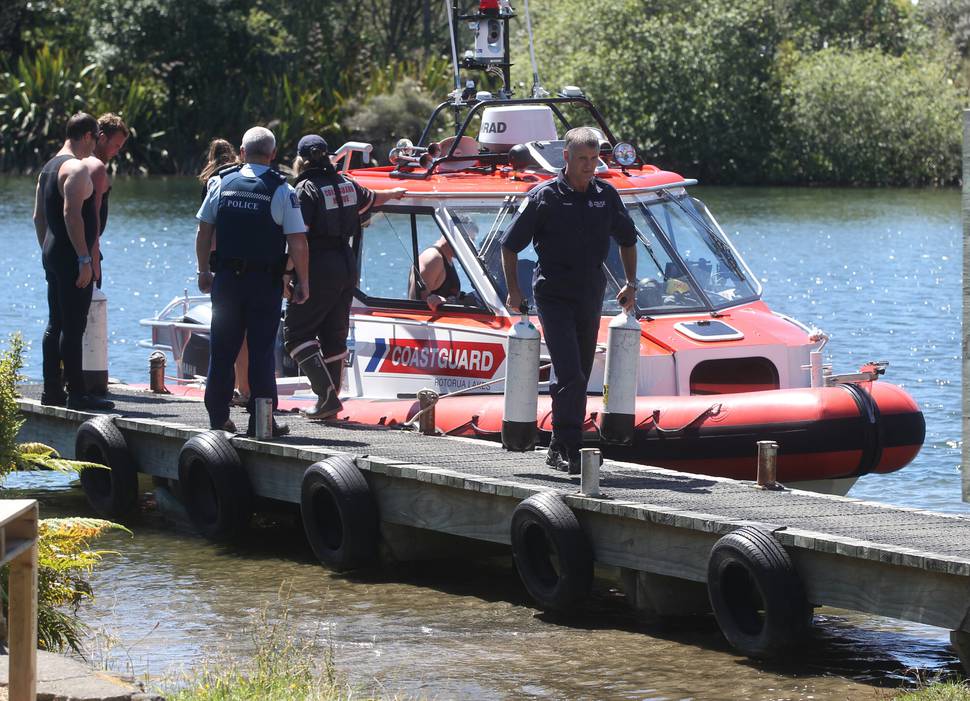 Rotorua constable Colin Fraser from Search and Rescue said they had all the experts helping out.
"This is what they are trained for, it's what they do for a job. There's no one better in the country that could do it."
Fraser said there was a limit to how much diving the squad could do because the nitrogen levels built up in their blood and there was only so much they could take in.
Coastguard Rotorua president Barry Grouby was back on the water yesterday, driving the divers around the search area.
"I think we have done about three or four of these searches before. It's an elimination process and it's time consuming.
"We will just keep going."
He said the man's disappearance highlighted the importance of correct lifejackets and communications.
"Had he have been wearing the right lifejacket he would have been pulled out and no drama."