When it comes to trapping our bird-killing pest predators, a little bit of potent ferret stench could be the missing ingredient.
That's according to a quirky experiment on a remote Hawke's Bay farm, which has revealed how stoats and other pests lower down the pecking order are drawn to the odour of apex predators.
In the just-published study, Dr Patrick Garvey and colleagues set up an array of traps and cameras to see how stoats, rats and hedgehogs responded when ferret odour was added to the rabbit meat typically used in trap lures across the country.
Garvey, a post-doctoral researcher at Landcare Research, was startled to find that adding the smell led to animals being detected 32 times at 11 different monitored sites across the 40sq km site, compared with just seven detections at four different sites when it wasn't applied.
"There were very dramatic increases, both in the time the animals spent around the odour and also in the number of detections," he said.
"We were told that if we could increase detection or trapping rates by 50 per cent, we'd be doing amazingly well - and we got a 300 per cent increase in stoat detections over the month, so that was a lot better than we anticipated."
While it might seem puzzling that an apex predator's odour would prove a draw rather than a deterrent, Garvey explained such "eavesdropping" behaviour was normal among mammals such as stoats.
Like many mammals, stoats have an "olfactory communication system" which detects threats in their environment, helping them increase their chance of survival.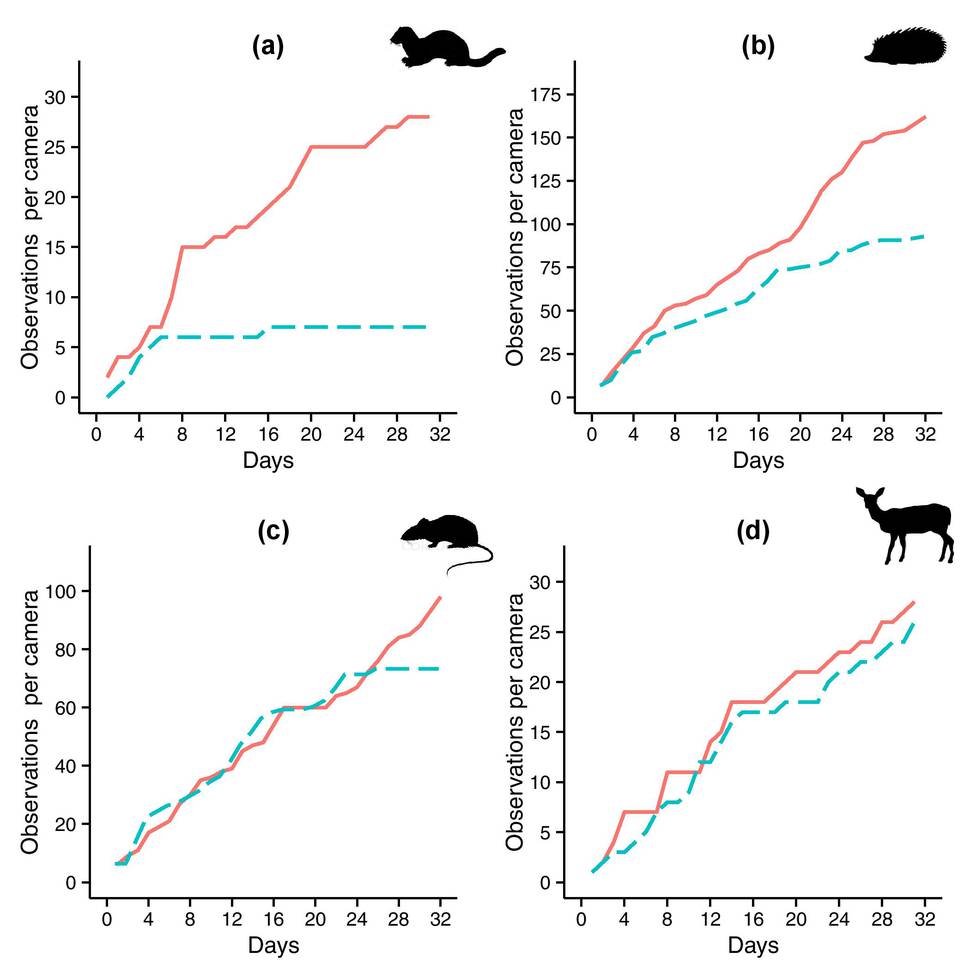 "You could look at it like smelling smoke: instead of running away from it, we'll investigate the source and will try to find out more about it to make things safer for us - I think it could be a similar thing with these low-order predators," he said.
"Although it's a dangerous scent, it has provided them with information that will keep them safe in the future."
Our stoats are descendants of those imported in the late 1800s to control rabbit numbers, which reached plague proportions after their introduction for food and sport.
But since then, stoats have been implicated in the extinction of bush wrens, laughing owls and the native thrush, and have been a major cause in the decline of kiwi, kokako, takahe, kaka and kakapo.
The new insights, now being applied in further projects, could boost predator control efforts by snaring pests that otherwise might not be caught with existing methods, he said.
The study comes amid a new two-year, million-dollar trial by Landcare Research to shield vulnerable and breeding birds from predators by using what's been dubbed "chemical camouflage".
The approach involved using generic bird scents, such as chicken or quail, to lure predators to native bird habitats before they arrived to breed, leaving them with no reward for their efforts.
Once the predators were deceived into thinking there was no prey in that area, the birds could arrive to breed and had a window of opportunity before the pests came back again.