Leotisia Malakai lay in her hospital bed injured and bloodied, connected to tubes and drips - but she sang, she spoke and her family thought she was going to be OK.
Hours later she slipped into a coma and never woke up.
The 55-year-old died, holding her cousin's hand and surrounded by family, on New Year's Day, a week after the tragic bus crash that claimed two other lives.
READ MORE:
• Two dead after bus carrying 46 people crashes down bank near Gisborne
• Older sister remembers 11-year-old Gisborne Christmas Eve bus crash victim Sione Taumalolo as 'quiet, kind and smiley'
• Gisborne bus crash: Tonga's deputy prime minister wants children home
• Two dead in Gisborne bus crash: 'We are lost big time'
Malakai was the head tutor for female students at Mailefihi Siu'ilikutapu College, where she had been teaching for more than 40 years.
She was in New Zealand with a group of her students from the college's brass band and they were performing and raising money for their school.
As the group travelled to Gisborne their bus left the road and plunged more than 100m down a bank on Christmas Eve.
Sione Taumalolo, 11, and Talita Moimoi Fifita, 33, died at the scene.
Malakai died as a result of head and other internal injuries on Sunday.
"She was really, really sick - but she was fighting and fighting," her cousin Sinai Meafoou told the Herald this afternoon.
"I was with her when she passed, I held her hand until her last breath, it was very, very emotional.
"It was also very, very peaceful. Sia was a lady of God and I believe she had accepted this, so the moment she passed it was peaceful.
"She was a very loving, very kind person. Sia was a very beautiful and kind-hearted lady.
She was very humble."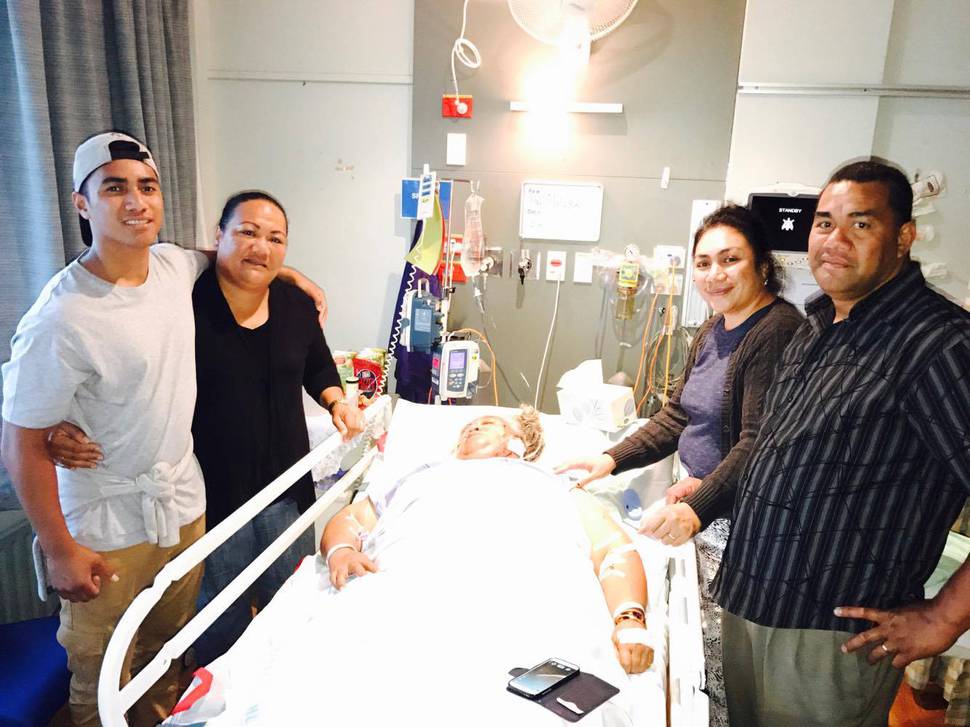 Malakai was born and raised on the Tongan island of Vava'u.
She never married or had children, and was the sole caregiver for her elderly mother.
"Her mother is 89. She never left her mother, until this trip," Meafoou said.
"All her siblings married and she was the only income and caregiver.
"Wherever she would go she would always take her mum, but not on this trip."
Meafoou said Malakai's mother "cried and cried" when she was told of the death.
"They lived together in a house on the college property, so now the mother will have to move back to her village, that's what we are trying to look at right now, what we can do and how we can help."
Meafoou lives in Wellington and spent time with Malakai when the group visited the capital.
"She had a lovely time in New Zealand, when we were Wellington she had a good time and we were talking a lot about our family back home in the islands.
"It's very, very sad for us."
Meafoou said her cousin was admitted to Gisborne Hospital after the crash.
She had obvious injuries but was able to speak to family who rushed to her bedside from across the country including Palmerston North, Katikati, Tauranga and the South Island.
Malakai also had spinal injuries and needed surgery, so it was arranged for her to be airlifted to Waikato Hospital.
The night before she left she said goodbye to her relatives and told them she would see them the next day after her operation.
However, on Monday night Malakai's condition deteriorated - she suffered a cardiac arrest and was put on life support.
"We were all thinking she was OK because she was singing and talking," she said.
"But then she was in a critical condition, she was unconscious the whole time."
Meafoou said Malakai's body would be returned to Tonga for a funeral.
Because she was a much loved and highly respected teacher, her college and church leaders were planning the best way to farewell her.
Malakai's death came as a shock for her whole family.
"We're still trying to cope," she said.
"Things happen unexpectedly and this is not what we wanted, but we have to try and accept it, with sadness.
"You never know what is going to come tomorrow."
Malakai's niece Tufui Kama was also at her bedside during her last days and was the last to speak with her before she died.
"She was a very valuable member of our family," she told the Herald.
"I was the last one she spoke to with her uncle, her mother's brother before she was in a coma," Kama explained.
"She had a cardiac arrest on Monday night following my arrival and for 15 minutes the doctors did CPR and she put on her life support.
"She never spoke again."
Kama said before the arrest Malakai was speaking about her faith in the God.
"She was a woman who trusted in the Lord and someone that gave her life to serving the lord," Kama said.
"She was talking with me even though her right eye was closed due to her injury and right side of her mouth as her jaw was fractured.
"She was still able to speak and all she was saying to me was that we need to praise God and let his will be done.
"I look back now (and think) that she wanted us a family to continue to trust in the Lord despite what has happened to her."