It's not even Christmas yet, but Boxing Day sales are already kicking off.
Some retailers are jumping the gun and starting their sales two days early.
Noel Leeming has a countdown timer for their Boxing Day sale which begins tonight at 7.10pm on their website.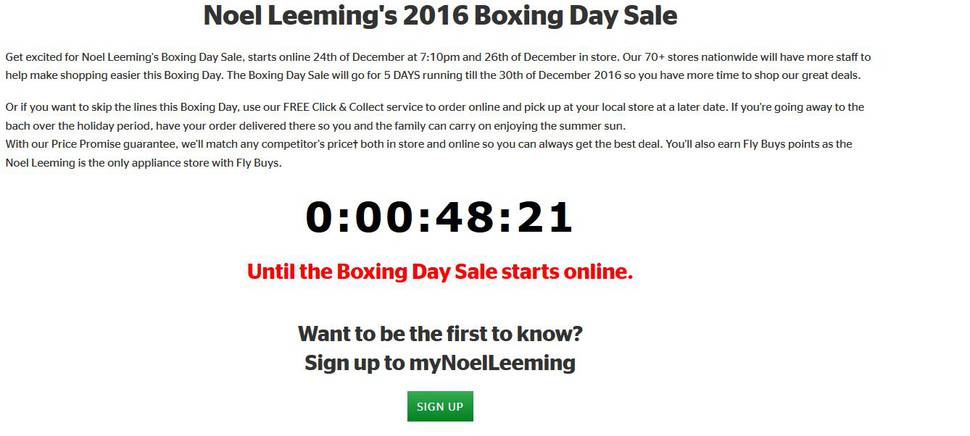 Online retailer Mighty Ape's Boxing Day sale has already begun, with some items being offered at 80 per cent off.
Smith and Caughey's Boxing Day sale begins on Christmas, offering customers price reductions through their online store.
Research undertaken by Mastercard found a quarter of New Zealanders will make purchases on Boxing Day, despite half of Kiwis saying the rush in the shopping centres the day after Christmas is stressful and not worth the hassle.
Mastercard country manager for New Zealand Peter Chisnall said there is an increasing group of people who take advantage of the sales and buy their gifts after Christmas.
The research found half of Kiwis felt getting presents for the big day was more important than getting a better price later.
"Kiwis are more likely to take advantage of the days after Christmas to purchase items for themselves rather than extra presents, with a quarter saying they will make additional purchases on top of Chrismtsa shopping and less than 10 per cent saying they would hold off buying actual gifts until the Boxing Day sales", he said.
The research showed online shopping was rising in popularity, with 45 per cent of respondents saying it was easier to get Boxing Day deals online than in the stores.
Mastercard also asked those they surveyed what they would do with their money if Christmas was cancelled.
Almost half - 47 per cent - said they would leave money in the bank, with 29 per cent saying they would put it into savings or investments, 26 per cent said they would pay off debt and 17 per cent would go shopping for themselves.
Others said they would give money to charity or their grandchildren, go to a concert or go on an international holiday.