One year on, Auckland's City Rail Link (CRL) construction is on target, the builders say.
Project director Chris Meale thanked Aucklanders for their patience in dealing with all the construction work going on in the inner city, including the CRL work.
"While traffic delays in downtown Auckland are below predicted levels as people take more public transport and change their travel patterns, we appreciate that such work does cause inconvenience and frustrations."
Meale said the project and contractor teams had worked hard to liaise with businesses and others affected by the work.
Construction on the underground rail line linking Britomart and the city centre to the western line near Mt Eden began 12 months ago.
More than 90,000 people work in the city centre daily. Auckland Transport data over the past 12 months shows:

• More people are travelling into the city. The morning peak in September was 1.6 per cent higher than a year previously.
• Fewer people are bringing their car. In September 2015, 54 per cent of peak morning visitors were in a private car. This year the number has fallen to 49 per cent.
• More Aucklanders are using public transport and cycling. Train patronage in October was 17.7 per cent higher than the previous October.
• Mean peak traffic speeds in the city centre are the same or slightly higher than before CRL began.
Meale said impressive statistics were being achieved for New Zealand's biggest infrastructure project.

So far:
• All contractors have completed a combined total of 273,000 hours of work. This equates to one person working 136 years.
• The Connectus Joint Venture (McConnell Dowell and Hawkins) is constructing the cut and cover tunnels under and along Albert St from Customs St to Wyndham St. CRL works from Britomart Station to Wyndham St are on schedule. All four shafts required to move deep stormwater pipes in Albert St have been excavated to the required depth. Tunnelling is under way and has advanced 60m from Victoria St to Swanson St with the contractor advancing four to six pipes a day. At this rate, the 300m drive to Swanson St will be completed by Christmas.
• The contract requires 360 piles to be constructed and 125 jet grout columns. So far 100 piles and 100 jet grout columns have been constructed. This is ahead of schedule despite being carried out in areas of the most unknown geotechnical condition.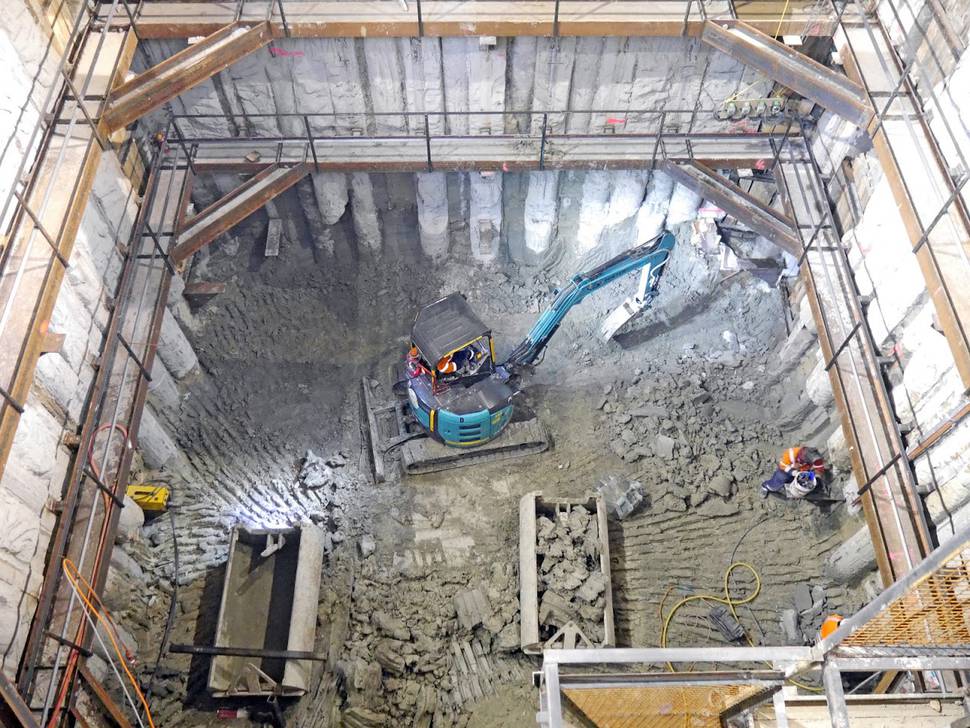 • Downer NZ and Soletanche Bachy Joint Venture who are building a temporary entrance from Commerce St for the Britomart Transport Centre are on target to open the building by January 16 when the Queen St entrances close.
• AT contractors have achieved full environmental compliance at every audit. Two isolated incidents of uncontrolled run-off were dealt with quickly.
• One contractor has achieved a leading rating for sustainability which is above the target of excellent. A rating for the other contractor is pending.
• There has been only one medical injury.
Meale said: "The successes to date are a credit to everyone involved and it means Auckland can soon look forward to the transformation the City Rail Link will bring."