A sister of one of the men who died in the Kaipara Harbour fishing disaster says she hopes the tragedy leads to the law on life jackets being strengthened.
"Out of this tragic accident I hope that the charter companies legislation in New Zealand improves more and ensures that the commercial charters are a lot more stringent with their safety rules," said Lydia Sijp-Marsters, sister of Fred Marsters, after a memorial service tonight in South Auckland.
Sijp-Marsters, a disaster management adviser in the office of the Cook Islands Prime Minister, said her brother was extremely safety conscious.
She recalled her youngest brother as the peacemaker of the family.
"We didn't argue with Fred. He just loved us all."
She was glad he had discovered a love for fishing because the Marsters "are a renowned fishing family in the Pacific".
She had a stopover in New Zealand on her way to Japan from Fiji for work and saw Fred just before the Kaipara trip.
"We spent the night together enjoying dinner with the family. "
Fred received a phone call about the fishing trip and had to organise food and fishing gear.
He dropped her off at the airport and in their last conversation she wished him an enjoyable trip "because I was really happy he had learned to be a fisherman".
She said Fred's wife had been diagnosed with terminal breast cancer. Her stitches had been removed this week and she was about to start chemotherapy. The youngest of the couple's three children is 17.
Sijp-Marsters told the service, "I feel for all the other families who lost husbands, brothers and uncles.
"For Christmas we will be mourning our loved ones. Christmas for Fred's family will be without him."
Earlier in the evening people gathered for the memorial service for the eight men who died in the tragedy.
Many are From Auckland's Cook Islands community.
They were: Bill McNatty, Sunia Ungo'unga, Alipata Manumu'a, Aue Aria, Tevita Tangi, Fonua Taufa, Fred Marsters and Taulagi Afamasaga.
Two of the victims were Cook Islanders as is one of the survivors.
Tragedy struck when the Francie capsized on November 26.
Three men survived.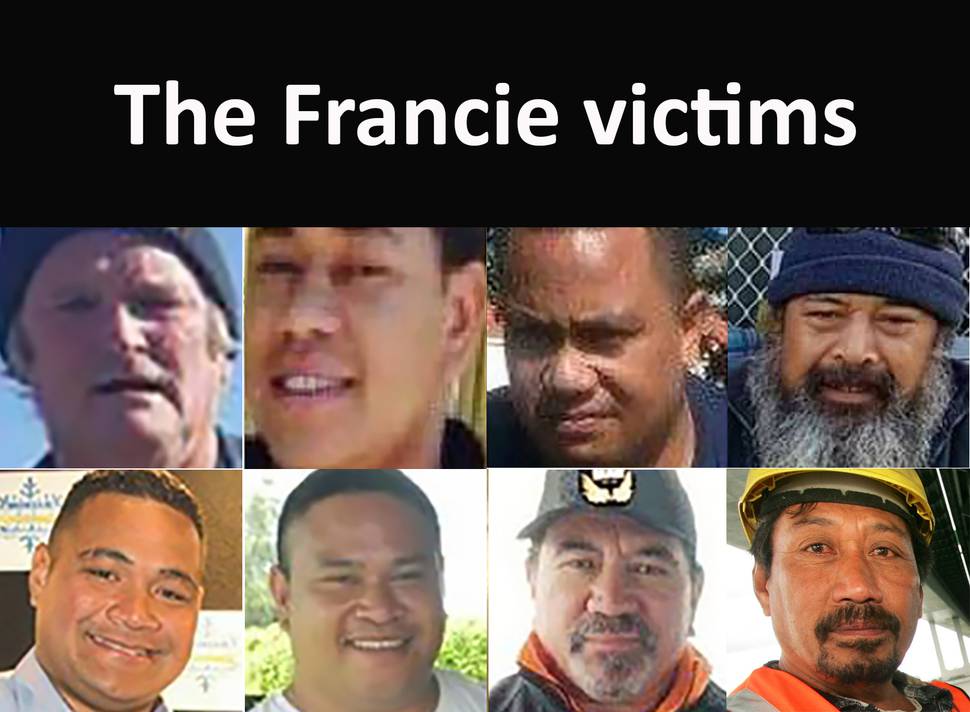 Taia Williams, who was on a boat inside the bar when the Francie was in trouble, said before this evening's service began, that the finding today of the last of the dead mean was good news.
"This helps everybody - for grieving and for the funeral as well."
"Everybody has just been holding their own, thinking about the whole thing."
The Cook Islands Consul in New Zealand, Roseline Blake, read a letter of condolence from the Queen's Representative in the Cook Islands, Tom Marsters.
He is the cousin of one of the men who died, Fred Marsters.