Schools across New Zealand have received bomb threats.
Police said a threatening pre-recorded message of a "concerning nature" had been phoned in to a number of schools.
"We understand the fear and concern that these calls cause, however we reiterate that so far we have not established any actual threat."
The Herald can confirm schools in Auckland, Hamilton, Tauranga, Gisborne, Palmerston North, Masterton and Christchurch have received calls.
Police said they would not be disclosing the names of each school that had received a call today given the ongoing investigation and to prevent further such calls being made to other schools.
Police are working with the schools' management teams to decide the appropriate response.
"The safety of students, teachers and schools are our priority."
The Ministry of Education has transferred a senior staff member into police national headquarters to ensure there is a coordinated response to today's large scale threat.
It is believed Michael Park School, Sherwood Primary School, St Mary's School, Lytton High School, Point View School, Clendon Park School, Kingsway School, Papakura High School, Berkley Normal Middle School, Palmerston North Boys High School, Riverdale School, Masterton Primary School, Taita College, Pukekohe Intermediate School, King's School, King's College and Tahatai Coast School were affected.
On Papakura High School's Facebook, the school said it received a call at 11.15am saying there was a bomb threat.
"The police arrived and searched the school and informed us that it was safe for us all to return to classes.
"We were not the only school to receive this type of call today and the matter is being dealt with by the police."
Papamoa's Tahatai Coast School's Facebook page warned parents of the threat and said the school has been evacuated to Grenada Reserve.
Emergency authorities responded, and it is understood some have been asked to help manage the crowds of parents who picked up their children.
The school instructed parents to collect only their child or children from specific staff.
A parent told the Bay of Plenty Times her son had been evacuated.
A reporter at the reserve said the area ''was a madhouse" as parents arrive to pick up their children.

''There are so many cars here, picking up their kids. People are not panicked as such but there some parents who are a bit anxious, rather than panicked."

Parents were sent a text message to pick up their children.

Students who had not yet been picked up were lined up and roll was taken to make sure all students were accounted for.

The parent of a child at Riverdale School, in Palmerston North, told NZME she went to the school to pick up her daughter, but was told all students, parents and staff were locked down in the hall.
The woman was told there had been some sort of call made and no one was allowed to leave.
She left to pick up her son from Palmerston North Boys High School and had just received a text telling her she could now collect her daughter from the primary school.
Police believe that today's calls may be similar to those received earlier this year, which inquiries indicated originated overseas.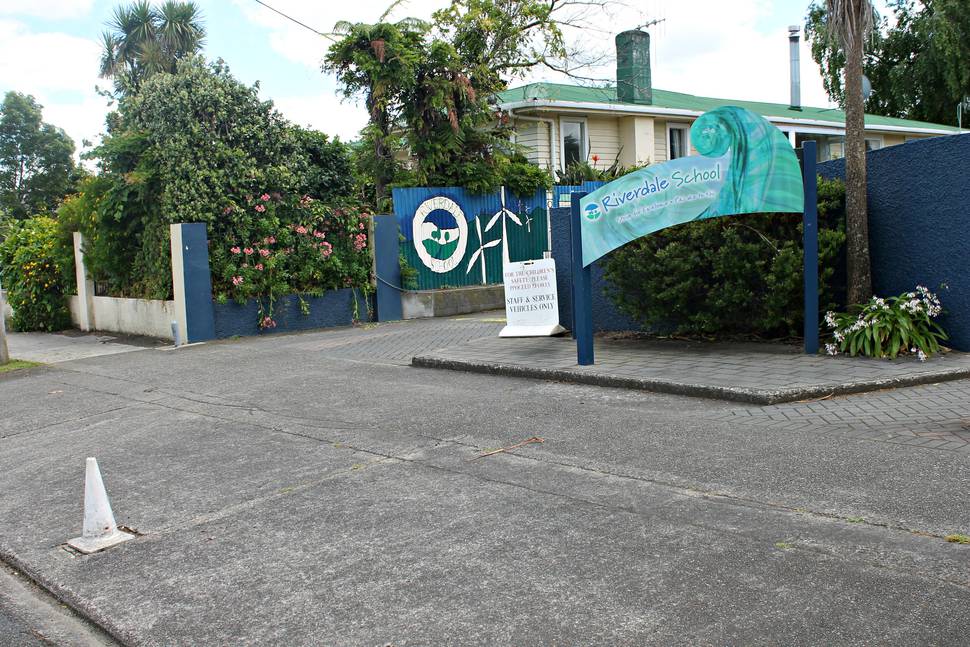 "We should make it clear that while such calls may display a New Zealand number, they can still be originating from overseas."
Prevention manager Senior Sergeant Gordon Crawley said Wairarapa police "believe very much that it was just a hoax".
Police attended Masterton Primary School just after 11.30am.
"We checked the school to make sure there wasn't anything there untoward."
After checking the premises the police declared the school as safe.
Students are now back in class.
Crawley said police were still investigating where the call had come from.


"We must take all these calls seriously and respond accordingly," police said.
How a school responds to these calls was a matter for the schools' management in conjunction with police.
Schools would respond differently according to their individual circumstances and the information available to them.
Ministry of Education head of sector enablement and Support Kim Shannon said schools will respond in line with their emergency plans and will take advice from police.

"It's extremely concerning and disappointing to see schools targeted in this way.
"Schools have processes and systems in place to manage any threat to student safety and parents can have confidence in those measures. Student and staff safety is always paramount.

"We're talking to the schools to offer any additional support that might be required while police continue to investigate the threats."
A number of NCEA exams are still under way, including Japanese, Maori, media studies, classical studies and chemistry.
Previous threats
In February this year hoax bomb threats were made to at least 33 schools around the country.

The calls happened over two days and the police believed they were linked.

Similar threats have been made in the United States, and more recently in Australia.

"Until police can rule out any actual threat, we must take all these calls seriously and respond accordingly," police said in a statement.

"The safety of students, teachers and schools are our priority. We understand the fear and concern that this will cause, however we reiterate that so far we have not established any actual threat to any school."

Two Northland schools and more than eight Auckland schools received the threats.

Kerikeri High School was evacuated as a precaution and it was understood a school in Kaitaia was also threatened.

Glendowie Primary School Board of Trustees chairwoman Dawn Garbett said the school received a bomb threat from a caller about noon on February 25.

"We evacuated the buildings and called police. Police spent about half an hour doing a full sweep of the school but didn't find anything."

Schools who received threats in February included Brookfield in Tauranga, Tamatea High in Napier, Central Normal in Palmerston North, Wellington High in the capital, Burnside High in Christchurch and Logan Park High in Dunedin.

The threats were found to be groundless.

Superintendent Chris Scahill said the calls might have been computer generated.

"We are very aware of very similar incidents occurring around the world, in particular the United States, UK and recently Australia," he said.

Bomb threats in those countries involved recorded voice messages being directed at schools.

"We're currently investigating whether we are the latest in this long string," Scahill said.

"Tracking the calls can be challenging to bring this back to a particular location or person responsible," Scahill said.
A spokeswoman from Riverdale School said the suspicious call came during an assembly.
Students, staff and parents had already gathered in the school hall and had to remain there while police assessed the situation.
She said the calls were coming in at 45-minute intervals across the country and were automated. The school had put in place safety procedures and said parents were aware of the situation.
However, two parents told the NZME they hadn't been called by the school and were unaware of the incident. They believed it was only those present at assembly that were given any information.
The school's spokeswoman added that parents and students remained calm and orderly throughout the ordeal, and the school did not announce it was a lockdown as they did not want to incite hysteria.
She said the chair of their Board of Trustees was also onsite with police. The school was now back to business as usual, with parents encouraged to pick up children at normal times.