They were husbands and dads. Cousins and mates. Proud men whose heritage spanned the Pacific: Tonga, the Cook Islands and Samoa. And in Bill McNatty, a skipper described as a happy-go-lucky seaman with more than 100 fishing charter trips under his belt.
The men were all on board the Francie when it went down in heaving seas at the Kaipara Harbour entrance on Saturday, a day of fun and relaxation that turned into tragedy.
The sinking of the Francie is one of New Zealand's worst maritime tragedies.
These men are the faces of that tragedy.
Victims
Skipper Bill McNatty
Francie skipper
, 68, was a happy-go-lucky sort of chap. He was a father and he lived in Shelly Beach with his partner, Wendy Marshall. McNatty was familiar with the water and had made about 100 charter trips at the helm of the Francie in the past three years.
Sunia "Junior" Ungo'unga
Tongan Sunia "Junior" Unga'unga, 43, was a father of four. He died alongside his cousin, Alipate Manumu'a. The pair would fish together most weekends and chartered the Francie with friends once a month. Junior worked at Independent Liquor along with one other of the men.
Alipate "Pate" Manumu'a
Tongan Alipate 'Pate' Manumu'a, 33, died alongside his cousin on the Francie fishing charter. He was father to three children. His oldest child turned 7 on Sunday, the day after his tragic death.
Tevita Tangi
Tongan Tevita Tangi, 31, also known as David, was the youngest on board the Francie. The father of four attended Tangaroa College and had previously worked at a Manukau night club as a bouncer. Friends and relatives have been expressing grief and shock over Tangi's death on social media. One friend wrote Tangi was "a loving family man who turned his life around for the better".
Fonua Taufa
, 42, is survived by his wife, Debbie Taufa. After learning of her husband's tragic death, she posted a photo of the pair together on social media with the words: "Lord, please help me to be strong." Earlier photos of the pair together had attracted comments from friends and family jokingly describing them as Romeo and Juliet.
Fred Marsters
, 58, was a father-of-three who hailed from an island renown for fishing. Consul General Rosie Blake said Marsters came from the smallest island in the Cook archipelago where its inhabitants were famed for their fishing prowess. "They are men of the sea," she said. His wife Ann Marsters has told of her heartbreak at losing her partner of 37 years. She is dying of cancer.
Auerua Ngametuaangai Aria
Cook Islander Auerua Aria, 59, has been described in Facebook tributes as a "very sweet man" and a "quiet and humble person". According to posts, he always had a smile on his face, could "get on with anyone" and had a "beautiful way of carrying himself".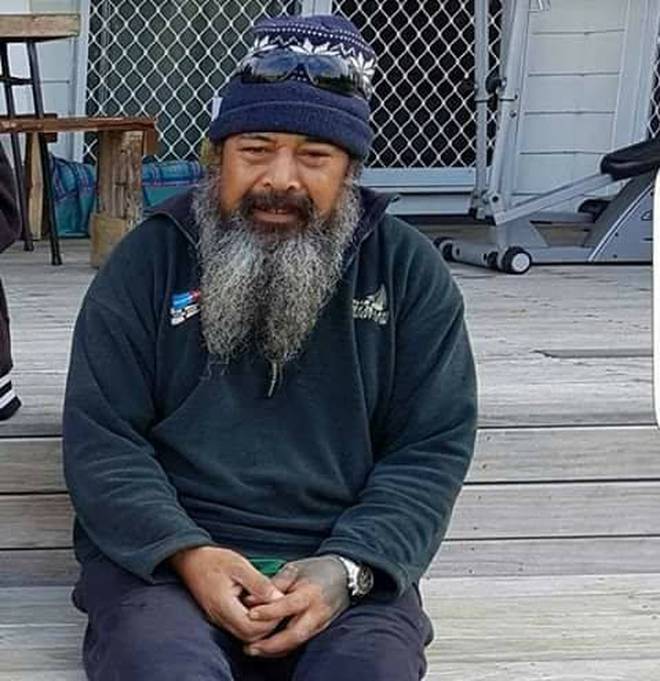 Missing
Taulagi Afamasaga
Samoan Taulagi Afamasaga, 56, is the last unaccounted fisherman from the tragic Francie capsize. His daughter, Amy Yerro,
her father was a humble and generous man. She said the family was barely hanging on and that they just wanted him home. Police say he is presumed to have drowned. The search for Afamasaga is continuing.
Survived
•
Iripa Iripa, in his 50s, was the only survivor from the Francie capsize who managed to swim to shore, clinging to four lifejackets. Iripa was in the four-metre swells for hours and by the time he made it into Muriwai Beach his ribs were broken and his clothes had been stripped off his body. His first words to rescuers on shore were: "How many survived?" Iripa was released from hospital yesterday.
• An unidentified survivor was seen bobbing in the ocean clinging to a chilly bin after the fishing charter capsized. He was plucked from the monster swells by a helicopter winch and flown to nearby Muriwai Beach.
• Another unidentified survivor who was wearing a lifejacket was pulled out of the ocean via a rescue helicopter winch and was also flown to Muriwai Beach.