A hug has been the reward for each person who has helped Waiau resident Helen Beattie since the earthquake shook her town.
And when the Prime Minister flew in for a quick visit today he got one too.
"I've been hugging people, anyone who has come to help me I've given them a hug. I've been accused of being the hug monster," Beattie told reporters afterwards.
"And I was just honoured to meet John - am I allowed to call him that? - and I thought, I wonder if I can give him a hug, and I did. I feel shaken for different reasons at the moment."
Beattie said she had been "a wee bit" stressed since the quake struck.
"I have my good days, and then I woke up this morning and thought, nah, this is ... I just need to come down here again and, yup. Just a bit of emotional support mainly. The whole community has just been awesome."
Earlier, Michelle Beri met Key and pointed out some of the damage to the Waiau Lodge Hotel, which she co-owns.
Beri told Key she had been through the Canterbury earthquakes and lost a house there. She had been in Waiau for 20 months.
"Currently we are sleeping in the car park. I'm in a campervan that someone has borrowed."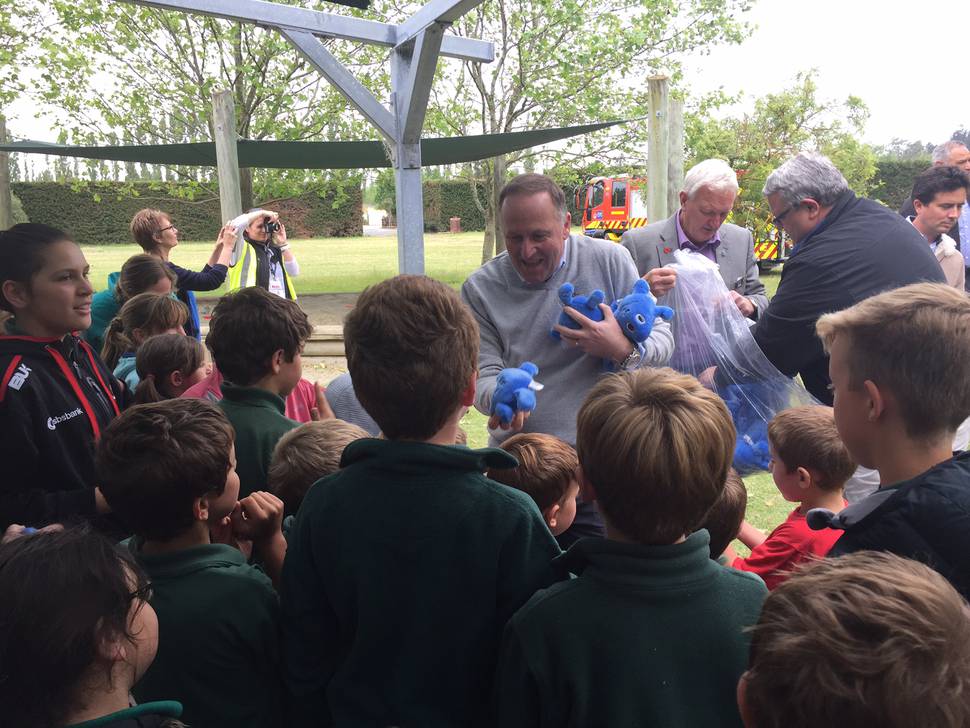 Key also handed out blue bubble toys made by Hanmer Springs children to students at Waiau School.
About seven of the 55 Year 1 to 6 students had their homes red-stickered, said Principal Mary Kimber.
The children were impressed with Key's entrance, as his military NH90 helicopter kicked up a storm of freshly cut grass as it landed.
Several of the children told Key how they were living in campervans or other houses after the quake. Most of the kids live on sheep or beef farms in the rural area.
One child said there were lots of cracks in her house. Another said their dairy shed had come of its wheels. Another student said there was a big slip in their backyard.