A 106-year old lodge has pancaked in Monday's horror earthquake, with its owners lucky to escape with their lives.
Donna Ridings and Paul Craig were asleep downstairs in the Sherwood Lodge north of Waiau in North Canterbury when the giant magnitude-7.8 quake struck.
As the violent shaking increased in intensity, the walls started to cave in and the roof began to collapse.
Fearing for their lives, the pair jumped 2m out of a bedroom window and ran to the safety of the tennis court out front.
Neighbours Kara Lynn and Stephen Palmer who live across the Lottery River rushed to Sherwood Lodge, fearing they would have to drag bodies from the rubble.
"We got out but we were lucky," Ridings told the Herald today.
"We had guests the day before, oh my god ... and the room that they were in has flattened."
Sherwood Lodge was built of concrete and river stone in 1910. The upper floor was built of plaster and lath in 1924.
Now, it's lies in rubble, with both wings completely collapsed, its rear fallen down, and other walls teetering precariously.
Building inspectors red-stickered it on Friday.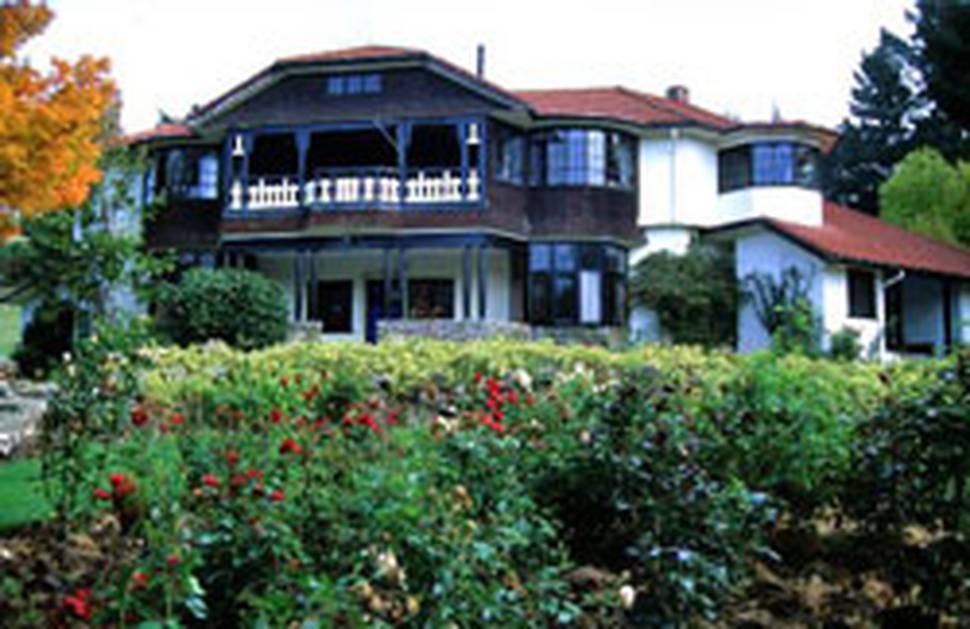 In running for her life on Monday, Ridings cut her upper leg.
However, she never noticed the nasty gash for another 48 hours.
"Through the adrenalin and the shock of things, I never realised it," she said.
"It wasn't until the third day, I wondered why my leg hurt so much and then I found the cut. It goes to show how much adrenalin can set in and you don't even realise stuff like that happens."
Ridings and Scott bought the lodge in 2012.
They worked tirelessly to transform it into a popular B&B, making the most of the "view to die for" of rolling green hills, snow-capped mountains in the distance.
Now, it will have to be demolished.
"It's heartbreaking," says Ridings.
"We just have to move forward now. The damage is done. Everyone has been really, really great - we can't ask for anything more after what has happened. Everyone bands together now, just like they did after the Christchurch earthquake. At the end of the day, that is all that matters."
They've been sleeping in a shed on the property. But their insurance policy allows for the rental of a caravan or something similar.
Ridings is considering taking up that offer.
"Even though I'm set up really quite well in the shed, I'm afraid it is going to fall down or the trees behind it will fall on me," she said.
"Listening to the noise that night, it was really freaky. I'd rather be in a tent or caravan on the tennis court and know it couldn't hurt me."
While neighbours were quick to check on them, Ridings says there was no official contact with them for two days.
Like others in the Waiau region, Ridings says they feel "forgotten about".
While sitting at their neighbour's house, which is off-grid, they sat and watched TV news reports on Monday.
"I was still in shock and bawling my eyes out and all we could hear was Wellington this, Wellington that and I was thinking, 'What about the rest of us, where it actually happened?'" Ridings said.
However, she has vowed to stay positive.
And she plans to rebuild on the same picturesque site.
"It's going to be a single-storey wooden place," Ridings laughs.
"I'd like to put a Queenslander up there, with nice big verandas around it, and certainly no internal fireplaces, that's for sure."