Blood poured down Lindsay Collins' face as he raced down the stairs of his century-old Waiau pub.
He'd already grabbed son, Scott, 22, from the second-level room next door before fleeing outside as paintings, furniture, glasses and brick chimneys crumbled around him.
Collins is part-owner of the Waiau Lodge Hotel which sits on the town's main street just down from the local mechanics and the dairy which has its stock strewn across the room.
Nothing is open in the town today, there's just an eerie silence as the town remains cut off in all directions. However, people can walk across the lengthy Waiau River bridge, but it can be unsettling to be on there when an aftershock strikes.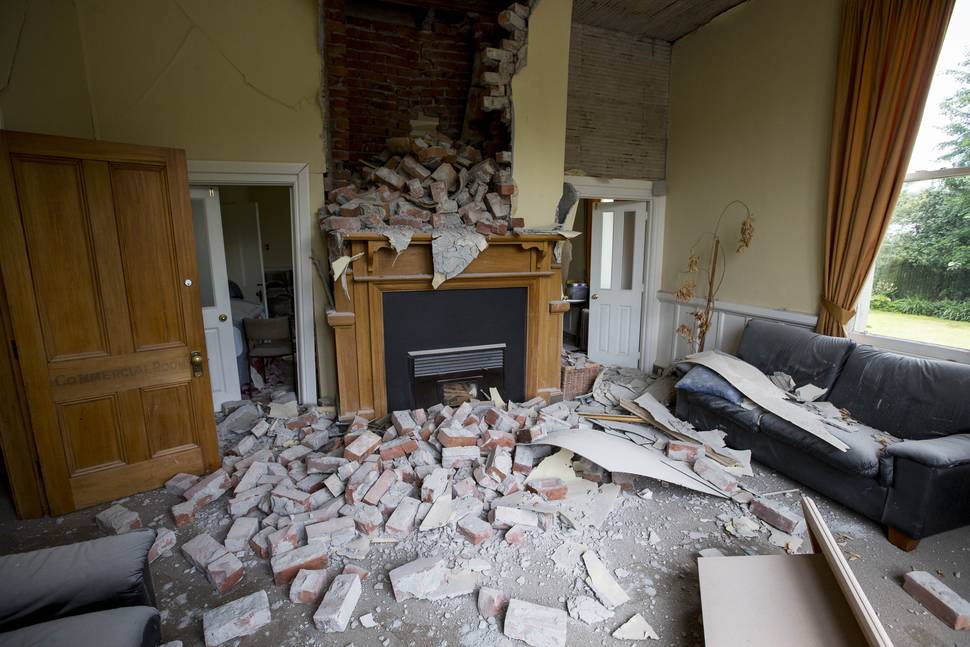 Collins was playing computer games when the quake struck just after midnight today, sending a speaker crashing down onto his head.
"I was just playing games here when all of a sudden everything started to rattle and shake and (computer/speakers) all came forward on top of me ... not a lot has been left standing."
The historic 106-year-old building then began to violently shake and despite the blood spewing from a cut to his skull Collins managed to get out safely.
Walking through the hotel with the Herald this morning, Collins is surprisingly upbeat about his predicament after leaving Christchurch 20 months ago.
He and business partner Michelle Beri aren't sure what they'll do next but from the extent of the damage it appeared unlikely the hotel would be saved.
The second storey floor has been left, sloping, undulating and unstable, almost ready to collapse if another big quake hit.
Everyone you speak to in the small Hamner area town describes the shake as "violent" - shaking up and down and left and right.
Former Christchurch woman Maureen left the city with her children and grandchildren looking for a quieter life after previously living in Kaiapoi.
"It was very violent, more violent than Christchurch ... it was just shaking everywhere."
Maureen Kotua was staying in a cabin at the nearby Waiau Motor Camp which is owned by her son-in-law and daughter.
She said she raced outside to make sure that they were all okay.
"It was very scary alright."
Liz Hauraki lives just a few kilometres up the road, inland.
Like others in the town, she hasn't had a wink of sleep.
"It was about two minutes after midnight and I was about to go to sleep and havoc.
Before I could yell out, the lights went out, everything was in darkness ... I was getting thrown from left to right on our back porch."
She quickly grabbed onto a table and hid underneath it and as it got thrown from one side to the other, so did she.
"I just stayed there and kept moving with it. Wherever it was going I was going with it.
"But yeah, I didn't think it was going to stop."
She described the force of the quake as "intense".
"It wasn't a rolling one. It was a vicious, angry one, you know. Jolt, up and down and left and right."
She was just thankful that Waiau was a fairly desolate area with - apart from the pub - no high level buildings and a small population.