The fire which ravaged Browns Island last night and this morning is now under control.
Principal Rural Fire Officer Bryan Cartelle said crews would be stood down this evening because they had contained the fire today and did not expect it to spread.
"The crews have felled several trees on the island to minimise any further risks, and we expect the team to be returning to the mainland at high tide this evening.
"It's looking pretty good for overnight. We will have crews flying out first thing in the morning with a thermal imaging camera and they'll deal with any hotspots."
He said most of the work had been done by hand by firefighters using hosing.
Earlier today, police said a woman found on the fire-ravaged island had been stranded there since Monday and was lighting fires to raise the alarm.
A Police Eagle helicopter spotted her several hours after the fire was reported yesterday.
She was plucked off the burning island by the Police Maritime Unit vessel, Deodar, and taken to the mainland around 9pm.
Detective Sergeant Tony McKenzie said police were still investigating how she got there and, along with fire crews, were examining the scene.
"She's told us she was left stranded there on Monday afternoon for three nights, and that she was able to access food and shelter in a hut on the island.
"She had lit, and then later extinguished, small fires to attract attention for help from passing boats but yesterday evening's fire had got out of her control due to winds."
The woman, in her 30s, had no fire-related injuries, but was taken to Auckland Hospital, where she was treated for dehydration, McKenzie said.
She had since been released and was resting at home in Auckland, however McKenzie said police had concerns for her mental wellbeing.
McKenzie said police wanted anyone who may have seen the woman since Monday or any activity on or near the island on Monday afternoon to contact Auckland Crime Squad on 09 3026557 or call Crimestoppers anonymously on 0800 555 111.
Helicopters were stood down and firefighters were now targeting hotspots as an enormous fire on the uninhabited Hauraki Gulf island was finally brought under control.
There is no public transport to the island but a senior firefighter said no private vessels were anchored in the surrounding water.
Principal rural fire officer Bryan Cartelle said they had now discovered the origin of the destructive fire, at a beach where boats moored, next to a shed.
The fire burned fiercely across half the island this morning, but was now under control.
Ground crews were dampening down hot spots on the blackened perimeter, which stretched about 13.2ha of the nature reserve.
The nature of the kikuyu grass meant dry vegetation could continue to burn under the top green layer.
"We expect we will also have crews on the island until tomorrow to monitor the situation," said Cartelle.
Fresh fire crews and helicopters earlier bombarded the blaze as it burned fiercely on two fronts more than 14 hours after the alarm was raised.
Strong winds in the Hauraki Gulf fanned flames.
Large plumes of smoke could be seen from vantage points along Auckland's eastern coastline this morning.
Two helicopters carrying monsoon buckets were at the scene this morning and firefighters were ferried to the island from Parnell, Birkenhead and Mt Roskill stations.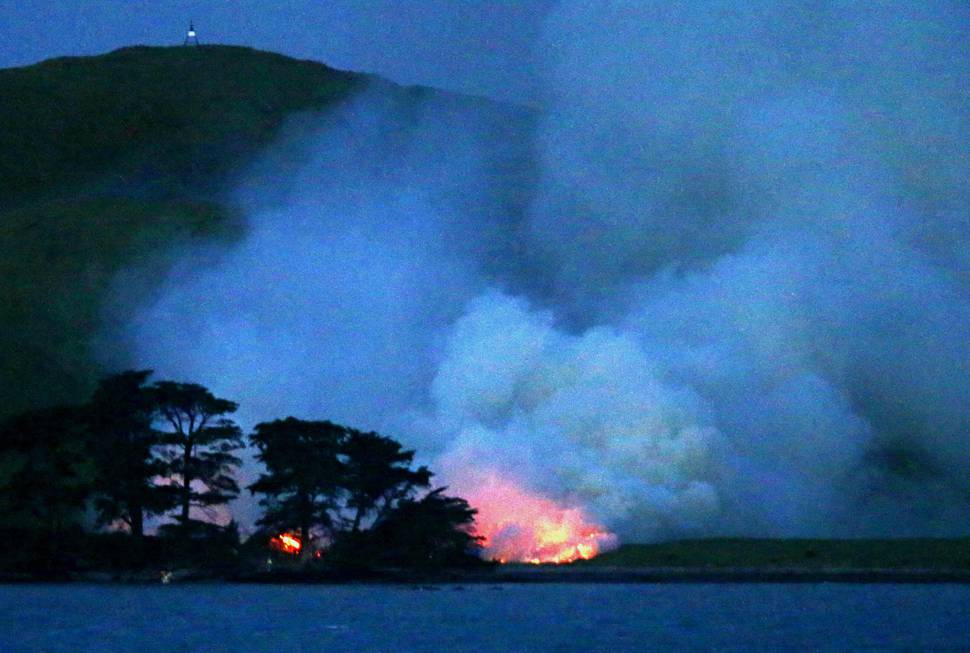 Browns Island is a pest-free volcanic reserve close to central Auckland. It is also known as Motukorea.
According to the Department of Conservation website, the 60ha island has been an important part of Auckland's early history.
Historic sites cover much of the island and include Maori pa sites, gardens and settlements, some several hundred years old.
Other sites are associated with early European settlement, according to the department.
The island is managed by DOC and the Auckland Council to protect its historic landscape and volcanic features.