Teenagers are carving into the sides of Auckland's volcanic summits to create bike tracks, damaging the protected areas.

In the most recent incident, a 30-metre dirt bike track was dug into the Mt Albert summit.
Mt Hobson in Remuera, Mt Richmond in Otahuhu, and Mt St John in Epsom have also been targeted.
A concerned member of the public reported the matter to the Tūpuna Maunga o Tamaki Makaurau Authority, which governs the heritage site, after witnessing a group of youngsters cutting into a bank on Mt Albert summit with spades.
Scott De Silva, manager of the authority, said several large holes had been dug out and the soil used to make two small banks on either side of the track and a bike jump.
"This was an unauthorised excavation of the maunga ... Mt Albert is in fact a heritage site with significant cultural, geological and heritage values."
De Silva said the authority filled in the holes and reinstated the original banks as best they could.
"We definitely encourage all members of the public to visit and enjoy these amazing places, but please respect the land and do not undertake any activity that will cause damage."
The incident happened in August but locals who noticed the track was gone recently have this week taken to social media to attack the "mean-spirited action" of whoever filled in the track. They say the teenagers - who they claimed were aged 13 and 14 - had chosen an unused area.
According to the authority, the track created significant risk of erosion as well as a health and safety risk as it connected to the main summit road where people walk.
Those responsible have not been identified and the matter has not been reported to police.
There had been similar damage caused by trail bikes to other mountains in Auckland.
"On Mt Hobson earlier this year we found ridges cut into historic kumara pits with a spade, possibly as a judder-bar affect for mountain biking," said De Silva.
"There had also been digging to level out slopes and to build jumps, which had exposed historic middens (shell deposits from ancient Maori occupants)."
The jumps have since been removed and the dug-out areas filled with soil.
At Mt Richmond and Mt St John, historic kumara pits and craters were also used and reshaped.
In the Mt Richmond case, the damage had been caused mainly by one group of regular visitors, De Silva said.
"We talked to them and explained why the site was so significant, culturally and historically. Trail biking there has now stopped."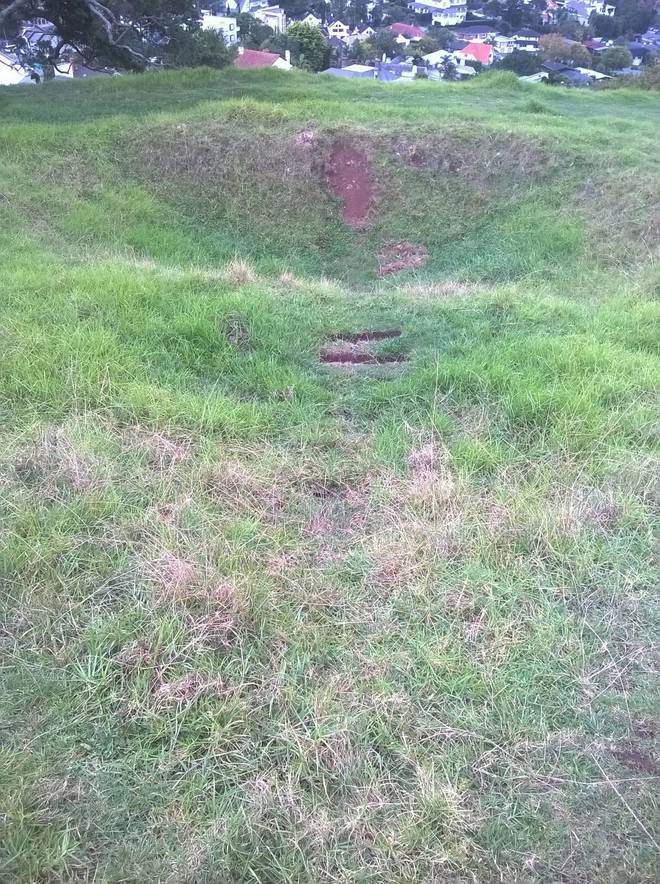 De Silva said many people may not realise that the mountains are heritage sites and home to significant archaeological features.
Chair of the authority, Paul Majurey said that authority's recreation strategy was finalised this year after public consultation.
The strategy will provide for recreational activities on Auckland's mountains that are compatible with the protection and enhancement of spiritual, historic and environmental values.