Geoff O'Sullivan was just about to put his home on the market when he heard an "almighty boom".
The Huntly resident, who was in his living room with several real estate agents, looked up towards the French doors and saw a massive landslide coming straight for him.
"We just heard this almighty boom," O'Sullivan told the Herald from the side of Riverview Rd in Huntly.
"It was just coming down straight from the bank and into the garden shed and then we saw the whole ground go to clay and the rain was pouring down."
O'Sullivan said he'd lived at the Riverview Rd property for the past 16 years and felt it was time to put it up for sale so invited the agents over to sign the forms.
"You wouldn't believe it," he said.
Dressed in his Waikato Rugby stubbies, jandals and singlet, he grabbed his video camera and rushed outside.
The landslide hit his Toyota Hilux and boat, along with the carport and detached laundry which are just a couple of metres away from the house.
"As soon as we walked outside it was coming through the laundry, all the water, the clay, all through the carport and we just knew straight away (it wasn't good)."
He frantically tried to dig his prized late model Hilux out of knee-deep mud, before attempting to pull his boat out which was sitting underneath the bank.
He didn't have any luck with either and had to leave the property once emergency services arrived.
"The boat is stuck about just below knee height, it's wedged in there."
The back wall of the laundry has been pushed so far in that it is just centimetres from the opposing wall. Mud and water was still slowly oozing in as O'Sullivan and the agents left.
With the land still sliding slowing tonight O'Sullivan fears it may have reached his house by morning. He also expects his Hilux to be completely covered by mud.
O'Sullivan's home is one of two near the quarry which have been evacuated. It is unclear what, if any damage, the other home has suffered but police say no one was hurt in either case.
The slip happened during an intense downpour that left roads underwater in several parts of Huntly late this afternoon.
Riverview Rd resident James Rawiri described the downpour as a "monstrous storm" which lasted about three quarters of an hour.
"I've never seen rain like that. The droplets were a quarter of an inch thick."
Rawiri said some water leaked into his home's conservatory, which had not happened before, but otherwise his home was "high and dry."
Anna Roiall, who has lived in Riverview Rd for 10 weeks, said she stood helpless in her newly renovated villa as water gushed onto her property from the adjacent - and normally sedate - stream.
The stream transformed into a gushing river of leaves, branches and household rubbish which overflowed blanketing her property in 20cm deep water.
She said she couldn't believe it as the water kept rising and was just hoping that it wouldn't rise to the approximate metre needed to get inside.
A Fire Service spokesman said crews were called in to pump water out of "about half a dozen" properties on Riverview Rd, Mary St, and Alexandra St on the western side of the river.
The District Council would continue to monitor flooding in the area overnight and Riverview Rd would remain closed.
A fire communications spokesman said earlier reports of a dam bursting were unconfirmed.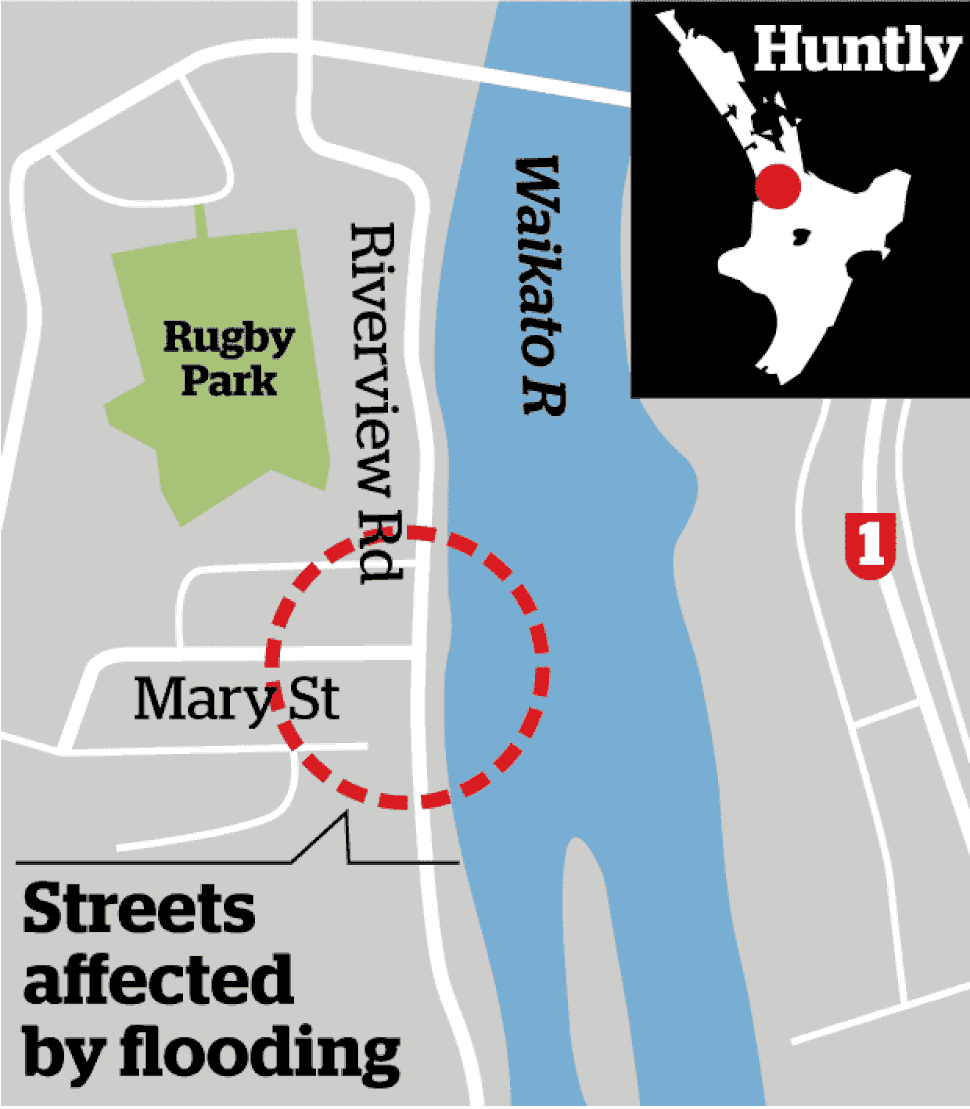 "There may have been some water overflowing from the quarry, and there is a lot of surface flooding. We still have three trucks there," he said.
The intense downpour followed flash flooding in several Auckland suburbs earlier today.
Fifteen homes in East Coast Bays were affected by flooding.
Hail in Hawke's Bay
Piles of hail also lined streets, and stores were flooded, after a sudden storm hit Central Hawke's Bay this evening.
MetService Meteorologist Hannah Moes said there was an isolated storm in the area, which was quite active, with a lot of lightening.
The rest of Hawke's Bay however has been left unscathed by any such weather.
Moes said the storm had spread across Central Hawke's Bay (CHB) from the Western Ranges, and "popped up" just before 5pm this evening.
Stores were flooded, and hail blanketed streets after a sudden storm hit Central Hawke's Bay. The isolated storm hit just before 5pm, with thunder and lightning cracking overhead as the area was doused with rain and fire services were called out- before the sun emerged around 40 minutes later.
A CHB resident said earlier this evening, "the heavens opened".
Thunder and lightning began cracking over heard, before the rain and hail started.
"The gutters started overflowing," she said, "and the stormwater was coming up in fountains.
"There was surface flooding across Porangahau rd...and Ruataniwha Rd."
The weather meant cars on State Highway 2 had "slowed to a crawl".
After about 40 minutes, she said the storm stopped completely and the sun came out.
Although they were not able to get a gauge on how much rain had fallen so far, Moes said the rainfall rates associated with these kinds of storms were quite high.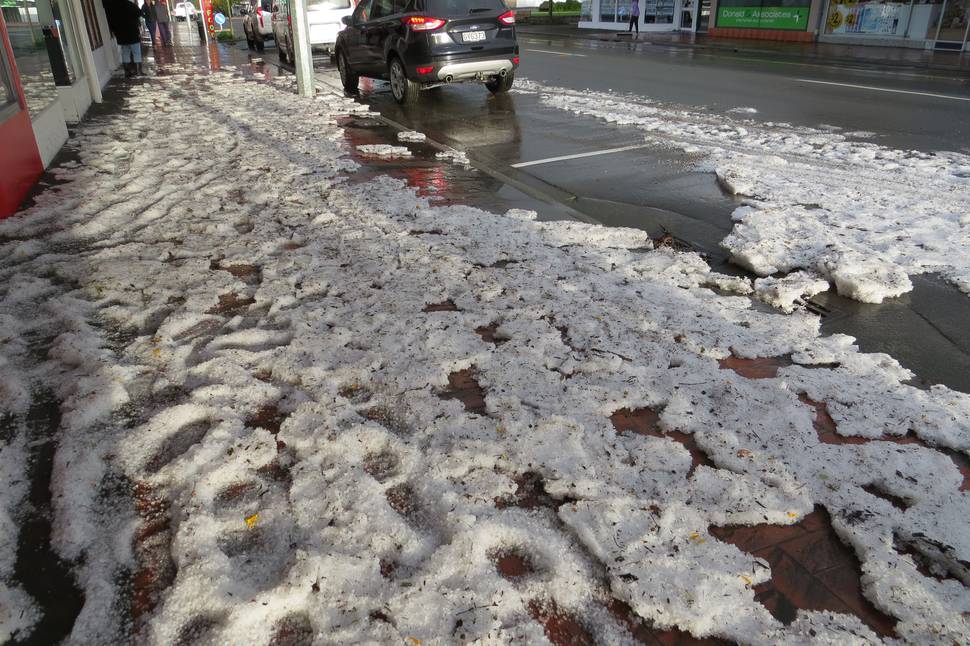 Moes said it was expected that the risk would die away in the next few hours, easing before 10pm this evening.
"We're expecting high cloud and scattered areas of rain for the rest of the region, but nothing on this scale," she said.
There were currently no weather warnings, or watches issued for Hawke's Bay.
A MetService report issued this morning forecast isolated showers south of Hastings, possibly heavy and thundery, clearing this evening, with northerlies, dying out tonight.
In CHB, temperatures reached a high of 18C today, and a low of 6C.