Part of the Coromandel is cut-off as rising flood waters have stranded cars in the area.
State Highway 25 and SH25A, which connect Thames and Pauanui, are closed due to flooding, and no diversions into Pauanui are available, police said.
In Thames, firefighters have been unable to get through a flooded ford to reach cars stranded in Kauaeranga Valley, Thames, leaving the matter in police hands.
Multiple cars have had to be pulled out of flood waters by emergency services after the drivers got stuck.
Police are asking motorists to avoid travel in the area.
There is also a slip further south on SH2 in the Karangahake Gorge, causing significant delays, and another in the Waikato on SH3, Mokau River, south of te Kuiti.
The Coromandel Peninsula was rainiest place in the country with 120mm of rain recorded in the last 24 hours.
"That's certainly a lot of rain," MetService meteorologist Claire Flynn said.
City flooding follows heavy rain
In Auckland, Browns Bay residents have been sloshing through flooded areas today as it continues to bucket down.
Resident Michelle Vandenberg described the weather as "pretty relentless".
"It's like someone's turning a tap on and off constantly," she said.
"The far end of Browns Bay by La Tropezienne [Cafe] is really bad, but will drain away as the rain slows.
"There was only one car parked in the middle. I think someone left it there last night, so will be surprised when they go and pick it up."
Firefighters were called out to Whitianga this afternoon with reports a woman could not leave her house due to flooding.
The situation did not appear to be so serious when the brigade arrived, Fire Service shift manager Jaron Phillips said.
He said the brigade did not "have any concerns" about the house being flooded, but there was a chance the garage could be flooded.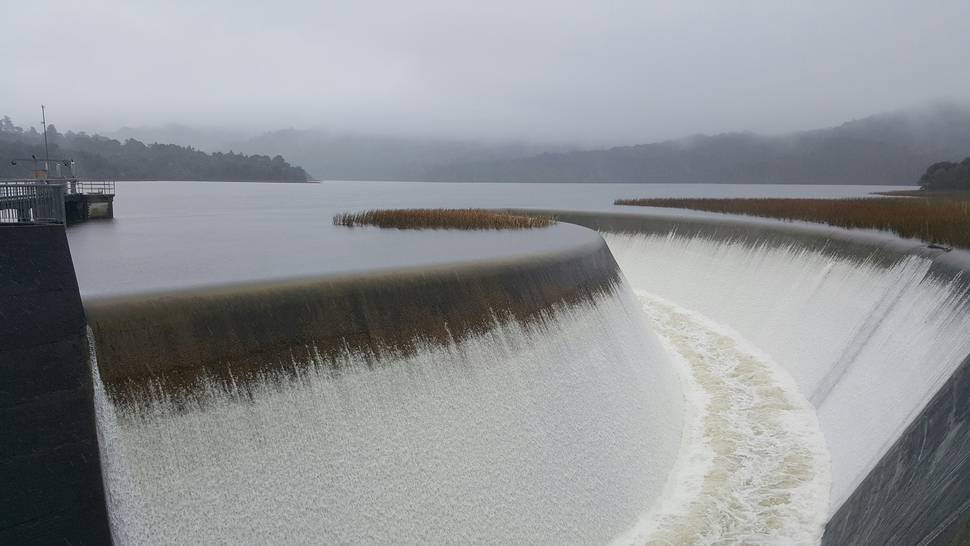 Other garages and basements have been flooded in areas around Auckland.
Auckland firefighters went to the Massey student accommodation block at Albany where water was about to enter the building. They dug drains to divert water away from the building.
There have also been call-outs to about 12 different places around Auckland to deal with flooding on properties, including flooded basements and garages.
There was also a slip reported on Scenic Drive.
And a block of three units was flooded in Portadown Avenue, Pakuranga, the fire service tweeted.
Rain levels high for Coromandel
MetService meteorologist Claire Flynn said weather stations around Auckland have recorded between 30 and 50mm of rain over the past 24 hours.
Flynn said a weather warning for Auckland was now lifted, but there was still a weather watch out for the Bay of Plenty north-west of Tauranga which will continue through the rest of the day.
She said they were expecting levels of rain in the area "approaching warning criteria".
A severe weather warning would be in place for Gisborne from midnight to 6am, as 120-140mm of rain was forecast in the ranges.
Flynn said there was "patchy" rain over most of the North Island and about half of the South Island.
Rain forecast for most of the week
Rain was on the cards for most of the week, according to meteorologist Hannah Moes.
"New Zealand is stuck under quite a static weather situation for this week, which means that areas that are seeing rain now are likely to continue seeing rain," she said.
Places in the North Island exposed to the east were likely to continue seeing persistant rainfall.
A severe weather warning was in place for the Coromandel Peninsula and the Western Bay of Plenty, but rains were expected to ease there early tomorrow morning.
A severe weather warning for Gisborne, however, would stay in place. Heavy rain is expected to continue there until early Tuesday morning.
One weather station in the Coromandel Peninsula has recorded 133mm of rain in the last 24 hours, making it the rainiest place in the country.
Parts of Auckland have had 67mm of rain over the last 24 hours.
Floods and rain causing trouble on roads
A man died in a crash after the car he was in became stuck trying to cross a flooded creek during heavy downpours in Northland last night.
Two men were returning home and attempted to cross a flooded creek in Omanaia, west of Kaikohe in their car about 10pm. One of the men became trapped in the car and died at the scene, and the other man managed to get out and raise the alarm.
In another incident near the Tairua river in the Coromandel, a car had to be towed out of floodwater.
Children aged 10, 9 and 11 were okay, the Fire Service said.
There have been five fatal crashes so far over the weekend.