The three red tractors which have driven through New Zealand to raise $1 million to save Sir Edmund Hillary's hut in Antarctica have crossed the finish line at Aoraki Mount Cook this afternoon.
After 2012km and 27 days, the Expedition South convoy of three tractors - two of them similar Ferguson TE-20 model tractors that went on the famous Trans-Antarctic Expedition of 1957-58 - crossed the finish line in sight of the Hillary Ridge at 2pm.
Sir Ed's son, Peter Hillary, drove one of the tractors to the finish line.
Other descendants of Hillary, as well as his Kiwi comrades on the South Pole expedition, Peter Mulgrew, Murray Ellis and Harry Ayres watched as the epic journey was completed.
A team of husky dogs joined the team on the final leg, while a historic Beaver plane, like the one Sir Ed's expedition took to Antarctica, did a flyover at Mt Cook village.
The team has raised $587,030 on its drive over the past month, where they have stopped at schools and dropped in on communities along the way.
Sir Ed's son, Peter, said it was "incredibly important" that the hut is saved, adding: "It's New Zealand's footprint in Antarctica."
Harry Ayres' son, Graeme, was equally delighted to see history being preserved.
"I've spent many an hour in the old part of Scott Base and it is something that is very special in terms of all the artefacts and memories that are absolutely embedded in the walls of that building," he said.
"It's a very important place for the community in Antarctica as well, that is New Zealanders and Americans from McMurdo Station, so this is really important, I think it's part of being a Kiwi in Antarctica."
Antarctic Heritage Trust executive director Nigel Watson says the expedition has been a huge success with more than $90,000 collected from New Zealanders on the road, through Givealittle, and at events along the way. Total donations now total around $680,000, he said.
"We still need around $320,000 so are calling on New Zealanders to join us with one final push to save this iconic slice of Kiwi history."
Expedition leader Al Fastier says it has been an epic journey. "The reception we have had the whole way has been amazing - we've had mayoral welcomes, afternoon teas, campfires and many unforgettable yarns," he said.
"The journey itself has been breathtaking in parts and difficult in others - we've battled mechanical failure, snow and storms."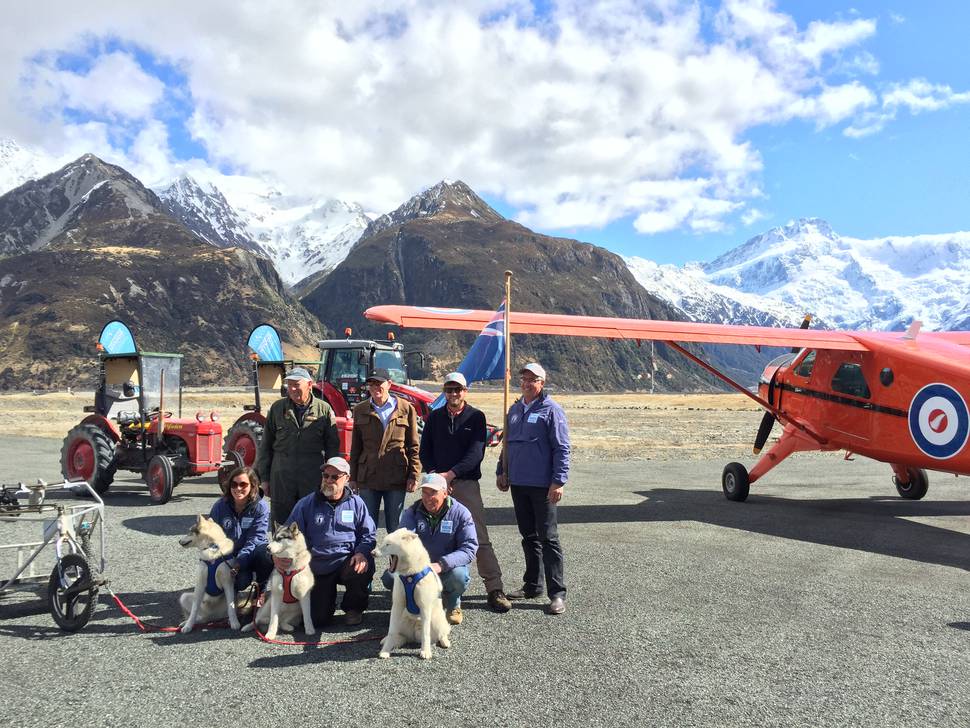 The fundraising campaign was launched to try and save Hillary's Hut - the first building at Scott Base - and which was a starting point for the Trans-Antarctic Expedition.
The coast-to-coast crossing of Antarctica, using the now legendary Ferguson TE-20 tractors, was the first overland expedition to reach the Pole since Captain Robert Falcon Scott's ill-fated voyage in 1912.
But over the last 60 years, the hut - one of Antarctica's most precious heritage sites - has slowly fallen into a state of disrepair. It has a leaking roof, asbestos that needs removing, melt-pools forming under its floorboards, while unique and historically-important memorabilia inside it are showing signs of damage or corrosion.
Watson says the money could keep the hut alive for the next 25 years.
He believes the hut, which was used by Scott Base staff until the 1980s, and its artefacts can be saved. "We have put together a comprehensive conservation plan that details how the hut and artefacts can be conserved and maintained for 25 years," he said.
Sir Ed's son, Peter Hillary, who has skied from Scott Base to the South Pole, says Antarctica and the hut were very important to his father. "He spent a lot of time in that hut - it was where his office was and where his bunk bed was. I know he'd want it saved."
• For more information Expedition South or to donate, visit expeditionsouth.nz