Just when you thought it was safe to get out of the water, a shark has been spotted stalking the suburban streets of Christchurch.
But this rare breed of shark is more paws than jaws, and his bark is worse than his bite.
A message was sent to Hoon Hay residents on Monday warning of an escaped pet, but locals got a surprise when they read the fine print.
"Runaway Dog, easy to spot kos he's dressed like a f***in shark [sic]," said a post on the Christchurch Buy Sell Swap Facebook page, accompanied with a photo of a dog in a grey pull-over shark outfit.
Hoon Hay mother Sarah Barry had dressed her obliging american pit bull, Chopper, in the costume at the request of her 2-year-old daughter, Layla.
When her back was turned the nimble shark-dog jumped over the gate.
In the space of about 10 minutes Barry realised he had escaped.
"We went looking for him and he was nowhere to be seen.
"I was asking the neighbours if they had seen a runaway dog in a shark outfit and they gave me really odd looks."
In an effort to find him, Barry's flatmate turned to social media.
Meanwhile, on a Hoon Hay neighbourhood Facebook page, a woman living a few blocks down from Barry had posted a photo of a happy-looking Chopper in his shark outfit asking if anyone knew who he belonged to.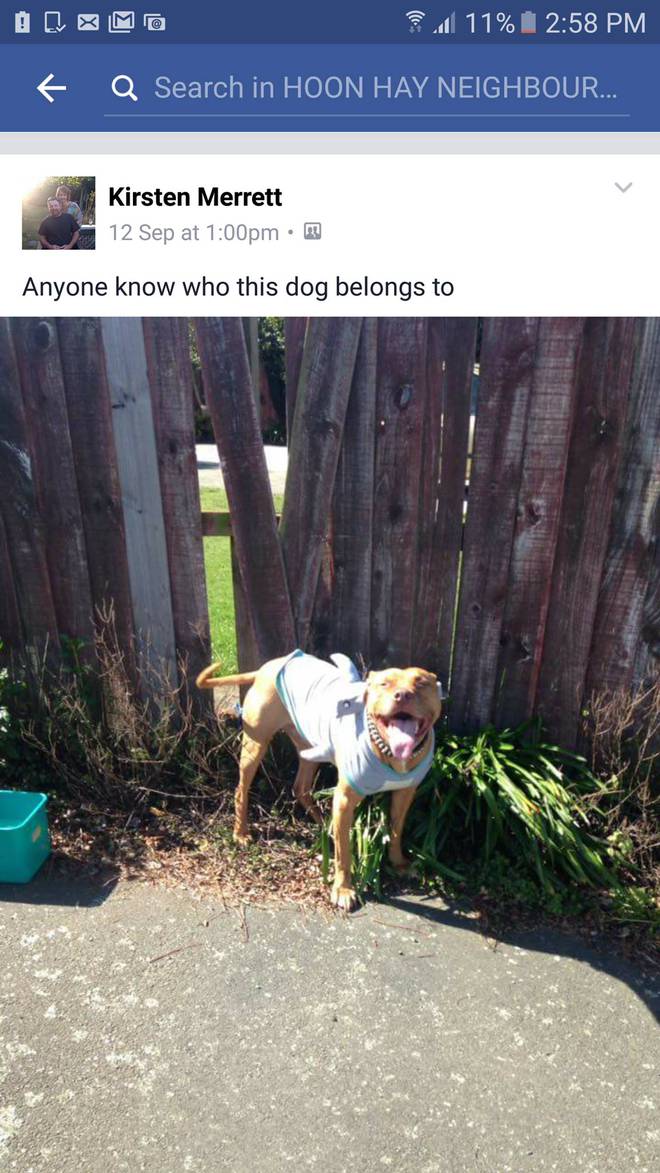 "I didn't see it in time so she rang the dog pound, the dog pound rang me at 1.30pm - an hour after Chopper went walkies," Barry said.
A man from the pound dropped Chopper back with a big grin, saying he didn't believe a dog had been found in a shark outfit until he'd seen it for himself.
"As soon as Chopper was brought home ... he came inside and Layla and Chopper sat on the lounge chair having big snuggles.
"She was so happy to have him home, she adores him."
Barry dressed the dog up for Layla about three times a week, something she said Chopper didn't mind at all.
"He runs around like Scooby-Doo, happy as, tail wagging when he's in it," she said.
"Layla absolutely loves him in it, she thinks it's so funny and gives him lots of hugs like he's a soft toy."
Layla and Chopper were like "two peas in a pod" and the toddler didn't stop asking for her "best friend" until he was found.
Chopper had a history of Houdini-like behaviour but Barry, a stay at home mum, was usually on hand to catch him before he got out.
"He tries to go walkabouts at least once a week but this time I got side tracked and he actually left before I could call him back inside."
He had once been dognapped on one of his solo walks and the family didn't get him back for three months.