Ferry sailings across the Cook Strait are cancelled today as monster swells whipped up by ferocious weather make the crossing too dangerous.
READ MORE:
• Live weather updates
The Interislander and Bluebridge ferry services are the latest casualties of the wild storm that has roared up the country overnight bringing hurricane-force winds, cutting power to hundreds of homes and injuring two people after a tree came down on a car near Christchurch.
Snow has fallen across Otago, Canterbury and parts of the North Island causing a number of road closures including the Desert and Rimutaka Hill Rds. There are reports of snow flurries in Wellington.
Both passenger ferry services linking the two islands says they are not accepting bookings for sailings until Saturday because of rough seas.
The NZ Transport Agency announced just after 5.30am that State Highway 1's Desert Rd from Turangi to Waiouru was closed because of snow and ice.
MetService forecaster Peter Little said the country was in for a bitterly cold day with snow and winds continuing to pound the north.
Hurricane-force winds and gusts of more than 160km/h slammed Canterbury overnight, and the Port Hills got the full brunt of it.
About 1100 homes around Christchurch remain without power this morning after powerlines were downed in the powerful winds.
Blustery, strong winds continue to batter the North Island and the MetService forecasts snow to fall on central regions today. Emergency services say although it's horrible outside there have been no calls for help so far.
St John paramedics were called to Tai Tapu, a suburb south of Christchurch, at 8.21pm, where two people had moderate injuries after a tree came down, a St John spokesman said.
They were taken to Christchurch Hospital.
Trees and power lines are down in Canterbury and Otago because of the wild weather and a catamaran has capsized in Macandrew Bay on the Otago Peninsula.
More than 2000 houses in Canterbury and hundreds in the Dunedin region are without power.
The Aurora Energy network was cut in 120km/h winds yesterday, leaving 380 customers on the Otago Peninsula from Harwood to Taiaroa Head shivering around 4.30pm. Power was later restored but 251 homes are without power in Christchurch.
A company spokesman warned people should be ready for the possibility of more power cuts as the severe weather continued.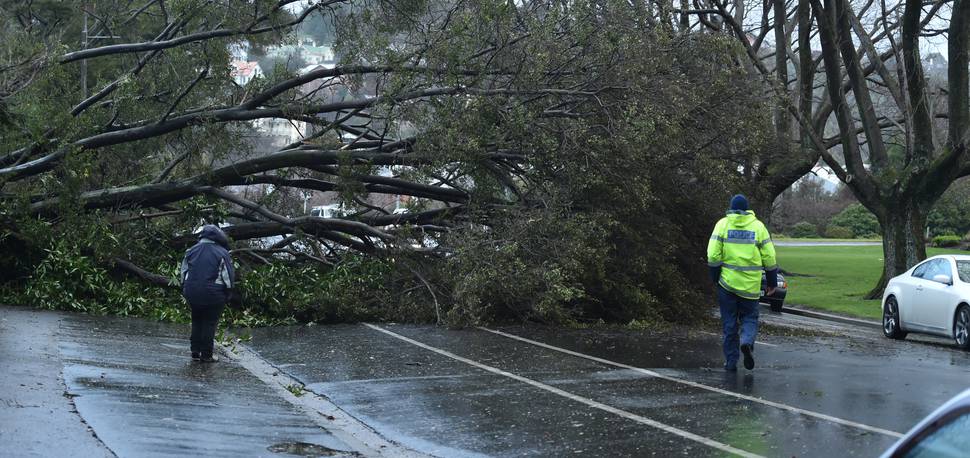 A large tree was bought down on Gt King St near Dunedin's Botanic Garden and a tree on Dr's Point Rd was also bought down.
Wellington experienced gusts of up to 85km/h, according to WeatherWatch head analyst Philip Duncan.
Winds were expected to pick up overnight with gusts to 120km/h possible.
Monster waves
A front spreading up the South Island was bringing strong southerly winds that would create swells of about 6m on both coasts today.
Peter Little at MetService said surf would be huge except from Cape Reinga to East Cape.
Strong swells are expected on Auckland's west coast at high tide about 2pm but they would not make their way to the city's harbour, which was relatively sheltered.
But in Wellington Harbour "unusually high" swells of about 2m could be expected.
The giant swells could stop shipping, warned the New Zealand Shipping Federation.
A CentrePort Wellington spokeswoman said a "decision was under review" on whether the post would closed.
"We are keeping an eye on the weather," she said.
Snow and chill
The capital can expect a cold Thursday with a high of just 8C and a wind chill closer to 0C.
Duncan warned farmers in areas like Naseby and Tekapo to keep newborn animals inside as temperatures plunged to -7C overnight, adding North Island farmers should be prepared for similar temperatures today and tomorrow.
Heavy snow was also expected to blanket parts of central North Island today as an icy blast laced with destructive winds and monster surf sends spring packing.
Blizzard-like conditions have hit parts of the South Island today, with snow blanketing Crown Range Rd in Central Otago.
People would be waking up to snowy conditions all over the South Island and in parts of the Central North Island today, said meteorologist Chelsea Glue.
Snow was forecast to fall as low as 300m on the Rimutaka Rd near Wellington which was unusual, Glue said.
Winds gusting to 120kmh have cut power to hundreds on the Aurora Energy network in parts of Dunedin this afternoon.
As much as 30cm was expected to coat the region with latest road snowfall warnings including the Napier-Taupo Rd.
In parts of Canterbury snow could fall as low as 100m and some areas can expect to be blanketed by up to 10cm of snow.
Yesterday, 31cm of snow fell at The Remarkables base building by 3pm, and Coronet Peak had received 15cm and counting.
Snow at both mountains continued to fall heavily and steadily and Remarkables ski area manager Ross Lawrence said more flurries were possible today.
Spring is defined as winter gradually fading and hints of summer slowly coming in. This past Weekend Northland, for example, reached a high of 23 degrees but this Thursday just 13 degrees. Snow showers are possible in Queenstown and to low levels of Dunedin on Wednesday. In true spring fashion warmer winds return this weekend.
Forecast
Auckland:
Thursday: Occasional showers, clearing evening. Southerlies. High of 12, Low of 6
Friday: Mainly fine with fresh southerlies. High of 13, Low of 7
Hamilton:
Thursday: Fine spells, a few showers until evening. Fresh southerly. High of 11, Low of 2
Friday: Mainly fine, morning frosts and southerlies. High of 12, Low of 2
Taupo:
Thursday: A few showers, possibly sleety. Fresh southerlies. High of 9, Low of 0
Friday: Mainly fine, morning frosts. Southerlies. High of 9, Low of 3
Wellington:
Thursday: Showers and cold gale southerlies. High of 8, Low of 5
Friday: Showers and strong, cold southerlies easing. High of 9, Low of 6
Christchurch:
Thursday: Showers, sleety at first. Strong, cold southwest easing. High of 9, Low of 4
Friday: Early showers, then fine. Cold southwesterlies dying out. High of 10, Low of -1
Dunedin:
Thursday: Few sleety showers. Strong, cold southwesterlies easing. High of 9, Low of 4
Friday: Mainly fine, morning frosts. Southwest dying out. High of 11, Low of 4
Queenstown:
Thursday: Few showers clearing, chance early snow. Southerly eases. High of 8, Low of -3
Friday: Mainly fine, morning frosts. Light winds.. High of 13, Low of 0