Police have now extended their search to Auckland for the mystery gunman who continues to evade capture.
An extensive police search has been under way since 12.45am today to find the man who shot at two unarmed police officers in Whangarei.

The large police operation involves staff from four districts - Northland, Waitemata, Auckland City and Counties Manukau.


"We have completed our inquiries in Northland and are now speaking with witnesses there. This remains a fluid investigation and we are now casting our inquiries into the greater Auckland area.

"We are following a positive line of enquiry in relation to identifying the person responsible, and are doing everything we can to locate him and resolve the situation without anyone getting hurt."
Police focused today's large scale operation on the Northland settlement of Kaiwaka and surrounding districts after the man opened fire on two unarmed police officers in a Whangarei street, stole their vehicle, car-jacked another and fled south to Maungaturoto.
The exact whereabouts of the wanted man are still unknown after he evaded earlier cordons set up around the district.
Armed police are currently searching in the seaside settlement of Mangawhai. According to locals, checkpoints have been set up at roads in and out of the cove and cars are being searched.
Police Commissioner Mike Bush today said officers from three police districts were now part of a major operation to find the gunman.
"We're doing everything we can to locate and arrest the person who fired shots at two police officers in Whangarei early this morning," he said.
"Members of the Armed Offenders Squad as well as staff from Northland, Waitemata and Auckland City districts are involved in this operation and ongoing inquiries. As always in events of this nature, our objective is to ensure the safety of the public and our staff and resolve this situation without anyone getting hurt."
He said the police were also supporting the two staff members who were shot at by the wanted man.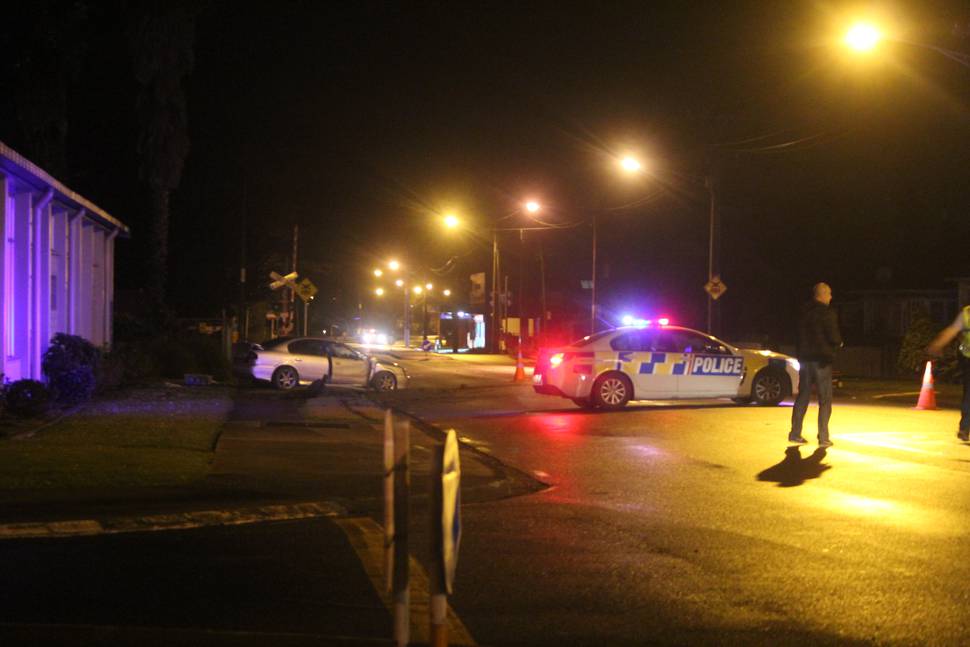 Schools, daycare centres shut
So far there has been one positive sighting of the fugitive in the Kaiwaka district before dawn. It was not known whether the gunman was in another stolen vehicle or if he was on foot.
"At this stage his location is unknown so we are asking members of the public to call 111 immediately if they observe any suspicious behaviour or anybody fitting the description," said a police spokesperson.
Four daycare centres and preschools in the Kaiwaka closed for the day. Just one school, Otamatea High, decided against opening. While all primary schools opened, a number of parents in Maungaturoto kept their children home fearing for their safety.
Police have covered a large swathe of the Kaipara district as the hunt for the armed fugitive neared 12 hours.
At least 10 police vehicles including dog handlers have set up at a point in Kaiwaka and other vehicles have been seen driving around the town.
A Kaiwaka resident who had lived in the town for seven years said she'd never heard of anything like this happening while she'd lived there. She said people seemed to be continuing as normal but parents dropping kids off at school and day care were concerned.
Resident Janine Boult said the police operation had forced a number of local businesses to close for the day.
At least one day care had been affected as well as the library and several other businesses run by volunteers.
"I run our local drop in centre and we've decided we will stay closed until we know more, just to encourage people not to come out," she said.
"There's a lot of talk on the local Facebook pages. Although we have laughed at the description because it covers half the men in town."
Boult had not heard or seen any helicopters flying overhead but said she had received a message from a friend in Warkworth shortly before 9am saying they could see "a lot of police heading north".
"People are a little frightened," she said. "Everyone is making sure everybody's OK."
Shots fired at unarmed police officers
Earlier this morning, police were advising residents of Maungaturoto and surrounding areas of significant cordons in place as they tried to locate him in the area.
The cordons have now been lifted as the man is understood to have made his way south.
Inspector Al Symonds said at 12.43am police attempted to stop a vehicle in Bank St, Whangarei.
The driver fled from police initiating a short pursuit before crashing minutes later on Kamo Rd in Whangarei.
The male driver got out of the vehicle and fired a shot at two unarmed police officers.
Both officers sought cover with the man stealing their unmarked patrol vehicle.
A short time later the wanted man stopped two people in a vehicle near Raumanga Valley Rd in Whangarei.
He ordered them to get out before he took their vehicle and headed south on State Highway 1.
He was next seen travelling along State Highway 12 by police where they signalled for the vehicle to stop, however, it fled and was last seen near Maungaturoto.
Police found the vehicle abandoned on Bikerstaffe Rd.
The Police Armed Offenders Squad were sent into the area and searched for the man who was believed to still be armed. A police helicopter searched for the fugitive from above.
Police Association president Greg O'Connor hadn't spoken to the officers who were fired at, but said they were shaken.
"Obviously they're quite traumatised and they're being looked after, and they'll be anxiously awaiting the outcome of the operation to catch the offender."
He said police officers around the country would not be surprised by the incident, which he said happened during a routine piece of policing.
"I received a call early this morning as I often do when these incidents occur, police obviously throughout Northland will be focused on tracking this man down.
"The public should be really in support of police while they carry out this operation in their area," Mr O'Connor said.
The man's identity was not yet known, however, he was described as possibly in his late 30s, up to 6ft tall with brown curly hair.
He was wearing a blue T-shirt with white writing and a brown zip-up hoodie.
The hunt comes after police were searching Northland for Mark Andrew Fletcher who fled police into rural bush and farmland in Northland yesterday.
Police went to the property about 9am yesterday to arrest a man for allegedly breaching his court release conditions, and for an alleged domestic-related assault.
Fletcher was described as male Caucasian, 170cm tall, and of medium build. It was not yet clear whether the two incidents were related.
Police have lifted the following cordons, which were in place earlier this morning:
• SH1 intersection with SH12
• SH12 at Whakapirau
• SH12 at Hoanga
• SH12 at Mangapai Rd
• SH12 at Ford Rd
Police were asking for members of the public to call 111 immediately if they observed any suspicious behaviour or anybody fitting the description.
Police said it was a fluid situation and hoped it would be resolved quickly.
The two police officers were unhurt in the incident and are being supported by their colleagues.
Maungaturoto resident Diana Moore told the Herald she had been up since 3am after being woken by the noise of helicopters.
"They've just been searching the whole time, they haven't stopped. They've been circling constantly."
After starting over Maungaturoto's main street, Moore said the helicopters were now flying low nearby over the country club on Bickerstaffe Rd.
"We don't get helicopters up here so it's quite unusual," Moore said.
She wasn't feeling too nervous thanks to the huge police presence in the area, but said she had been "a bit on guard" this morning.
"Hopefully [police] have got it all under control."
Wild north
The manhunt comes after an announcement police are bolstering the number of officers in Northland after a spate of homicides and other violent offences.
Earlier this month, Commissioner Mike Bush announced four new staff for the region where at least five homicides have been committed this year.
There have also been a number of violent assaults and robberies - including three knife attacks in Kaitaia in one week of July.
"There have been a number of homicides and other high profile incidents in Kaitaia in recent months, and that will obviously concern those who live there," Bush said.
"We're working closely with the community to ensure their needs are met and we're providing extra staff to assist."
It was "not unusual" for crime to happen in the same area, and these incidents were not related, he said.
"Having said that, we recognise that Northland Police have been kept busy investigating these and other incidents, and we're putting six extra staff into the district for 2016/17."
Just yesterday, Northland police upgraded a missing person inquiry to a homicide investigation.
Kimble Moore, a patched member of the Tribesmen gang, was reported missing by his partner in March 18.
"Information gathered during our investigation has led us to treat Mr Moore's disappearance as a homicide investigation," said Detective Inspector Kevin Burke.
"We have made a number of arrests in relation to other offending uncovered during the investigation".
Many of those people are in custody on charges including aggravated robbery, unlawful possession of firearms, offering to sell methamphetamine.
And in June, a record-breaking 494kg of methamphetamine - worth nearly half a billion dollars at street prices - were found in a campervan and buried in sand dunes at 90 Mile Beach near Ahipara.
The police ask people to call 111 immediately if they observe any suspicious behaviour or anybody fitting the description.