David Fisher and videographer Mark Mitchell spent almost a month driving round New Zealand in a campervan. Their mission: to find out what it means to be a New Zealander. Find out more about the series below.
Dargaville! If any town in the country deserves to be highlighted twice, it is Dargaville, already the star of yesterday's piece.
Neglected by State Highway 1, passed over by bureaucrats and ignored by politicians except when there is a by-election.
Bereft, also, of a cinema - until the town decided to build its own. I couldn't leave without talking to Vernon Woods, 59, about the Anzac Theatre.
It's a fantastic community project. As Vernon explained, until the money was raised for it there was no alternative but to drive across to Whangarei.
"It's not the best of roads," he says, before adding that various politicians have promised it will be improved. We stopped then, and had a bit of a laugh about politicians.
But the cinema! "It's almost embarrassing the amount of positive feedback we get from our own community," says Vernon.
It all began with Taika Waititi's movie Boy, which was screened in a kumara packing shed south of town. The shed was filled to overflowing, weekend after weekend. So Dargaville knew it wanted a cinema. After that, it was just money.
Anzac Theatre is a community cinema, used by the local school for its media class and by community groups young and old. Cool Hand Luke screened recently. James Dean made a comeback. And it shows all the regular blockbusters.
We left, heading deeper into the wild lands. Neither west coast nor east, we took the middle road. It's one of Northland's great secrets, now ruined by my disclosure. It's the road which runs through Twin Bridges to Kaikohe, allowing northbound motorists to cut out Whangarei, traffic jams and all the other main road silliness.
Twin Bridges is a weird bridge which manages to span two rivers at the point they come together - an excellent swimming hole in the summer.
We stopped to wait for dairy farmer-turned-truck driver Ben Smith at Te Waenganui Dairy at Tautoro. It's not your usual dairy, this explosion of orange on the landscape.
They stock all sorts of stuff locals usually go and get in nearby Kaikohe. The dairy is now a community centre - hot hangi in the pie warmer and market stalls outside every now and again.
Our route became somewhat confused after that. We went to Kaikohe, where the town's own market of two stalls was enlivened by Monte Tito on guitar and Tono Waetford next to him keep the beat.
We went west to Omapere - such beauty! - and met Robert Ibell under a tree at the edge of the Hokianga Harbour practising with his cello. It was postcard stuff, really.
His music was exquisite, floating out over the water, under the boughs of a massive pohutukawa. I couldn't take a photograph - it was too perfect. I suspected an advertising company had a hand in constructing the scene.
No, there was no set-up. It's just Omapere.
We wove our way east - over to Rawene and by ferry to Kohukohu, down through Moerewa and Kawakawa to Paihia.
The cottage industry around the Hokianga is wonderful. The Hokianga Soul Food Company makes preserves which it sells along your way. Tomato Kusundi - yum! Real Plum Jam, with the first letter carefully capitalised because that's how good it is.
Fire Dragon Chillies sells bottles of chilli sauce, also made locally, in shops around the harbour. There's an interview I regret not doing. Clint Meyer, I will return. We will speak of your chilli!
• Tomorrow: Paihia to Houhora Heads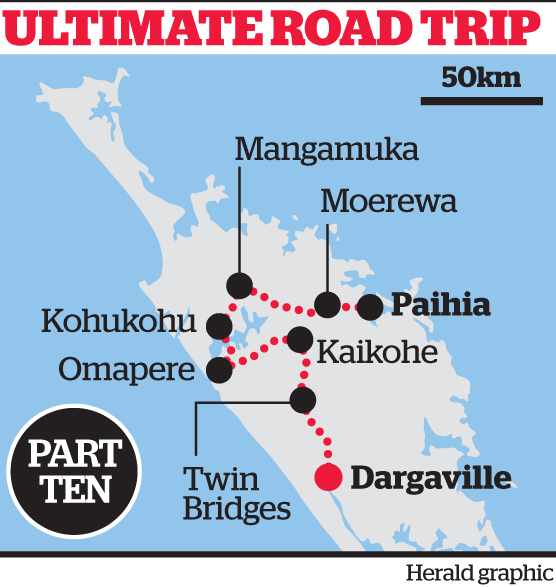 About the series
The current flag got a tick from the people of New Zealand, but the referendum triggered an unprecedented debate about our sense of national identity and how we're seen on the world stage.
What better time to hit the road and visit every corner of our amazing country. We wanted to know how we feel about ourselves. What are our hopes? Our fears? Do we like our national character? What could we do better? What should we celebrate?
We met dozens of Kiwis. This week and next, we're telling their stories, showcasing the places where they live and investigating the themes that unite - and sometimes divide - us.
We're publishing daily travelogues and video blogs by two-time reporter of the year David Fisher. His words are illustrated with stills and video by award-winning Mark Mitchell.
Later today, we'll go even deeper, releasing the first of our mini-documentaries about those themes.
We're also publishing animated graphics featuring everyday New Zealanders and the word (or words) that best sum up, to them, being Kiwi in 2016. Here's today's:
The series will conclude at the end of the week with an interactive presentation showcasing our conclusions.
We still want you to be part of this special project. On social media, share the word (or words) that sum up being Kiwi to you. Use the hashtag #NZin1word and we'll add the best submissions to our #NZin1word hub which will run throughout the series.
We'll analyse the answers to create the Land of the Long White Word Cloud - a visual representation of how we perceive ourselves.