David Fisher and videographer Mark Mitchell spent almost a month driving round New Zealand in a campervan. Their mission: to find out what it means to be a New Zealander. Find out more about the series below.
Part 6: Manaia to Rotorua
It amazes me that more people don't live in Taranaki. There's so much space.
Every which way you look, space stretches on and on and on. It's occasionally broken up by towns, good bush and a large mountain I'd love to climb one day.
In between, though, there is space. It was this space which John Bryce crossed in 1881 from his constituency of Wanganui to oversee an assault by 1600 volunteer and permanent soldiers on Parihaka.
We were heading for Parihaka ourselves, the campervan belting along quite a bit faster than Bryce did 135 years earlier.
Also heading for Parihaka was New Plymouth's mayor Andrew Judd and about 800 other people who had joined him on a hikoi for peace.
I was keen to intersect. I wanted to watch Judd turn up at Parihaka. I wanted to see Judd close up and see what a "recovering racist" looked like. That was his description of himself after a Road to Damascus experience over New Zealand's relationship with Maori.
An enlightened Judd had started talking dedicated Maori representation for New Plymouth. Then someone spat at him, someone else confronted him wearing a Nazi uniform and another someone started quoting Bible passages.
Judd then quit, saying he didn't want to be mayor again. And now he was having a Road to Parihaka experience. Judd decided to walk there from New Plymouth - about 45km over three days.
Bryce took his own road to Parihaka in 1881. As "natives minister", the long-running peaceful protest at Parihaka was squarely his bag. Te Whiti-o-Rongomai and Tohu Kakahi had led the community of 2000 for about 20 years, stitching together some semblance of village life in a district where land had been confiscated from its rightful owners.
Bryce ordered an assault on the village, calling it a "headquarters of fanaticism and disaffection". Soldiers were met by singing children who offered food. In return, soldiers pillaged, torched buildings and allegedly raped some of the occupants.
Te Whiti and Tohu were imprisoned for 16 months and the village's occupants dispersed. A later Waitangi Tribunal report said the motive was "total state control of all matters Maori".
Judd was looking for a little less than total council control of all matters Maori when his voters went septic.
We pulled up at Parihaka. There were crowds of mums and dads with young children. The mums and dads hung about while the kids screamed up and down the hills. High school students turned up, escorted by teachers, told this was their history and present all in one. People came, by themselves or in groups, wanting to witness.
And then came Judd, hundreds of people at his back. I looked at Judd. He had mayoral chains around his neck. He was holding a small flower someone had given him. He looked just like anyone else in New Plymouth. Or the rest of New Zealand, for that matter. He probably looked a bit like Bryce. His behaviour obviously confused some voters horribly. I wonder if they had judged a book by its cover.
"Was it cold," Judd asked one young girl who had been waiting. "Yes," she replied, "but we played mums and dads in a car."
We left, heading for Te Kuiti and then the back road through Benneydale to Rotorua. The road took us through Awakino Gorge, with its staggeringly steep hillsides in places turned to farmland.
Cloud hung low in the gorge, wrapping wraith-like mist around totara in a way which seemed totally ethereal or simply New Zealand. It happened again - Aotearoa snuck up on me and blew my mind.
Visitors to this country must be in a state of constant wonder and yet, largely, we take it in our stride. If we're really God's own, our blase acceptance of it is a perverse national characteristic. Whatevs, eh?
Te Kuiti led to Benneydale, where we watched a bit of club rugby under a towering hillside. Sweat, snot and blood was being rucked into the mud. Just to watch club rugby is to wonder whether it's the same game the All Blacks play.
Goodbye Benneydale, where Aucklanders have apparently bought six houses recently. Buying beyond the Bombays gets called the "Auckland halo" but it's no blessing for Benneydale. All they get is new landlords and higher rents.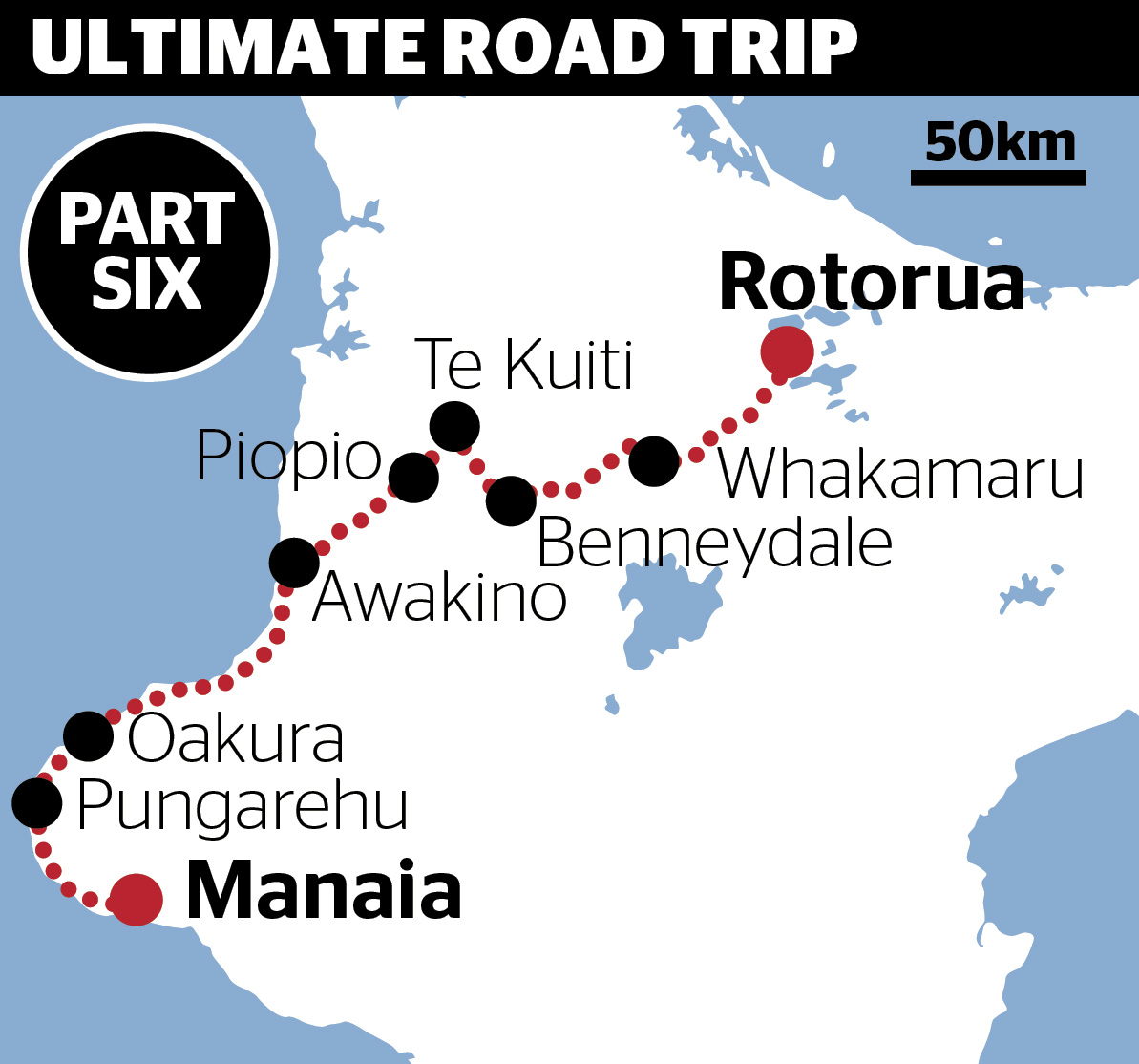 • Tomorrow: Rotorua to Hicks Bay

About the series
The current flag got a tick from the people of New Zealand, but the referendum triggered an unprecedented debate about our sense of national identity and how we're seen on the world stage.
What better time to hit the road and visit every corner of our amazing country. We wanted to know how we feel about ourselves. What are our hopes? Our fears? Do we like our national character? What could we do better? What should we celebrate?
We met dozens of Kiwis. This week and next, we're telling their stories, showcasing the places where they live and investigating the themes that unite - and sometimes divide - us.
We're publishing daily travelogues and video blogs by two-time reporter of the year David Fisher. His words are illustrated with stills and video by award-winning Mark Mitchell.
We're also publishing animated graphics featuring everyday New Zealanders and the word (or words) that best sum up, to them, being Kiwi in 2016. Here's today's:
Next week, we'll go into even more depth, publishing a series of mini-documentaries about those themes. The series will conclude with an interactive presentation showcasing our conclusions.
We want you to be part of this special project. On social media, share the word (or words) that sum up being Kiwi to you. Use the hashtag #NZin1word and we'll add the best submissions to our #NZin1word hub which will run throughout the series.
At the end we'll analyse the answers to create the Land of the Long White Word Cloud - a visual representation of how we perceive ourselves.