David Fisher and videographer Mark Mitchell spent almost a month driving round New Zealand in a campervan. Their mission: to find out what it means to be a New Zealander. Find out more about the series below.
When the sun had risen and the day began properly, the temperature in Napier was still around zero. The grass was crisp and crunched underfoot.
But by noon it was 20C. I was down to a T-shirt and still too hot. It was mid-June.
Isn't this what Hawke's Bay people are like? They're such an optimistic, cheery bunch. Every glass is half-full because even the bad days inevitably improve. Always looking on the bright side of life.
We left by Taihape Rd, better known as the "Gentle Annie". It's not a gentle road, although much less aggressive than I remember as a boy growing up in Taihape.
Back then, it was a metal road, narrow and rutted. Dad tells me there was a man living in a hut halfway across whose job it was to maintain the road - an isolated existence.
There's little traffic on the road, which is surrounded by the majesty of the Kaweka Range. Monumental cliff faces, plunging valleys, towering bush.
Even now, sealed as it is, there's a rawness to the path it cuts through countryside. The NZ Cycle Trail website warns cyclists of the possibility of bad weather and suggests those caught in rain and snow take shelter in a barn or "a long shelter belt of pines" near Ngatoma Station. There's not much else.
The odd logging or sheep truck goes by, curling, with the road, up and down. But mainly up. The heat of the Bay was gone and a chill had worked its way into the air.
We passed a few forestry gangs, and stopped to talk to Willie Le Bas, 30, who does mechanical jobs for the crews. He chatted to us about working in winter, lying on the cold ground and using bare fingers to budge nuts and bolts with ice and snow all around. Apparently it's fun.
Gentle Annie isn't long - about 130km - but it's a decent three hours' drive. When Taihape arrived, it did so eventually, as if the road was stretching out beyond its distance to keep us a little longer.
Taihape was a great town in which to be a kid. We weren't here for long - it was a stop between Turangi and Auckland - but it left an impression.
I went eeling in the stream which runs alongside that big gumboot. I spent hours and hours in the Mt Stewart scenic reserve, next to the stream.
A few years ago a bush fire did a lot of damage in the reserve and when I climbed to the top, I found an older gentleman working to repair the damage. "Used to do it every day. About three times a week now, he said. "Knees." Yes, knees. Mine creaked with the climb as I recalled running the whole way up this hill.
The sheepyards where I played look unused. I hope they are not. I looked at the houses where childhood friends once lived.
The main street reminded me how I funded lolly and comic book purchases by going through every rubbish bin on the main street for glass bottles, exchanged for cash.
It was a daily fossick on the way home from school until one shopkeeper phoned Mum to tell her I was up-end in a rubbish bin. "I thought you'd like to know," she said. And that was the end of that.
The cinema where I watched Star Wars has recovered from its conversion into a second-hand furniture shop. It is once again showing movies. I've seen this in other towns - communities finding ways of providing for themselves that which the world has withdrawn.
And I met Constable Saifudin Abu, who moved here with his family from Singapore. He's not long opened a mosque in the town, which he opens for travelling Muslims to worship. Pamphlets explaining Islam are in a holder next to the mosque door.
From Singapore to Taihape, I can barely comprehend. I hope his kids have as much fun as I did. I think they have a much better chance of finding fun here than there.
By day's end, we were on the South Taranaki coast where I met Gary Couper fishing Kaukoponui Heads. Gary told me about herring fritters and rocks. He collects rocks for his art out there, so if he doesn't catch a fish there's always a good chance at returning home with something.
By day's end, we were on the South Taranaki coast where I met Gary Couper fishing Kaukoponui Heads. Gary told me about herring fritters and rocks. He collects rocks for his art out there, so if he doesn't catch a fish there's always a good chance at returning home with something.
"Come have a look at what I do with the rocks," he said, and gave directions. "You can't miss it." He was right. His section around the house was covered in rocks.
Except they weren't rocks. It was all the things Gary felt inside carved out of stone and put on display for the world to see. Amazing.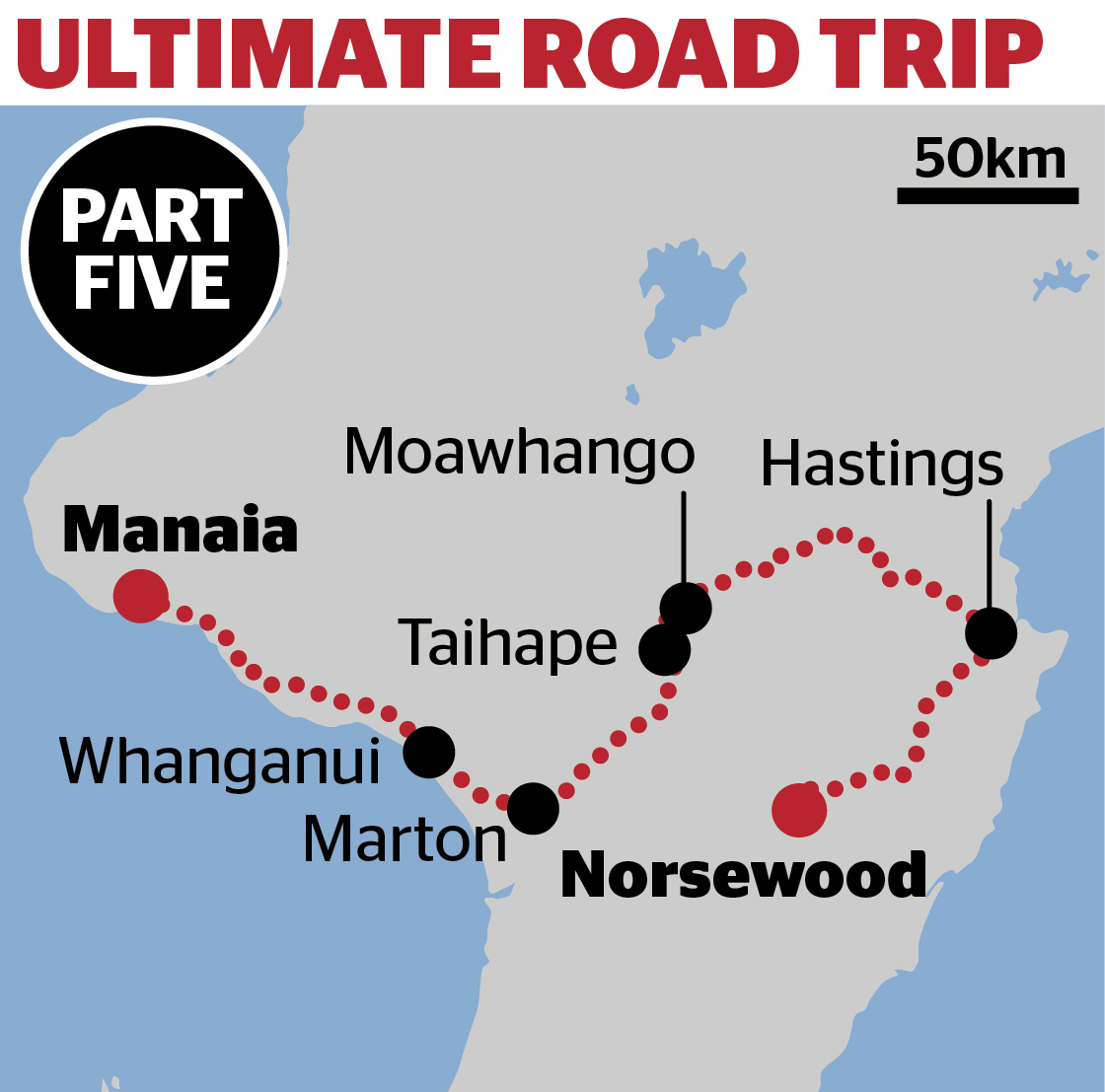 • Tomorrow: Manaia to Rotorua

About the series
The current flag got a tick from the people of New Zealand, but the referendum triggered an unprecedented debate about our sense of national identity and how we're seen on the world stage.
What better time to hit the road and visit every corner of our amazing country. We wanted to know how we feel about ourselves. What are our hopes? Our fears? Do we like our national character? What could we do better? What should we celebrate?
We met dozens of Kiwis. This week and next, we're telling their stories, showcasing the places where they live and investigating the themes that unite - and sometimes divide - us.
We're publishing daily travelogues and video blogs by two-time reporter of the year David Fisher. His words are illustrated with stills and video by award-winning Mark Mitchell.
We're also publishing animated graphics featuring everyday New Zealanders and the word (or words) that best sum up, to them, being Kiwi in 2016. Here's today's:
On our travels, we gave New Zealanders a blackboard and asked them to write the word – or words - summing up what it means to be Kiwi. We'll publish them each day of the series.
Next week we'll go into even more depth, publishing a series of mini-documentaries about those themes. The series will conclude with an interactive presentation showcasing our conclusions.
We want you to be part of this special project. On social media, share the word (or words) that sum up being Kiwi to you. Use the hashtag #NZin1word and we'll add the best submissions to our #NZin1word hub which will run throughout the series.
At the end we'll analyse the answers to create the Land of the Long White Word Cloud - a visual representation of how we perceive ourselves.
• Part 1:Bluff to Dunedin
• Part 2: Dunedin to Hokitika
• Part 3: Hokitika to Rai Valley
• Part 4: Rai Valley to Norsewood