David Fisher and videographer Mark Mitchell spent almost a month driving round New Zealand in a campervan. Their mission: to find out what it means to be a New Zealander. Find out more about the series below.
Part 3: Hokitika to Rai Valley
There was a bit of fussing about where we parked the campervan. We needed to get into the Hokitika Museum but the clear and star-filled night had given way to a morning of West Coast drizzle.
The monotony was occasionally relieved by a downpour.
At those times, a wall of water hung between us and the museum. We needed more time than the sign said we were allowed. "Don't worry about it," said a local. "There's no parking warden."
No warden? Why have one-hour limits on parking spaces? Sorry Westland council but we over-parked so as to better enjoy your spectacular museum. And if you really don't have parking wardens, so should every other visitor.
What a fantastic place the museum is. Eleanor Catton's book The Luminaries put some meat on the bones of this area but they were always good bones.
She revealed Hokitika's history as it always was - an epic story of voyage and discovery, gold and greed, desperation and hope, nation-building. And murder!
David Verrall at the museum can tell you all about it. He does tours in period costume, consumed by the drama and romance of the period. He's an excellent host, and made extra time for us before the arrival of a research group from a Swiss university.
By then we were off, heading for the east coast again through the small town of Kumara. Isn't it odd how we mispronounce kumara when it's the vegetable (coom-ra) yet get it spot on when talking about Kumara (coo-mar-ra)?
Up we went, over that spine of rock and mountain that divides the South Island and its weather. We ascended a misty Arthur's Pass then followed the road down into sunshine and Canterbury.
The use of the area in the Lord of the Rings trilogy has drawn tourists since the movies came out.
Like Hokitika, the area's entry to popular culture seems to have given a context to which tourists can cling. When I talked about this to Helen Nugteren, 63, of Bealey Spur, she said: "To them we're living on a movie set. We've always had this here."
The landscape relaxed and stretched out in North Canterbury. Wide flat plains filled with grape vines before the road was pushed to the coast, snaking its way alongside cliffs and through tunnels to Kaikoura.
We forged north, with watercolour skies above as we entered Waipapa Bay, where Belinda Girl met us at her crayfish kai shack and camping ground.
"Kia ora from Kaikoura," she cried out in welcome, pointing out after that she wasn't in Kaikoura but it made a better rhyme than "Kia ora from Waipapa Bay".
The sun was colouring the eastern sky in pastels as Belinda showed off her gardens from which she makes fresh, tasty meals. There was a range of good food, among which were smallish crayfish boasting pricing in keeping with the cost of crayfish everywhere. It's an experience as much as a meal.
There was a time when crayfish were cheaper. Craytails stuffed into fresh white bread rolls, bought at side-of-the-road stalls for not much more than a sandwich would cost.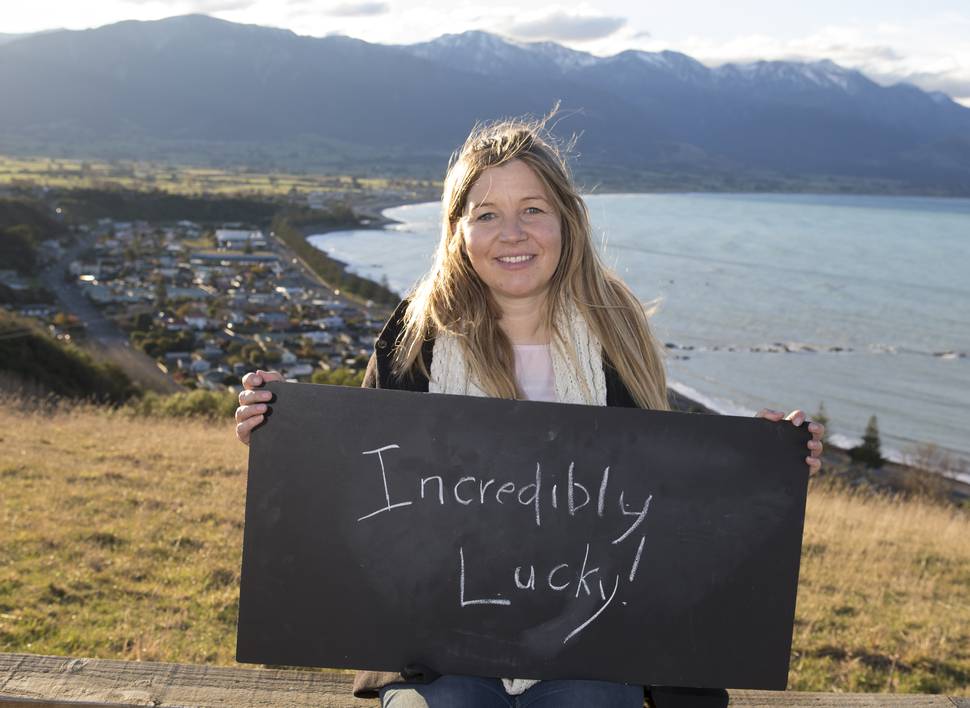 That was some time ago. Since then, red-tape and bureaucracy strangled those stalls out of existence and the crayfishery got hammered into submission. Now, the best crays out of the sea are sent over them.
I understand that red tape moderates standards. I understand the crays sent overseas generate trade for New Zealand. I also remember when everyone could get a crayfish for dinner.
• Tomorrow: Rai Valley to Norsewood
A footnote of thanks to AA Smith of Dunedin who wrote to say that swimming without wetsuits does happen in the area from December to February. AA Smith photographed 25 beaches within 25 minutes of Dunedin last summer - check them out at dunedinbeaches.com. "I can't think of any other city in New Zealand with so many beaches so close," he noted.

David Fisher's video blog
We entered Waipapa Bay, where Belinda Girl met us at her crayfish kai shack and camping ground."Kia ora from Kaikoura," she cried out in welcome, pointing out after that she wasn't in Kaikoura but it made a better rhyme than "Kia ora from Waipapa Bay".
About the series
The current flag got a tick from the people of New Zealand, but the referendum triggered an unprecedented debate about our sense of national identity and how we're seen on the world stage.
What better time to hit the road and visit every corner of our amazing country. We wanted to know how we feel about ourselves. What are our hopes? Our fears? Do we like our national character? What could we do better? What should we celebrate?
We met dozens of Kiwis. This week and next, we're telling their stories, showcasing the places where they live and investigating the themes that unite - and sometimes divide - us.
We're publishing daily travelogues and video blogs by two-time reporter of the year David Fisher. His words are illustrated with stills and video by award-winning Mark Mitchell.
We're also publishing animated graphics featuring everyday New Zealanders and the word (or words) that best sum up, to them, being Kiwi in 2016. Here is today's:
On our travels, we gave New Zealanders a blackboard and asked them to write the word – or words - summing up what it means to be Kiwi. We'll publish them each day of the series.
Next week we'll go into even more depth, publishing a series of mini-documentaries about those themes. The series will conclude with an interactive presentation showcasing our conclusions.
We want you to be part of this special project. On social media, share the word (or words) that sum up being Kiwi to you. Use the hashtag #NZin1word hub and we'll add the best submissions to our #NZin1word hub which will run throughout the series.
At the end we'll analyse the answers to create the Land of the Long White Word Cloud - a visual representation of how we perceive ourselves.