It quite clearly reads "New Zealand" at the bottom of the envelope, but a letter bound for a couple in New Zealand keeps getting delivered to an address 18,000 kilometres away.
Englishman Giles Fairman-Bourn, who lives on a Norton Close address in the English town of Christchurch, Dorset, is struggling to get rid of what he's calling a "boomerang" letter destined for a Norton Close address in Lyttelton, Christchurch, New Zealand.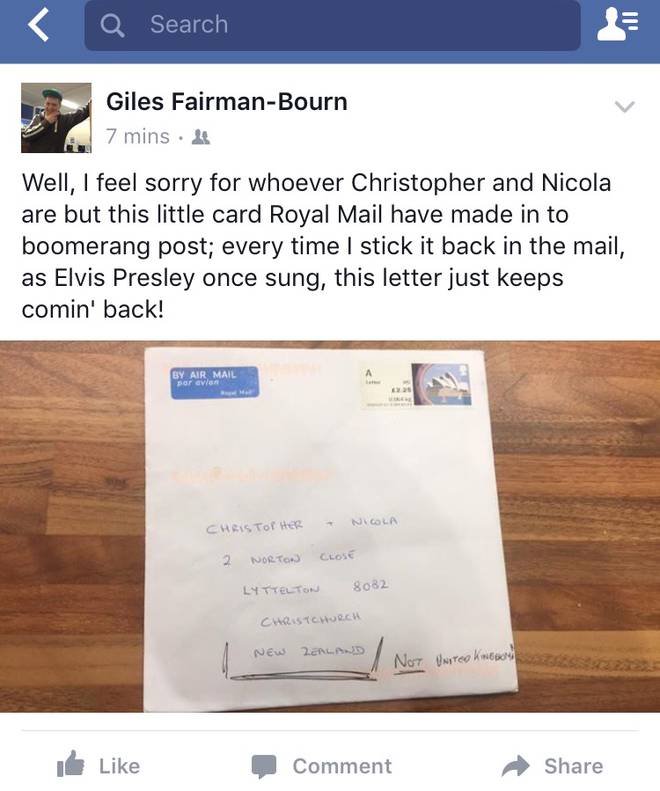 The letter was addressed to a "Christopher and Nicola" - local property records show a different person listed as owning and living at the home - and has an Australian stamp with the Sydney Harbour Bridge on it.
Mr Fairman-Bourn, 40, received the letter once, only to get it back again this morning (UK time).
He then drew a box around the words "New Zealand" and has written and underlined "Not United Kingdom" next to it before reposting it for the second time.
"I think it's just because it goes to a local sorting office and they just keep not noticing," Mr Fairman-Bourn told the Herald today from his Dorset home.
"They're just looking at the Norton Close and thinking 'Oh yeah, we know where that is' without looking at the Lyttelton and then the New Zealand. They can't see it for looking."
Mr Fairman-Bourn thinks it might be an Easter card and said he wants it returned to its actual recipients as soon as possible.
"It's probably an Easter card because it's kind of skinny and thin," he said. "It's definitely a card, but because it's not for me I can't obviously open it to find out but they won't get it by Easter now, that's for sure."
He posted a photo of the envelope on his Facebook page and wrote: "I feel sorry for whoever Christopher and Nicola are but this little card Royal Mail have made into boomerang post; every time I stick it back in the mail, as Elvis Presley once sung, this letter just keeps comin' back!"
He added: "I hope that it's worthwhile when it gets to them. I don't think it's junk mail, it's certainly some kind of personal card that someone's taken the trouble to write."