Balloons Over Waikato will this year fly a record number of special shapes over the skies, including the world's biggest princess carriage and a giant race car.
The other two special shapes are a giant elephant, Pea-Nut, and baby dinosaur, a Tyrannosaurus Rex hatching out of its egg.
Balloons Over Waikato general manager Michele Connell says usually its budget only stretches to three special shapes but it managed to catch a fourth as it was winging its way to other events around Australiasia.
In total, 21 balloons are taking part in this year's event, she says.
The festival kicks off tomorrow morning in Hamilton with the mass ascension from Innes Common at Hamilton Lake. The balloons continue to lift off from Innes Common for the rest of the week with various activities throughout each day and night.
Seventeen of the balloons will visit different schools around the district on Thursday afternoon, while some will light up in Hamilton's Garden Place on Friday night between 6pm and 8pm.
However, the main event is the Zuru Nightglow at Waikato University which between 75,000 and 80,000 people usually attend.
"It's always massive," said Ms Connell. "There's a huge amount of people from Auckland and within our own region but also Taupo, Bay of Plenty, as well as international visitors who have fitted it in with their trip to New Zealand."
As for the special shapes, The Princess Carriage, piloted by Jeff Snyder of the United States, took two weeks to build and used 1280m of pink, yellow and purple fabric.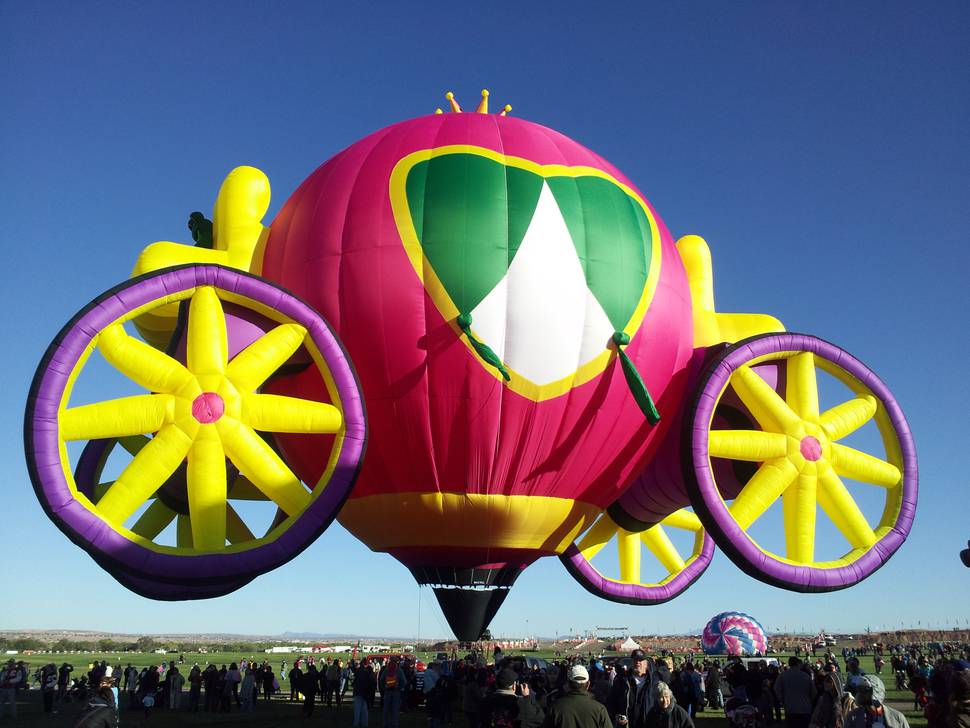 The Princess Carriage will also make a special visit to the Te Kuiti Domain on Friday, she says.
The Race Car balloon is 37m wide and 22m high -- 10 times larger than a normal car -- and weighs 365kg.
Ms Connell says because of its unconventional shape, it doesn't have a landing system like a normal balloon, but has two large rip panels and 12 separate vents, which makes it a complex balloon to operate.
But it's not the first time pilot Lenny Cant, from Belgium, has visited New Zealand, after taking part in the event in 2009.
"Returning to New Zealand is something we have been working towards since our last visit, we are very excited to fly here again," he says.
However, it will be Baby Dino's first time visiting New Zealand.
Ms Connell says they have been trying to get the balloon to the festival for quite some time.
The balloon is making its way from the United States with 24-year-old pilot Jay McCormack.
The final special shape is the Resene-sponsored Elefantastic Pea-Nut balloon; 30m tall with a 15m long trunk, and ears that are 8m by 6m, it weighs 200kg.
The balloon was made in Brazil but now lives in Pennsylvania, United States, and will be piloted by Tony Saxton.
• For more information on the festival visit: balloonsoverwaikato.co.nz