Fire crews are still at the scene of a major fire that has destroyed a large building in Hawera overnight.
Fire Service central shift manager Jan Wills said two fire trucks remained dampening down the smouldering Smith Bros Trading building.
Fire safety officers were poised to take a closer look at daybreak to determine the cause of the blaze.
At its height 15 fire crews from around the region raced to the battle the blaze that threatened neighbouring homes and a building with potentially explosive material in it.
"There was some danger to another building behind it that had tyres and fuel in it and also to residents next door but they managed to stop those from getting any damage."
Ms Wills said there were a lot of vehicles stored in the badly damaged building. There were initially fears racing cars and high octane fuel was also housed in the same premises but they were found to be elsewhere, she said.
NZME's Rowena Duncum was at the building shortly before fire crews arrived and put road blocks in place.
She said it was well alight and "flames were shooting more than two metres into the air".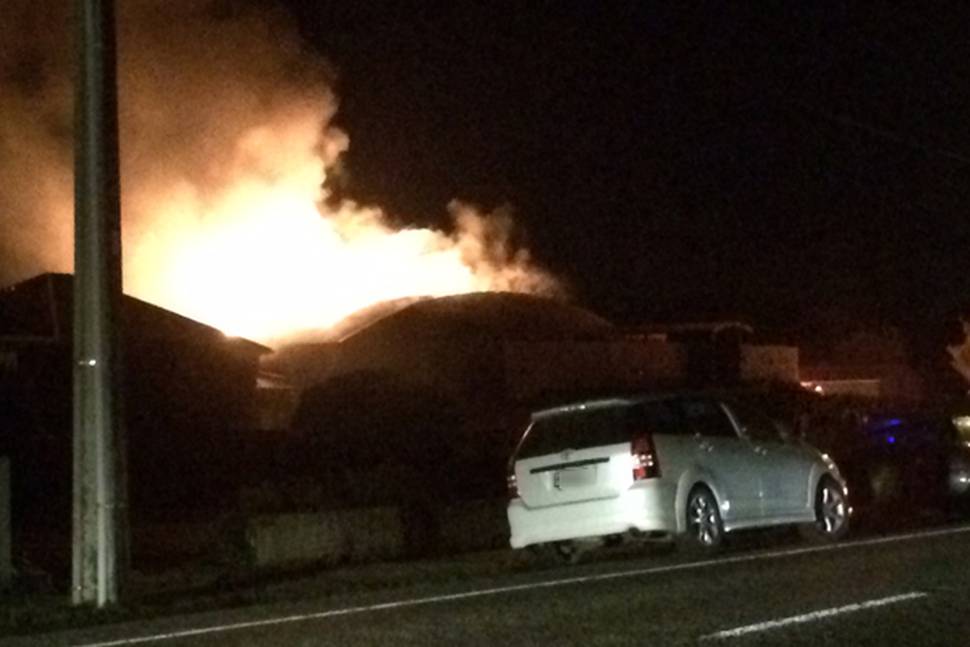 "There was quite a smell of smoke in the air, there was a lot of screaming, people calling to each other to check they were out of the way."
She understands the first people at the scene were neighbouring residents.
"People were starting to arrive, who work at the building, just to look at what was happening. There is nothing they can do."
The building houses the offices of SBT Group, a family-owned animal and marine fat and oil manufacturer.
However, the fats are processed and stored at another facility in nearby Normanby.