The Fire Service is investigating a "suspicious" North Shore house fire in which a family "lost everything".
A large-scale fire broke out at the council-owned house occupied by the Marchant family in Long Bay Regional Park about 4.45pm yesterday.
Massive flames were seen engulfing the property and black smoke billowed across the suburb of Long Bay and surrounding suburbs.
Six fire engines battled the blaze.
A Fire Service spokeswoman said the fire was considered suspicious but the cause is unknown.
A fire investigator was returning to the property early this morning.
A Givealittle page has been set up for the family, Mellissa, Scott and Matthew Marchant who, organiser Heidi Nilsson said, lost everything in the fire.
"This beautiful family who are so committed to the community and give so much to others have lost everything," she said.
"If you were in Long Bay Park today and saw this tragedy unfold, if you know this family or just want to help, I know they would appreciate any support you are able to give."
More than $1300 has been raised through the page so far.
Auckland Council parks, sport and recreation general manager Mace Ward said last night council staff were working to ensure the tenants are safe and have alternative accommodation.
Any decision to repair or replace the property would be made in due course, once the extent of the damage was known.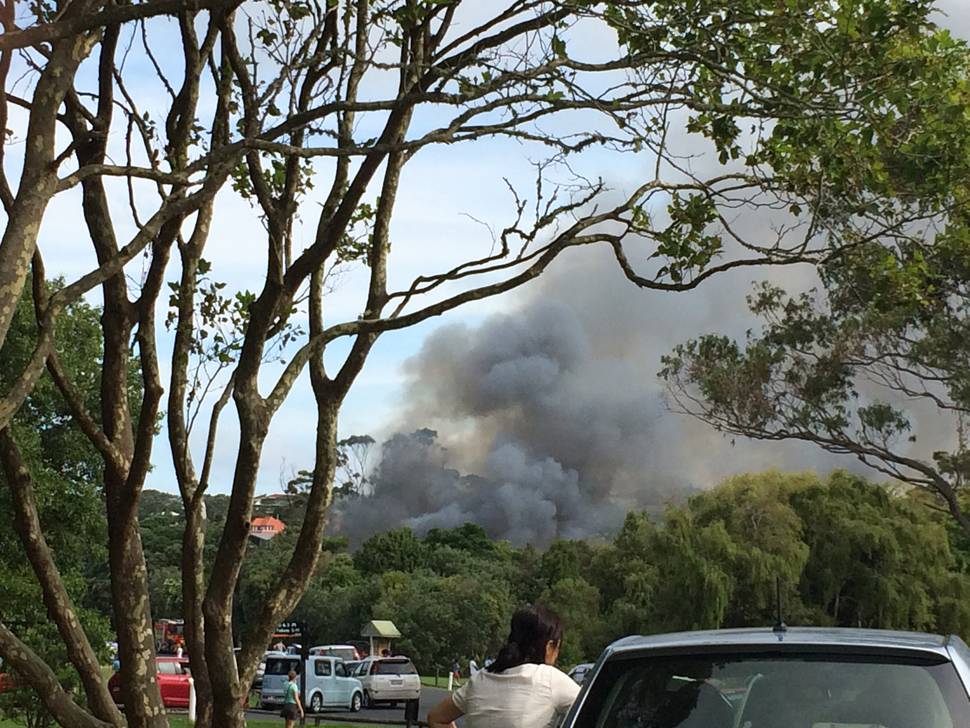 Fran Lietz, 13, was at home when she saw smoke.
"We saw some people walking over towards it. We called 111 and then walked down. There were a lot of people there.
We could see flames through the fence and the trees. I thought it was a barbecue on fire."
Neighbour Sally Tasker said she could see smoke billowing from her house, and she went with husband Mark to see what was happening.
"The house has gone up in flames. It's pretty damn awful, the house must be burned to a cinder."
At 5.40pm she said she could still see smoke, and that the fire was "not getting marginally better".
Another neighbour, Margaret Brill, said the house looked like it was "completely gutted".
Hans Pronk said he got stuck in traffic so got out of the car to have a look at what was going on.
"I could see smoke and flames. It was the first house in the reserve, just past the bridge."
Access to the park was temporarily closed but it has since reopened.