A distraught central Auckland cat owner is offering a $500 reward for information which leads to the identification of a husky dog which mauled her beloved moggy, Sparkle, to death.
Sarah Round was in bed at her Williamson Ave flat in Grey Lynn about 10pm on Friday night when she heard a dog yelping.
"I thought 'that's strange' because there aren't any dogs around us and it sounded like it was in a lot of pain," Ms Round said.
"My partner and I both got out of bed and ran outside and saw a husky dog with my cat in its mouth.
"It was throwing her from one end of the lawn to the next like a toy. I was in hysterics, screaming 'it's killing my cat, it's killing my cat'.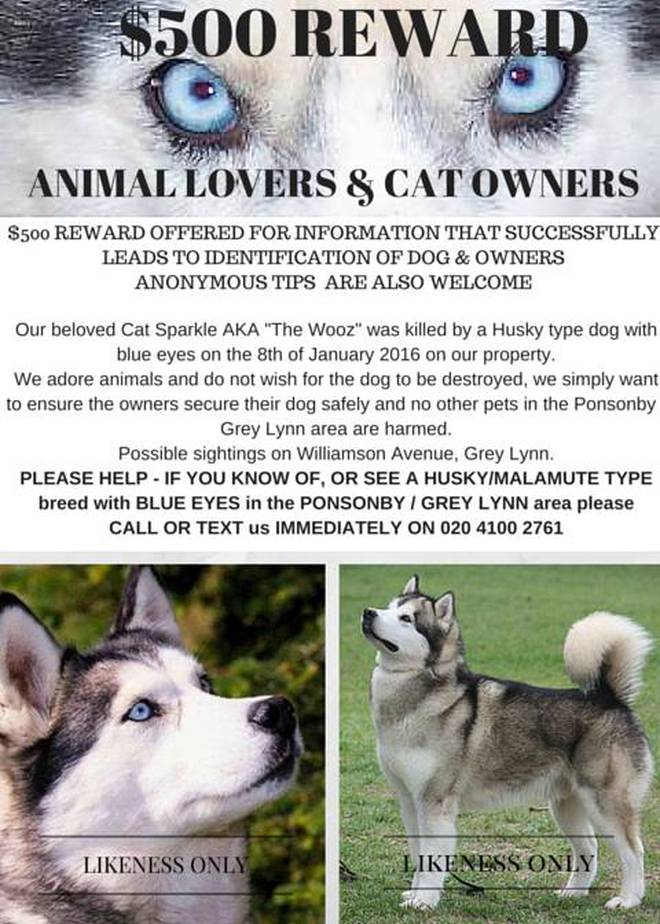 "Neighbours came and one of them held the husky down with their knee while my partner put our vacuum cleaner pole in its mouth."
Ms Round and her partner then rushed 9-year-old Sparkle to the vet but she was unable to be saved.
"Sparkle died of severe internal haemorrhaging. Basically, the husky bit into her stomach and crushed it."
Ms Round was given Sparkle by her grandfather when she was a kitten.
Feeling "in shock" and "distraught" about what happened, she posted on several social media pages last night offering $500 for information which would lead to identification of the husky and its owner.
She didn't want the dog to be destroyed but was adamant that it be secured more safely in future.
A neighbour told Ms Round they often saw a husky roaming around the area. Several people have also got in touch with Ms Round with tips but they haven't led to its identification.
The dog was wearing a collar but Ms Round didn't see its registration. Ms Round said she reported the incident to Auckland Council Dog Control but was told little could be done without its registration number.
Ms Round was planning to also put reward posters up in Grey Lynn and Ponsonby.