J
ane Sabine doesn't know who she is.
She was robbed of her history when her parents abandoned her and her four siblings 47 years ago, sentencing her to a childhood of foster parents, abuse and a life without a sense of identity.
She has just turned 50 and that buried history has been dug up in the most lurid fashion.
The parents who deserted her in New Zealand are dead and police believe her mum murdered her dad.
It has been dubbed the perfect murder.
After Leigh-Ann Sabine's death in Wales just before Christmas, police discovered the body of her husband, John, in the garden where they say it had been for 18 years.
It made headlines around the world.
In those long years since Jane was abandoned in 1969, she has made a life for herself. Jobs, relationships and children of her own.
But that nagging sense of a lost identity has stayed with her.
"I feel disconnected. I am the age I am now, yet I am still that little girl with the need to know. That [need for a] sense of belonging.
"I used to get mad at people that said they were adopted because I used to think, 'At least your parents gave a damn. They loved you enough to say, 'Hey, I can't look after you. I want you to have the best life you can' and they signed a piece of paper [so they could] be with a family that nurtured them and loved them regardless.
"We were sitting ducks, we were open to anyone's abuse. Who were we going to tell? We had no mother, no father, no cousins."

SHARE THIS QUOTE:
"Our parents didn't even care enough to do that."
The past year has been hell for Jane but she says she can finally look forward with a renewed sense of hope.
"My life definitely hasn't been without incident.
"It's the life I was given, for whatever reason that was, and I've tried to do the best with it."
J
ane Sabine was 3 years old when her parents, Leigh-Ann and John Sabine, left her and her two brothers and two sisters, ranging from 9 months to 12 years, at a state-run nursery.
The detail of what happened that day are lost in Jane's memory, but the feelings are not.
She has been told she almost beat the door down trying to get out and find her parents.
"I remember always, my brother and I, whenever we saw a taxi or an aeroplane, walking home from school, headed towards where we lived, we would run, thinking it was our parents coming to pick us up. That went on for years.
"Can you imagine a 3-year-old just suddenly one day having no mother, no father? I couldn't imagine my 3-year-old just suddenly, one day asking, 'Where's my mother? Where's my father?' and there being no one there.
"Right from then, I was looking to connect, waiting for them to return and that never went away, no matter how old I got."
Abandoned in extraordinarily public circumstances, the five vulnerable children should have been cared for.
They became wards of the state and were first put in the care of Pauline Ayers, a worker at the nursery where they were abandoned. She looked after them for five years before her health and the needs of her own children forced her to hand the children over to the Government.
It was decided the siblings should be kept together, so the Department of Social Welfare, as it was known then, established New Zealand's first purpose-built family home where foster parents would rotate into the house to care for the children.
But while in care the children suffered abuse.
Early last year, the Ministry of Social Development apologised to Sabine in a letter and admitted the state had let her down.
"We were sitting ducks, we were open to anyone's abuse. Who were we going to tell? We had no mother, no father, no cousins. We had nobody. Our trust was in the social welfare system and the social worker that came round.
"We had no family and people did what they did because they could."
Jane says she has "let go" of the abuse. She has dealt with it and not allowed it to define her life since.
"Why did you do this? Why did you go?"

SHARE THIS QUOTE:
But what she has never been able to shake is the recurring theme of her lack of history; her inability to centre herself with a past.
"Everyone needs to know what they're part of. When people ask me, 'Where are you from?' I don't know. I know where I was born, I know all the places that I've grown up, but it stops.
"A lot of that was my own fault. I had people that wanted to give me a good home but I was stubborn. I was waiting for my parents. I wouldn't call them Mum, I wouldn't call them Dad. I don't know, I felt like I was being disloyal to them.
"I was waiting and waiting."
Jane waited 15 years then, when she was 19, her brother Martin told her out of the blue that he was going to meet their parents. Jane went along.
Leigh-Ann and John told the siblings they'd been in Australia to pursue Leigh-Ann's nightclub cabaret career and couldn't afford to come back to New Zealand to get the children.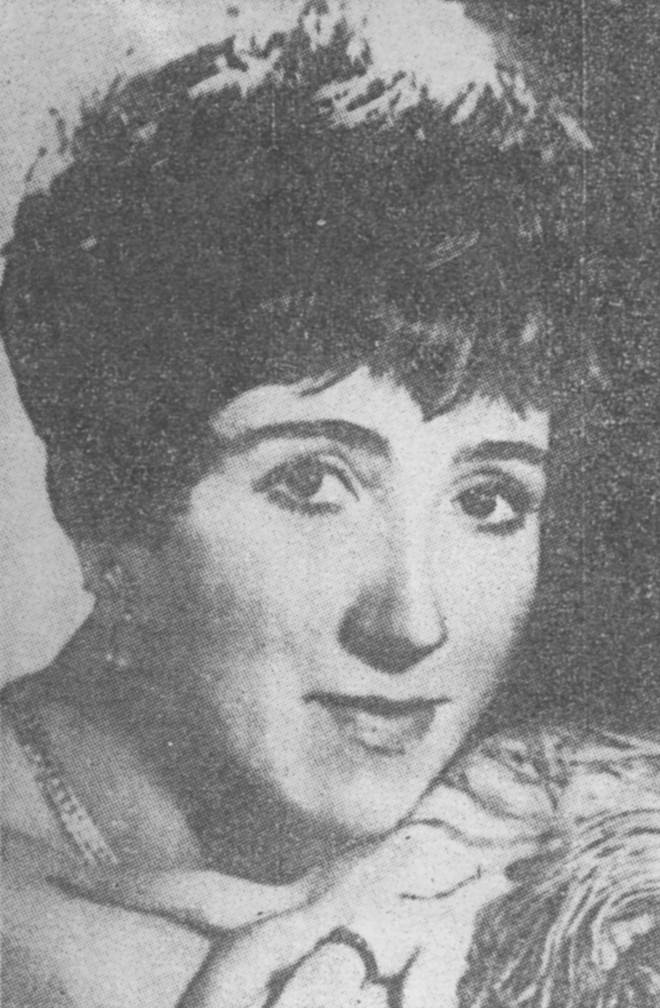 "It didn't take long before the questions came up: 'Why did you do this? Why did you go?' And I still remember word for word what my mother said: 'I don't feel we owe you an explanation'."
The media soon found cracks in the Sabines' story - witnesses had spotted them at dog-breeding shows and others knew them to be living at the bottom of the North Island.
Jane was furious. She wanted answers. She wanted family.
"Why did they come back if they weren't prepared to tell us, explain to us, give us some understanding as to why. I still don't have that, to this day.
"That doesn't really matter now, but to have been so selfish... they didn't share with us that we did have family out there."
After a week fraught with tension, Leigh-Ann and John disappeared again and Jane continued with her own life.
She forged a successful career in sales and made a family of her own when she had three daughters: Hayley, Nicole and Tarryn.
She heard nothing from her parents until fresh tragedy struck. Her brother, Martin, took his own life in 2000. Interpol contacted Leigh-Ann, by then living in Wales, about the death.
She called Jane and in a brief conversation said that John was dead. "And I hung up on her and that was it."
Jane continued with her life until her daughter, Nicole, tracked down Leigh-Ann in Wales. Jane decided to write a letter in late 2014, hoping her mother might finally be prepared to give her some answers.
The response was a card bearing an image of a phoenix rising from the ashes. Inside, Leigh-Ann, signing her name as "Ann Lee", had written: "Like the phoenix, I will arise from the ashes and sleep will obey me and visit thee never. For my eyes are upon thee, forever and ever. I have served my life sentence of shame and blame. Now it is your turn to do the same."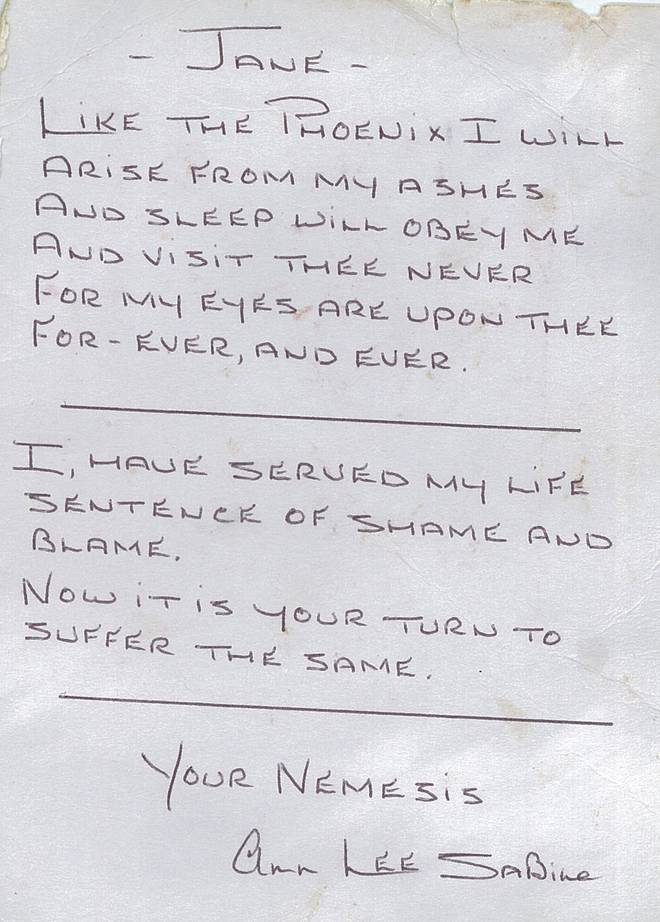 She signed it: "Your nemesis." It was the last communication between the pair.
But life had more tragedy and difficulty to throw at Jane.
It was the last communication between the pair.
B
ut life had more tragedy and difficulty to throw at Jane.
Her eldest daughter, Hayley, was trapped in an abusive relationship a she dropped everything to move her into a woman's refuge.
"Not long after that, I lost my daughter Nicole suddenly in March last year to an asthma attack. She left behind two small children, a 10-month-old and an 8-year-old. And that has been hard."
In November last year Jane's sister called to say Leigh-Ann was dead. She died on October 30 of brain cancer.
A few weeks later her sister called Jane again.
"She said, 'Jane, you're not going to believe this. I've passed on your number to the Welsh police because they have found a body buried in our mother's garden.' I had to laugh. I did. But instantly, I thought it was my father."
Leigh-Ann had her husband's state benefits paid into their joint account after he vanished in 1997 and carried on putting his name on the electoral register, despite telling neighbours he'd left her.
His remains were discovered in vacuum-packed plastic sheeting in the garden of their home in Beddau, near Pontypridd, South Wales, not long after her death. One theory is that she tried to move the body when she knew she was dying of brain cancer.
A post-mortem examination revealed John had died from blunt force trauma to the head.
"It didn't surprise me because what parent, let alone parents, leave five children? Anything's possible," Jane says.
"Last year was a hard year. It was a really hard year. I can usually stand on my own two feet, I've worked the majority of my life.
"I have been there for my daughters, my grandchildren - I love them to the moon and beyond."
And at last there may be a silver lining. Digging up history has unearthed family Jane never knew about. She has a half-brother and a half-sister and cousins in the UK.
Jane believes that after a life of heartache, 2016 will be "my year".
She is trying to raise money to travel to the UK to find those family members - and in turn find the missing pieces of herself.
"I don't know how it's going to go and I don't believe that everything's going to be rosy and all good, but I have to find out.
"It was when Nicole died that I realised the importance of family. Family to call your own.
"I've been there for my family and all they want is for me to go find mine. It's all they've wanted for me. I just need to do it. It is just so important."
To donate to Jane Sabine go to: https://givealittle.co.nz/cause/helpjane/