From sports stars to giggling babies, he charmed us all.
To pooh-pooh a royal tour is to pooh-pooh the carnival.
And who doesn't like a carnival? Yesterday, the carnival came to Auckland. It arrived in the form of a grinning, copper-top 30-year-old who is also one of the most popular members of the British royal family.
It's been a week of it - and Prince Harry has been full on. From his spine-tingling haka at Linton Military Camp to his refreshingly honest responses to Stewart Island kids' sometimes curly questions, his skills at waka ama and his level-headed response to the blaze of publicity his first tour of New Zealand generated, he has won the hearts of Kiwis the length of the country.
Yesterday was the last chance for royal watchers to see him in the flesh before he flew out of Auckland last night.
Die-hard fan Erin Wi was up at 5am to join crowds five-deep outside the Cloud, where the prince showed off his skills by walloping a last-minute match-winner into the goal during a five-a-side match to promote New Zealand hosting this year's Fifa Under-20 World Cup.
"I'm an extreme Harry fan, because he's so handsome. It's his ginger hair."
Playing for "New Zealand" with youngsters from Western Springs, the prince's volley won the crowd, as well as the match 8-7. Teammates nicknamed him "Scholesy" in a nod to ginger-haired former England midfielder Paul Scholes.
Fourteen-year-old Jake Johnson said the prince "wanted us to win".
"He was really into it, getting into all the team huddles and by the end of the game he was dripping with sweat." Sebastian Stephan, 14, applauded Prince Harry's decision to engage so many every-day Kiwis.
The prince described his trip as "epic fun" and said Kiwis were "an amazing group of people, fantastic culture and background, in a beautiful country. With rain, lots and lots and lots of rain." He was contemplating returning for the 2017 British and Irish Lions tour.
Many will be hoping he is not alone. Nicknamed the "playboy prince", many fans yesterday were not shy in expressing their desire to put a ring on it. Visiting American student Sarah Noble, 22, said she grew up "having crushes on him".
Noble will have to get past Niki Cowie first. The proud Northcote mum and her Union Jack leggings-clad sister Suzanne Turner joined a crowd of about 100 outside the Millennium Institute, determined to meet Cowie's "future son-in-law".
Daughter Lauren, 21, chose coffee with friends over meeting the prince, but her matchmaking mum was not deterred. "My daughter's just graduated. She's blonde and beautiful, she's intelligent. I wish I had her photo so they could start their relationship."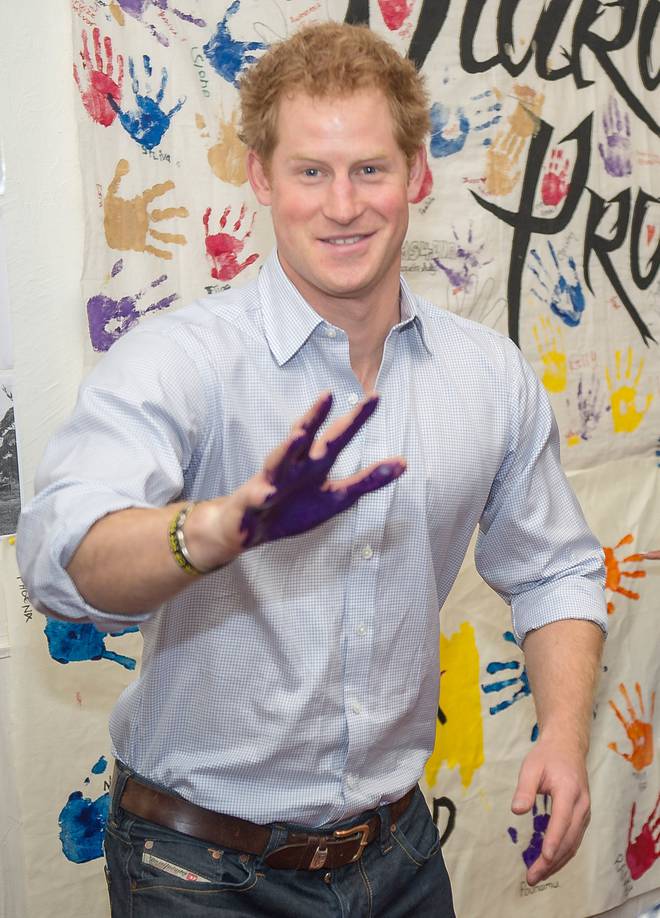 It wasn't to be - the prince did not speak with royal fans outside, instead posing for photos with sports stars such as World Cup-winning All Black Kieran Read and Silver Ferns star Maria Tutaia. Inside the high-performance sports hub he tried weightlifting and shot hoops.
The smiling royal had more time for fans as he left his final official engagement.
Six-year-old Maddison Hailes gave the prince a teddy bear for his 2-week-old niece, Princess Charlotte. A few handshakes later he was gone.
With Harry's chubby-cheeked nephew, Prince George, starting to make his mark and the world cooing over a new princess, the royal family aren't going anywhere soon. The carnival will be back.