Photographer captures horror moment when dog savages baby seal
A man whose dog attacked and killed a protected New Zealand fur seal pup on a West Auckland beach has been fined $1000 and will have his dog put down.
Auckland sickness beneficiary Neil Russell Morris, 52, was sentenced in Waitakere District Court today after pleading guilty to owning the staffordshire cross which attacked the seal pup at Muriwai Beach on September 26 last year.
The prolonged attack, which lasted several minutes, was witnessed by a photographer who captured graphic images of the incident.
Morris initially had leads on his two dogs - the staffordshire cross and a labrador - but let them off while he gathered mussels at the south end of the beach.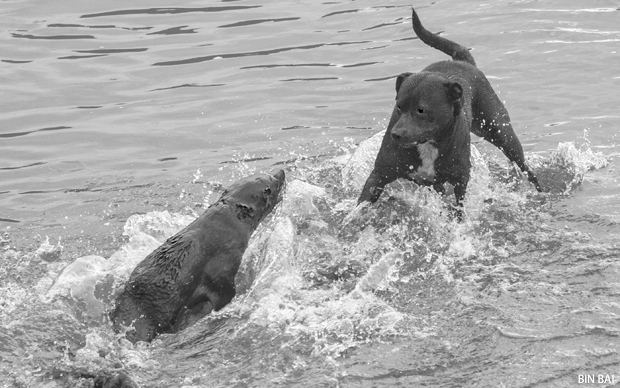 The DoC is trying to find the dog's owner and plans to prosecute. Photo / Bin Bai
While the dogs were out of his sight and control, the staffordshire cross attacked the seal pup.
A second witness to the attack tried to intervene and get Morris' attention, but was unsuccessful.
Morris eventually appeared at the scene, and later told police he was unaware of the attack until he heard witnesses screaming.
He took the unconscious seal pup from the staffordshire cross and carried it up the beach, placing it near a cave. He then took both his dogs home.
The mortally wounded seal pup stopped breathing and died.
Morris' lawyer Ashley Thomas said in admitting the charge, laid by the Department of Conservation, his client accepted responsibility for the death of the seal.
Judge Lisa Tremewan said she took account of Morris' restricted income and his guilty plea in fining him $1000. She also ordered the staffordshire cross be put down.
Keeping seals safe
• Keep dogs on a leash and under your control.
• Always stay at least 20m from seals.
• Keep children at a safe distance and under your control.
• Do not disturb seals. Don't make loud noises or throw things.
• Do not feed seals. They don't need the food and won't eat it. It also encourages them to approach people.
• Do not get between a seal and the sea.
• Call DOC on 0800 DOCHOT (0800 362468) if a seal is severely injured, entangled in a net or rope, or in danger.