A dramatic new image has emerged of the volcanic eruption which spewed a huge plume of ash 9km into the sky, disrupting air travel to and from Tonga.
Hundreds of travellers and holidaymakers were left stranded after flights to and from Tonga were cancelled yesterday because of the volcanic ash cloud.
The new photo, released by the Tongan Navy, shows a huge cloud of black and grey ash erupting from the volcano.
Airports in Tonga have now reopened and flights are expected to be able to leave, but Air New Zealand hasn't been able to get a plane to the island kingdom.
HAVE YOU BEEN AFFECTED? EMAIL US HERE.
Four Air New Zealand have been affected, including one from Auckland on Monday that had to be diverted to Samoa. About 600 Air NZ passengers have had their travel plans disrupted, including 300 in Tonga.
Tonga Airports chief executive Viliami Ma'ake today said the airports were open and representatives from major airlines were discussing the logistics of flying today.
"I think international airlines are here to confirm their programme today. There shouldn't be any problems," he said.
However, a spokeswoman for Air New Zealand said flight NZ6868, an additional service operating between Auckland and Nuku'alofa this morning, has returned to Auckland due to volcanic activity in Tonga.
As a result the return leg flight NZ6869 from Tonga to Auckland has also been cancelled.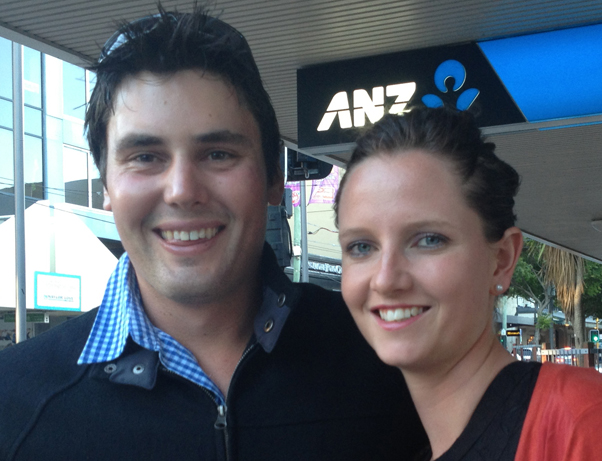 Aucklanders Michael Keeling and Kristy McGregor have been delayed returning to New Zealand because of the ash cloud. Photo / Supplied
The next service between Auckland and Tonga is scheduled to depart Auckland at 4.15pm today, she said.
All flights to and from Australia, Fiji and New Zealand were cancelled because of the ash yesterday.
The Hunga Tonga-Hunga Ha'apai underwater volcano has had small eruptions over the past few weeks. But a larger explosion in the past few days has resulted in the massive plume of ash covering the area. The volcano is about 63km north of the kingdom's capital city, Nuku'alofa.
Aircraft cannot fly through volcanic ash because it can severely damage the engine, erode the fuselage and windscreen and clog the fuel system.
An alert has been issued by the Volcanic Ash Advisory Centre in Wellington and NZ's Civil Aviation Authority is monitoring the situation.
Meteorological manager Peter Lechner said: "Looking at the advisory, they've still got an ash cloud extending from the southeast. From the ocean surface, the plume is up to 30,000 feet [9km] high."
Kiwis stuck in Tonga
Among those stuck in Tonga is Aucklander Andrew Allison.
He and a friend -- both of whom are staying in Nuku'alofa with old schoolmates -- have had two flights cancelled. They were due to come home on an Air NZ flight today.
Mr Allison said that, despite the cancellations, no one was complaining. "Personally, having two flights and potentially having more doesn't bother us. We are both not due back at work until next week. Who would say no to an extended holiday?"
However, others have not been so lucky. Michael Keeling and Kristy McGregor of Manawatu have forked out around $3500 for extra flights, accommodation and food because of the eruption.
The couple had been holidaying in the Ha'apai group of islands -- very close to the volcano -- and their domestic flights back to the main island of Tongatapu were canned.
Mr Keeling is contracted to milk 340 cows, but has had to pay staff to do that for the extra time he and Ms McGregor are away.
Ms McGregor, a policy adviser, was due back to work on Monday but has had to reschedule meetings and explain to the boss.
"It's something out of our control and we can only try and enjoy the extended holiday," she said.
The Ministry of Foreign Affairs and Trade and GNS Science are now working together to help, following a request from the Tongan Government for expert assistance.
An Mfat spokesman said technical assistance was being offered in the form of two volcano experts. They would travel to Tonga to assess the volcanic activity and give advice -- when they could get a flight.
Brad Scott, a volcanologist at GNS Science, said volcanic activity had been recorded for several weeks. He believed the volcano might have started beneath the ocean and grown until it reached the surface, essentially creating a new island.
But he said details of the eruption were unclear.
In 2009, a short-lived but powerful volcanic blast in the ocean created more landmass, Mr Scott said.
One of the things scientists want to establish is whether the latest eruption is related.