Jamie Whyte has resigned as the leader of the Act Party after failing to secure a seat in last month's election. Epsom MP David Seymour has been appointed as the party's new leader.
Mr Seymour was the only Act candidate to get a seat in Parliament after the September 20 election. The party did not get enough votes to also secure Dr Whyte a seat through the party list.
"Today I announce that I have tendered, and the board has accepted, my resignation as leader of Act New Zealand," Dr Whyte said in a statement.
"Clearly I make this announcement with regret, however the election result is clear, and I must now turn to my career and my family."
Mr Seymour said Dr Whyte's decision was "mainly for personal reasons, his family and career, he'd done eight months full time for free for the party, he couldn't do it for another three years on that basis".
He said Dr Whyte had done New Zealand democracy "a great service" bringing his "considerable intellect" to politics.
Under Dr Whyte's leadership Act had "actually made progress, obviously not as much as we'd like, not enough to get a second MP but we've had an MP elected again, we've increased our membership and we've actually increased our polling".
At the start of the year pollsters could not find a single voter in a group of 1000 who would give their vote to Act.
"We did actually bring that up, just not enough and soon enough to get Jamie elected."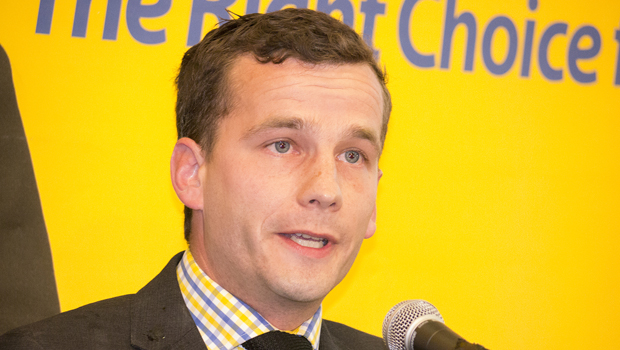 David Seymour. Photo / Steven McNicholl
Mr Seymour said under his leadership, Act would be "disciplined and collegial".
Board accepts Jamie Whyte's resignation
"Today the Act Party board announces with regret that it has accepted Jamie Whyte's resignation as leader," Act Party president John Thompson said in a statement.
"Jamie has proven himself a principled and clear-headed advocate of Act's values of smaller government and greater personal responsibility. Under his leadership, the party has been rejuvenated and membership has swelled.
"We are proud to have had Jamie serve as leader, and hope the New Zealand public has not seen or heard the last of him."
David Seymour appointed as new leader
Mr Thompson said Mr Seymour had been appointed as the party's new leader.
Mr Seymour said he was "honoured" to lead the party.
"I look forward to the challenge and relish the opportunity," he said.
"It has been a privilege to work with Jamie Whyte. I want to acknowledge his tireless efforts through the past nine months and during the campaign.
"Through his efforts the party was rejuvenated and our membership increased. It is a substantial achievement and on behalf of all the members and supporters of the Act Party, we thank you Jamie."
Mr Seymour said he was excited by the opportunity to lead the Act Party, as well as being the MP for Epsom and Parliamentary Under-Secretary for Education and Regulatory Reform.
"I look forward to Act contributing to a stable and successful National-led government, and to expanding our presence in Parliament in 2017."