Run-down home place of refuge for Cook Islands community.
It's dilapidated and decaying, but a Grey Lynn "do up" is remembered with fondness and love by the family who called it home for more than half a century.
Teremoana Turua, 64, lived at 2 Leighton St for 20 years with her husband, Pomani 'Paul' Tangata - a former Cooks MP and celebrated artist - until he died at 72 in June.
WHAT YOUR HOME IS WORTH: Scroll to end of article for interactive
The ramshackle two-bedroom settler's cottage - which is tipped to fetch $1 million at auction next week - had been a place of refuge for the Cook Islands community since Mr Tangata's parents purchased it in 1957.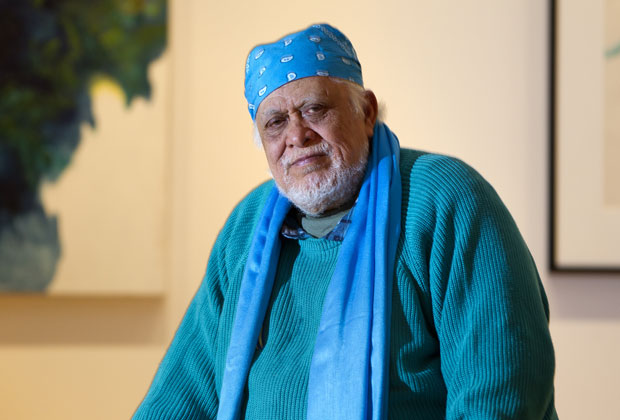 Paul Tangata. Photo / Steven McNicholl
"Although it's a dilapidated home, it was a home that's got a lot of soul and a home that's got a lot of love," Ms Turua told the Herald.
"It wasn't ideal accommodation for anybody but ... I always kept it nice and clean. You'll live anywhere when you're with a person you love."
The house has rotting floorboards, a sagging ceiling and threadbare carpet. The marketing agent describes it as the worst he's ever sold. But its 381sq m section is in one of the country's most exclusive postcodes and it has attracted interest from dozens of potential buyers.
Ms Turua admitted the house had seen better days. "It's a place that's falling to bits."
However, the humble residence had played host to scores of cultural celebrations over the decades. People had been married within its walls and neighbours who lacked space on their own properties had put hangis down in the backyard.
It was a fundraising hub for a Cook Islands community hall and had many stories to tell.
"If I went into a palace or villa, I don't think you'd get that much love or that much soul as you would have had in that house," Ms Turua said.
She said her husband's parents came to New Zealand with "practically nothing". His father had laboured in a South Auckland meatworks to pay the house off and his mother in a laundry.
Mr Tangata, the first Pacific Island graduate of Elam School of Fine Arts, moved into the house when he was a schoolboy and died a few weeks short of his 73rd birthday.
"I tried to get my husband to see if we could move into better accommodation but that was his home. That was where his heart was."
Asked why the house had fallen into disrepair, she said: "There wasn't the money. Both my husband and I were pensioners. It's not cheap to renovate a house in Grey Lynn."
Ms Turua is now living with family. She hoped whoever bought the property treated it with love and respect.
"Whether you tear it down, that will still be there - the soul and the love will still be there."
Barfoot & Thompson agent Kirk Vogel said buyer interest had spiked since the house featured in Tuesday's Herald.
"All exposure is good exposure for this property as it is a tough sell."
WHAT YOUR HOME IS WORTH
App users:
Tap the link below to view the interactive graphic