An Auckland teenager has admitted his role in attacking schoolboy Stephen Dudley and will be sentenced in August.
The teen, whose name is permanently suppressed, was to have faced trial for manslaughter but in the High Court at Auckland today pleaded guilty to an amended charge of assault with intent to injure.
Prosecutor Aaron Perkins said the manslaughter charge was withdrawn after the Crown received two expert reports on cardiac pathology and arrhythmia.
When Stephen was assaulted he had an undiagnosed heart condition.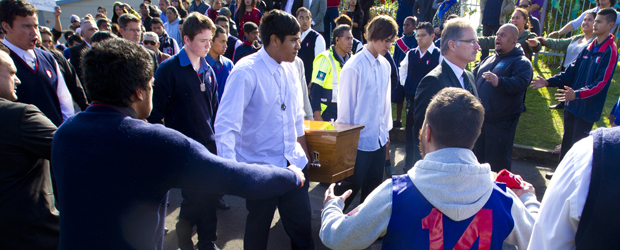 Stephen Dudley's funeral. Photo / Dean Purcell
"[The Crown] forms a view it no longer has a reasonable prospect of establishing beyond reasonable doubt that the alleged assault... was a substantial and operative cause of the death of the deceased," Mr Perkins said.
Earlier this year another teenage boy was discharged without conviction on an assault charge laid in connection with Stephen's death last year. That teenager was also to have faced trial for manslaughter but, like the teen who appeared in court today, admitted a lower charge when the Crown amended its indictment.
Stephen, 15, died after a school rugby training session on June 6 last year. He was taken to Auckland City Hospital after being assaulted and died a short time later.
Stephen was struck by the two boys and did not throw a punch himself.
The teenager who pleaded guilty today was bailed until his sentencing in August. Justice Mark Cooper did not enter a conviction and ordered a pre-sentence report.

Stephen Dudley's parents, Brent Dudley and Mona Dudley. Photo / Michael Craig