Auckland's gleaming new electric trains launched into business at 5.48am today - and quickly experienced delays.
Much fuss was made this morning as the first trains to enter passenger service headed out of Onehunga with regular commuters outnumbered by transport officials, politicians and journalists on the 72-metre train.
However a combination of driver nerves and possible problems with the retraction of the door steps meant trains were running up to 25 minutes late this morning.
Special ambassadors on board the train told passengers they were sorry for the delays but there were a few teething problems.
They then reportedly asked passengers for their patience while the drivers got used to the new trains.
One official at the Onehunga station told the Herald the delays were due to a problem with the automatic steps which were not retracting properly.
A press release from Transdev at 9.30 confirmed some Southern & Onehunga lines are experiencing some minor delays.
"Good morning customers thank you for your patience this morning as we introduce our new electric trains," said communications supervisor Jacob Tobin.
Read more:
• Enthusiasts gather for electric rail launch
• Lester Levy: Electric update transports city 'back to future'
Herald reporter Mathew Dearnaley said there were mixed reactions to the delays. Some passengers waiting at the station were understanding but people quickly took to Twitter to vent frustrations.
"If true that poor staff training was reason for trains running late this morning, very poor form from Transdev. Big black mark," tweeted Luke Christensen.
Not all were disappointed however.
Regular Onehunga commuter Reuben Thompson, catching the early train to Britomart, before cycling to his labouring job in Beach Rd enjoyed wheeling his bike at platform level to the three-car train lower-midsection.
His one niggle was that only four spaces are allocated for bikes and they have to be shared by wheelchairs. But after the 28 minute trip to the city, he marvelled at the smoothness and spaciousness of his new coach to work.
His only competition for space at that time of morning was wheelchair user Murray Waring from Pukekohe, who appreciated the automatic ramp reaching out to the platform for him.
Prang Howard was expecting an old diesel clunker when she boarded Te Papapa for her cleaning job in the city, but said the new machine was "awesome''.
The train was joined for its return trip from Britomart by Auckland mayor Len Brown, who said he could sense a pride among the first Aucklanders who rode on the new train at open day yesterday.
"There's a sense of it being a continuum. People are saying it's a good start, a step up into a truly international city,'' Mr Brown said.
Brown: More rail investment needed
However Mr Brown has warned Aucklanders they'll need to dig deeper for more answers to the city's congestion woes.
Mayor Len Brown expects passengers to flock to the "stunning" three-car trains, two of which took thousands of joy-riders on free jaunts from Britomart yesterday.
"They are quiet, fast and modern, giving a real sense of space - you'll love them, they move beautifully," he gushed to the Herald after an earlier test ride on the first of what will swell to a 57-strong fleet by the middle of next year, marking the completion of a $1.14 billion rail electrification drive.
Gallery: Auckland's electric rail starts rolling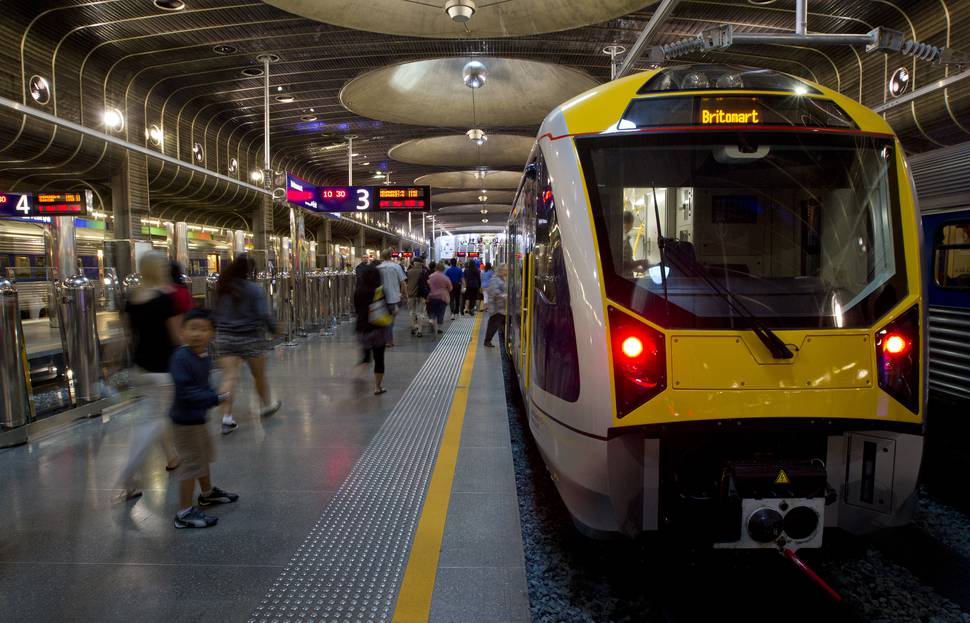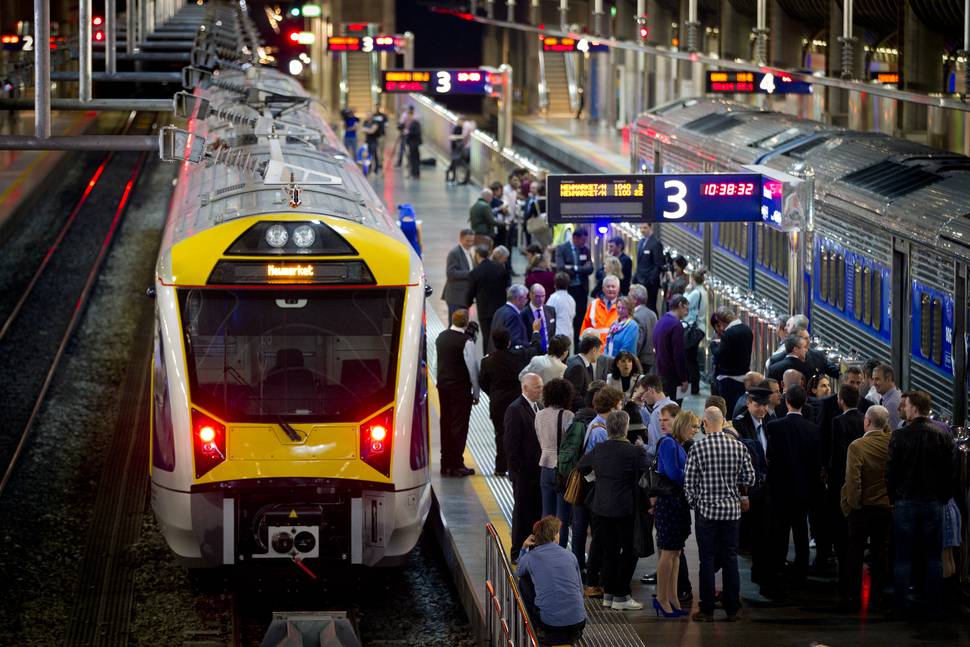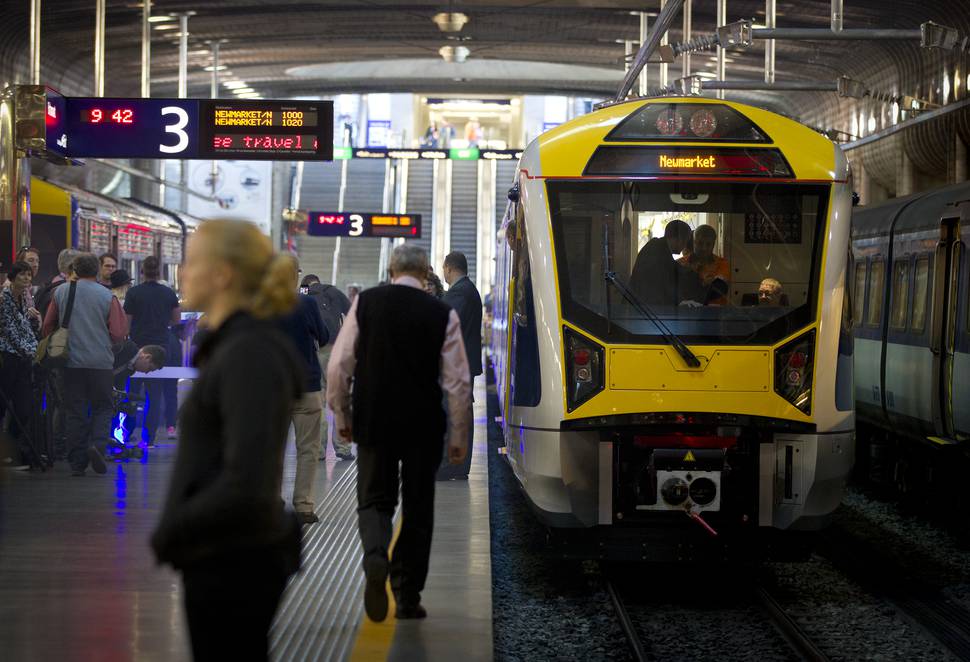 But Mr Brown warned that without a rapid start on a follow-up $2.86 billion underground rail project, Britomart will soon be bursting at the seams as a dead-end station from which the new trains will have to keep reversing until a twin-tunnel extension is built to Mt Eden by about 2025, under a Government timetable.
"We could probably max our patronage on the present suburban rail network at between 16 million and 17 million [passenger trips] per annum," said the mayor, who wants construction of the 3.5km extension to start as early as 2016, after asking his council to make hard decisions next year on how the city will match the Government's half-share.
"I think once the electric trains come on, we'll get there pretty quick."
Although patronage on the old diesel fleet has languished over much of the past two years, after more than quadrupling from 2.5 million trips since Britomart opened in 2003, it has since edged up to a new high of 11 million.
Transport Minister Gerry Brownlee yesterday reiterated that the Government would consider an earlier start on the underground railway, but only if Auckland can prove urgency by showing train patronage is on track to hit 20 million trips well before 2020, and that CBD jobs are growing by 25 per cent.
He opposed the use of tolls, congestion charges or a regional fuel tax to pay Auckland's share because he felt motorists should not have to carry an extra burden for the project.
Mr Brown acknowledged spending by the Government and its Labour-led predecessor accounted for more than 75 per cent of the rail electrification project, and said it would be up to Aucklanders to guide the council on new revenue sources needed to fill a $12 billion funding gap over the next 30 years on top of $56 billion already earmarked for spending on roads and public transport.
"They know there is no easy fix and in the end it's basically back to us - in our hands, in our pockets - dealing with the challenge we have got as a city."
He has meanwhile reconvened an advisory "consensus-building group" which last year left the council with two unpalatable funding options, the first relying on hefty rates and fuel tax rises and the other involving road user fees such as motorway network tolling or "congestion charging" for peak-time trips on arterial routes.
The group, slightly reduced to 15 representatives of sector organisations after the withdrawal of the Automobile Association and a parking company, has been asked to construct financial models for each of the options for the council to put to public consultation early next year.
Neither a regional fuel tax nor road charging is favoured by the Government.
AA spokesman Barney Irvine said his organisation supported last year's exercise but believed it went as far as it could with that, and now the council should be "taking leadership and ownership of this, rather than an external group".
But the AA intended canvassing its 279,000 Auckland members on a preferred funding option, ready to take full part in next year's public consultations.
Design wins plaudits from disabled
Chris Orr felt proud to be on the train when his guide dog Riley slid into the space under the seat and lay down with tail tucked out of the way of passengers passing along the aisle.
"The seats are cantilevered so dogs, and bags, can go underneath and Riley was not going to be stood on," said Mr Orr, who takes the train from Manurewa to his job in Newmarket as environmental awareness adviser for the Blind Foundation.
"We were involved in the design of the train from the word go, from the concept stage, and the result is you won't get any better around the world for accessibility."
Mr Orr said that as well as the design of the seats, Auckland Transport took advice on interior colours.
"Most of the Blind Foundation's clients have some residual vision and are not totally blind. So our work was to get good lighting and colour contrast so people with low vision can use the train easier, which is important for our growing older population.
"The use of contrasting dark-blue and yellow colours means features can be picked up straight away - here's where the hand grip is, the edge of the steps, they shine."
Mr Orr praised the use of contrasting colour for the passenger information display and a further aid - the announcement of stations coming up en route, which could be heard above background noise and despite use of headsets.
But as a regular train user since 1976 who has advised on designs for new stations, he was enthusiastic about other improved accessibility features.
"In the 1970s, you had to climb three steps to a narrow door but today stepping off at Newmarket the platform was almost level with the train. Users of wheelchairs will appreciate the new ramps' sensing the edge and height of platforms.
"The subtle controls for the new trains means they will stop at the same place at the platform for passengers using the low floor part of the train.
"That's enormous for people with limited mobility who sometimes have to walk 20 to 30m along the platform."
- Wayne Thompson
Electric train rollout
• Today - Onehunga-Britomart (via Newmarket)
• Late 2014 - Manukau-Britomart (via eastern line through Panmure and Glen Innes)
• Early-mid 2015 - Papakura-Britomart
• Mid-late 2015 - Swanson-Britomart (western line).