A teenage boy with severe chest pains died after an ambulance took an hour to get him to a hospital 10km away - and only after his father insisted he be taken there.
Avinash Sharma was incorrectly diagnosed with an infection or virus by ambulance officers responding to a 111 call. They took him to a nearby medical centre in east Auckland for treatment.
His desperate father insisted the St John staff instead take him to nearby Middlemore Hospital, but his heart stopped during the journey there.
Hospital doctors were able to resuscitate him, but the 19-year-old died in intensive care the following day.
St John is making a formal review of the case, which will be independently audited by a medical specialist.
The case has also been referred to the Auckland Coroner, Katharine Greig, who may decide to investigate.
The Auckland University student was diagnosed in hospital with hypertrophic cardiomyopathy, a rare condition which thickens the walls of the heart, affecting its ability to pump blood.
It can strike down apparently fit, young and healthy people without warning.
Avinash's devastated parents, Anand and Geeta Sharma, accept the condition is difficult to detect, but say his chest pains should have been a "red flag" for urgent hospital treatment.
"Avinash was in serious pain, so much pain he was vomiting and changing colour," said Mr Sharma. "The ECG showed up some minor complications but they said it was just a virus or an infection.
"If the ambulance had taken him straight to hospital - or we had taken ourselves in the car - we would have been there in 10 minutes."
Instead, Mr Sharma says, the ambulance left his East Tamaki address at 7.30am on September 17 last year, but did not arrive at the hospital 10km away until 8.30am.
This included 10 minutes of waiting for the East Tamaki Healthcare centre to open.
"I was getting angry. My son was still complaining about the pain, I insisted that they take him to Middlemore. Even then they didn't take it seriously, they made him walk to the ambulance."
Avinash's heart stopped beating on the way to Middlemore so the ambulance staff stopped to perform CPR on him.
"I was waiting at Middlemore Hospital. As soon as I saw the lights [on the ambulance] I knew there was a problem," said Mr Sharma.
Although doctors resuscitated Avinash, he did not regain consciousness and died the next day.
Mr and Mrs Sharma laid a complaint with St John and have met clinical director Dr Tony Smith to discuss what happened to their son.
They asked if Avinash would have had a better chance of survival had he been taken straight to hospital.
Mr and Mrs Sharma said Dr Smith told them he might have.
"I said he had chest pains - is this not a red flag to take him direct to hospital?" said Mr Sharma.
Dr Smith said questions from the Weekend Herald to St John would be covered by the formal review of the case.
The review was taking longer than expected but should be completed this month and the Sharma family would be told of the findings early next month.
Regardless of whether more could have been done to save Avinash, Mrs Sharma said she knew "nothing can bring my son back".
Avinash was in his first year of studying psychology at Auckland University.
"He was fit and healthy, never sick in his life," said his mother.
"I've only got two boys and now one of them is gone."
St John attends more than 400,000 emergency calls each year.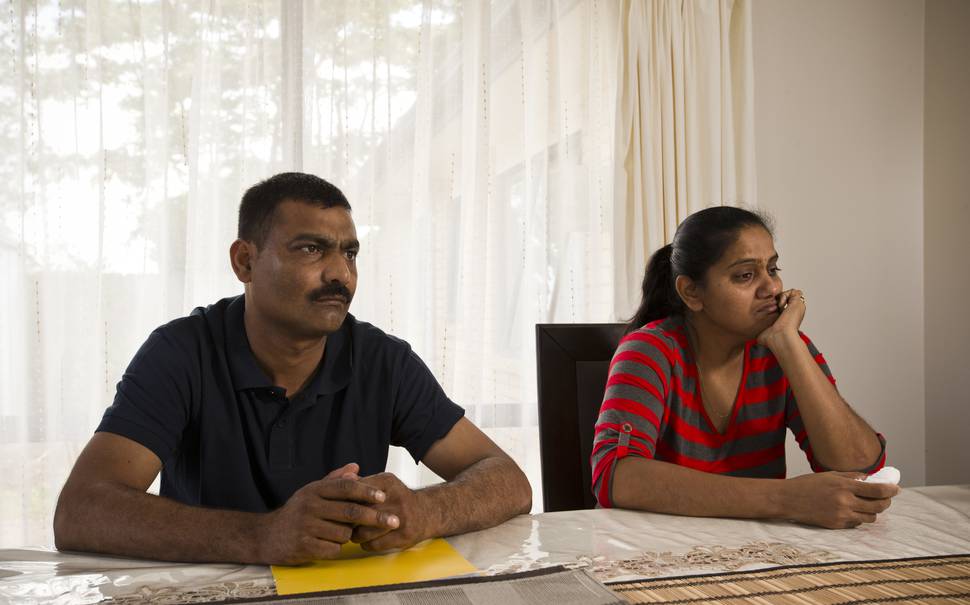 How it happened
September 17, 2013
• 7am: Avinash Sharma complains of serious chest pain and father Anand calls 111.
• 7.15am: Ambulance arrives with three crew. ECG discovers irregularity in heartbeat, but it is diagnosed as chest infection or virus.
• 7.30am: Avinash is taken to East Tamaki Health Centre on Dawson Rd. It is closed so ambulance staff decide to wait until it opens.
• 7.40am: Father Anand Sharma insists ambulance takes Avinash to Middlemore Hospital.
• 8.30am: Ambulance arrives at hospital, but Avinash's heart has stopped. Doctors revive him, but he dies next day.
- Source: Account of Anand Sharma, father of Avinash