Torrential rain, high winds, and even a reported tornado have caused chaos across the country today, bringing slips, floods, evacuations, and damage to property.
But weather forecasters say that we're over the worst of the weather, with rain moving east and easing to scattered showers.
The Thames-Coromandel area has been hit particularly hard by thunderstorms and torrential rain, causing widespread surface flooding.
While the rain is easing, police in Waikato urged motorists to remain cautious and expect delays due to dozens of slips and floods.
Campers at a Cooks Beach camping ground were moved to a local community hall early this morning. Campers at an Opoutere camping ground near Whangamata were given the option of a voluntary relocation to the local primary school after consultation with camp managers, the Rural Fire Service and police.
"The eastern side of the peninsula appears to have been hit the hardest and with the next high tide due at 4.38pm there is concern that water level may rise again and we're urging people intending travelling to the area to delay their trip if possible," said Sergeant Jim Corbett, officer in charge of Thames-Coromandel road policing.
View reader images of the flooding: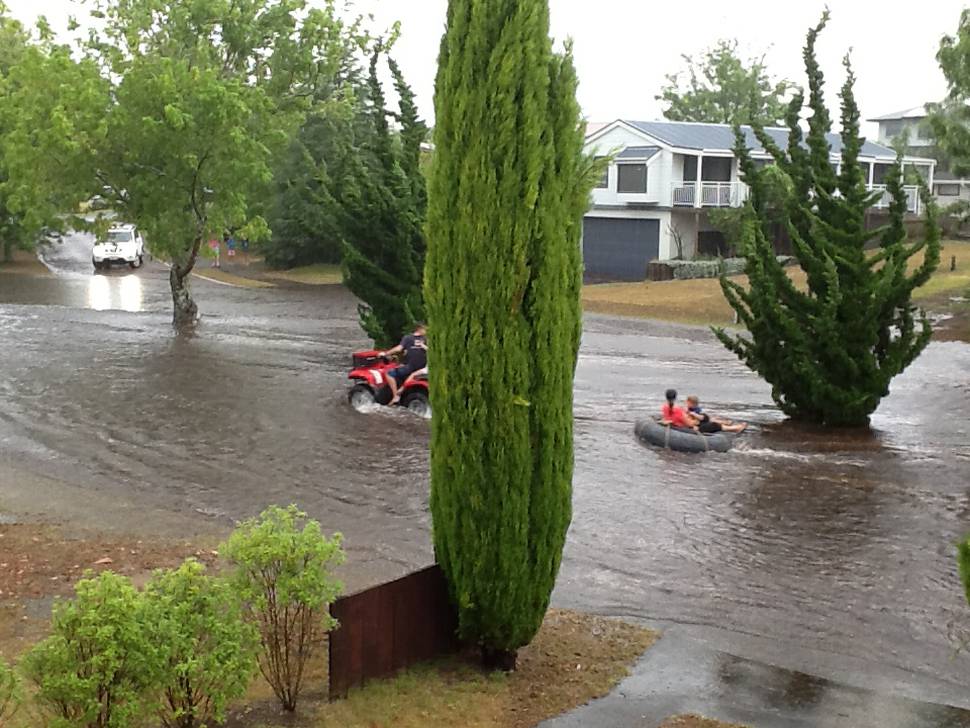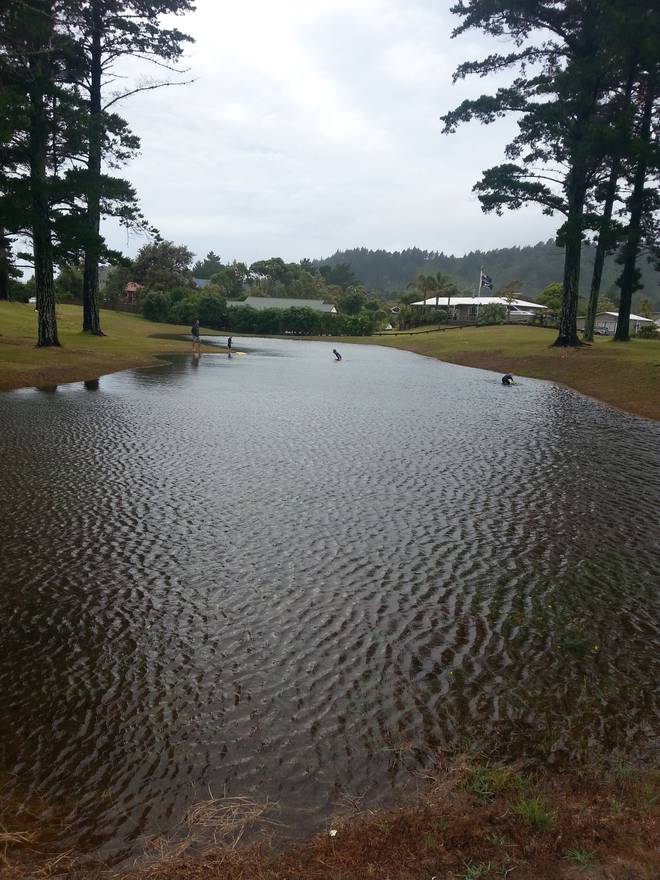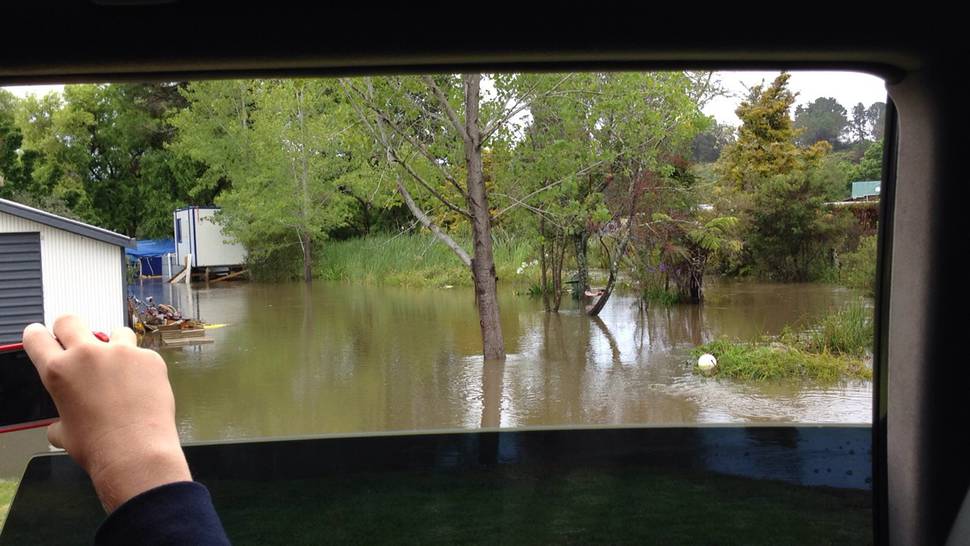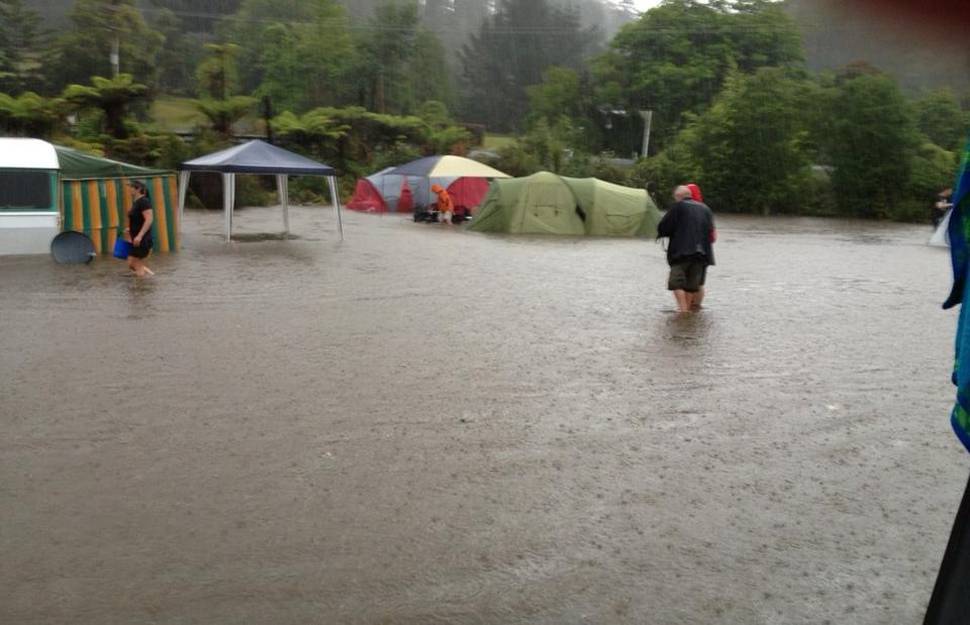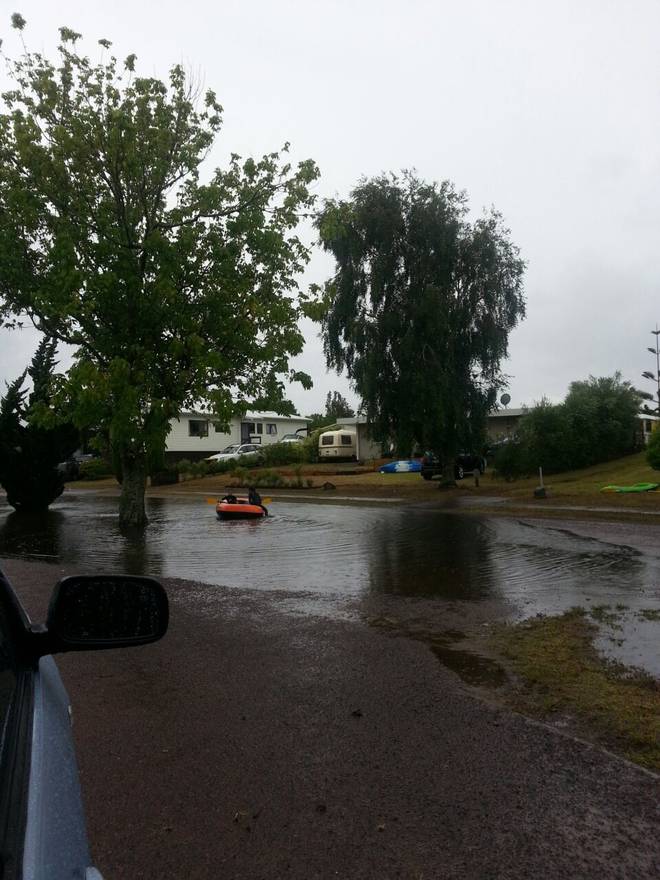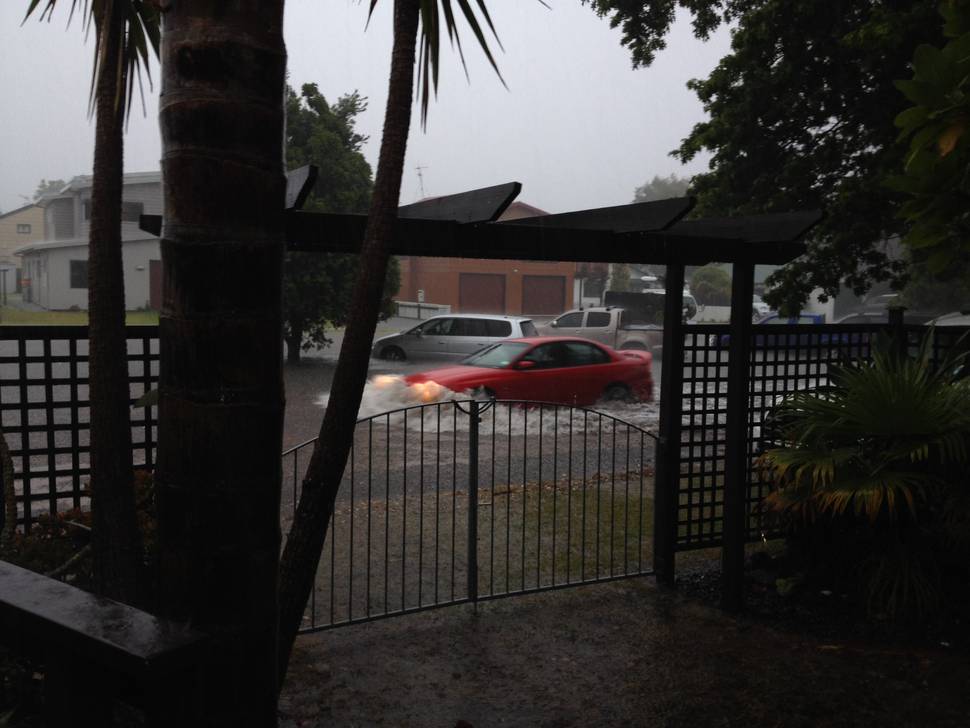 The main areas affected by flooding are north of Tairua on SH25 heading towards Whitianga where the north bound lane has been closed. A slip is causing delays to both lanes on the same highway at Pumpkin Hill.
Other parts of SH25 affected by flooding are around Whitianga, particularly near the intersection with Wade Rd, Golf Rd and stretches of the Te Rerenga Kuaotuna Rd.
Parts of Pauanui are also flooded.
Travellers are advised to continue to monitor weather forecasts and the NZTA Highway Information website on http://www.nzta.govt.nz/traffic/current-conditions/highway-info.
Police have also been receiving constant reports of surface flooding across western Bay of Plenty.
"Police are appealing for all drivers to avoid the area or stay at home until later this afternoon to allow for the flooding to recede," a spokesman said.
A small tornado reportedly blew through Papamoa Beach shortly after 10am today, causing damage to house roofs.
Fire Service appliances from Papamoa and Mount Maunganui have been called to the Wairakei Ave area after reports of weather-damage and flooding.
"We are in attendance at several properties that have either sustained flooding or have had roofs lifted in the Papamoa area," a Fire Service spokesman told APNZ.
There has been no reports of injuries.
Wairakei Ave resident Anne Bernard said the tornado passed right over her house.
"It was like a wall of rain and wind, swirling around," she said.
"I was on the phone at the time and I couldn't hear anything. It was like a howling sound.
"It hit our backyard. I was standing at the ranchslider looking out. The rain was so heavy and dense that you couldn't actually see anything outside of it."
Her property escaped any damage - "just chairs blowing around, pots turned over" - but her neighbours have had tiles blown off their rooftops.
"Our next door neighbour on the other side, they've got a two-storey house and their living room is flooded, just with the sheer volume of water coming under their ranchslider."
MetService meteorologist Elke Louw said the rain has started to subside in the Coromandel.
"There could still be a few showers this afternoon, but the low pressure is moving eastwards."
A severe weather warning has now been issued for Bay of Plenty, with heavy rainfall expected to continue for the rest of today, only easing overnight.
"For Gisborne, north of Ruatoria, from 3pm this afternoon till 3am tomorrow morning, they could be looking at 80-100mm at accumulation," Ms Louw said.
And it spells bad news for the ODI cricket match between New Zealand and the West Indies in Napier this afternoon.
"It's not looking good for the cricket," the forecaster said.
The weather improves the further south you go.
While it's raining in Nelson, Marlborough, Buller, northern Westland, and Christchurch, the rest of the South Island is fine.