Jack Winwood joined a Fire and Emergency elite when he received his double Gold Star for 50 years as a volunteer firefighter.
He was the 159th recipient of the award (since 1924), and the 11th in Northland, but he and his wife Lynette are in a class of their own.
Mrs Winwood served alongside her husband for more than 25 years, and was recognised with a Gold Star some years ago. Between them they have given 80 years' service to their community, and are the only couple in New Zealand to have three Gold Stars between them.
Colin Kitchen, past president of the United Fire Brigades' Association, said it was an honour and a privilege to present the medal to his good friend and fellow firefighter. Mr Winwood joined the Okaihau brigade on March 13, 1965, recording a 73 per cent attendance rate over the following 52 years.
The 50-year medal was sometimes referred to as a double Gold Star, because in times gone by it was literally fashioned from two Gold Stars that were glued together.
Mr Kitchen also acknowledged Mrs Winwood and the couple's family for their unconditional support over so many years, entirely without payment.
He also acknowledged volunteers, employers and families who enabled Fire and Emergency NZ to sustain the volunteer arm of the service. There about 13,000 volunteers, and about 3000 career staff, including 28 brigades in Northland.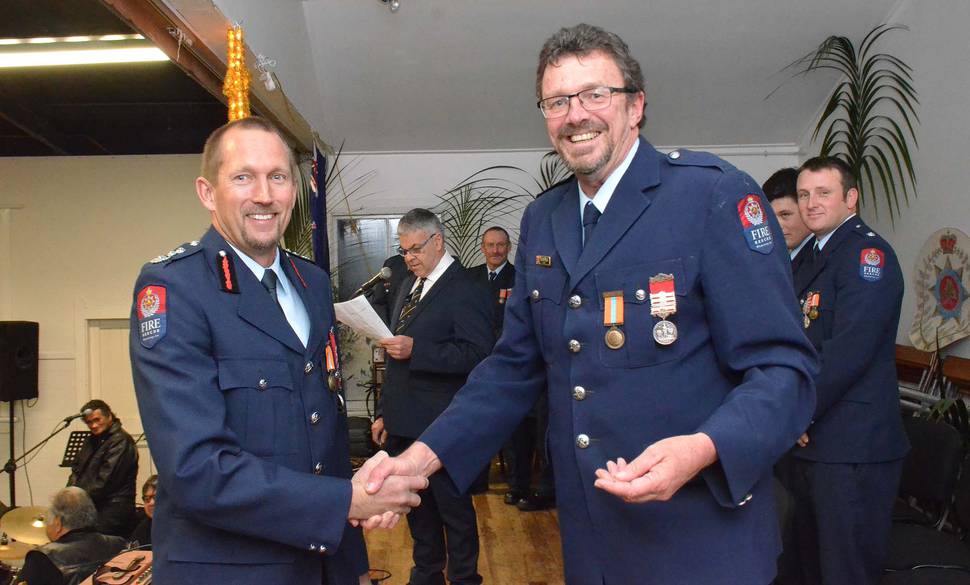 Others to receive service honours were:
* Andrew Graham (21-year clasp)
* Hamish Lewis and Alistair Wells (14-year medal).
* Jody Adkins, Robbie Burns, Ross Campbell, Todd Campbell, Brian Corr, KJ Edwards, Matt * Lewis and Daniel Flood (two-year bar for seven years).
* Andrew Graham (two-year bar for 17 years).
* Hamish Lewis (two-year bar for 15 years).
* Michael McGivern (five-year medal).
* Alistair Wells (two-year bar for 15 years).