The second scholastics surfing event was held at Sandy Bay in Tutukaka on Thursday with 66 entrants in a full day of surfing, running two podiums for the whole day.
On podium one in the centre of the beach, the under-16 boys, under-18 boys and the longboarders battled out in tough but contestable conditions. A sustained onshore blew all day which created some choppy waves whose peaks had to be hunted for, but the swell stayed a consistent two to three foot solid with a few lulls and a few monster sets coming through at times.
On podium two at the south end of the beach, the under-14 boys and under-14, under-16 and under-18 girls had some slightly smaller waves but not by much, with some solid sets and a few closeouts to contend with.
The wildcards in the under-14 boys were standouts again, showing us that the next generation of scholastic surfers in Northland will be tough and seasoned competitors. (Kauai Rahui, Oska Robinson and Isaiah Backhouse, all under 12 years old).
Charlotte Taylor in the under-14 girls was charging as usual and in the under-16 girls Malindi Reihana-Ruka came from behind to first place with her no fear attitude when selecting the biggest waves of the heat.
Our top of the under-14 boys competitors, Tai Erceg-Gray and Izaak Hayes met up for a showdown in the final with the results flipping from last scholastics to put Izaak just out in front this time around. The third and final round will be a nail biter for sure to see who wins the best of three between these two talented young surfers.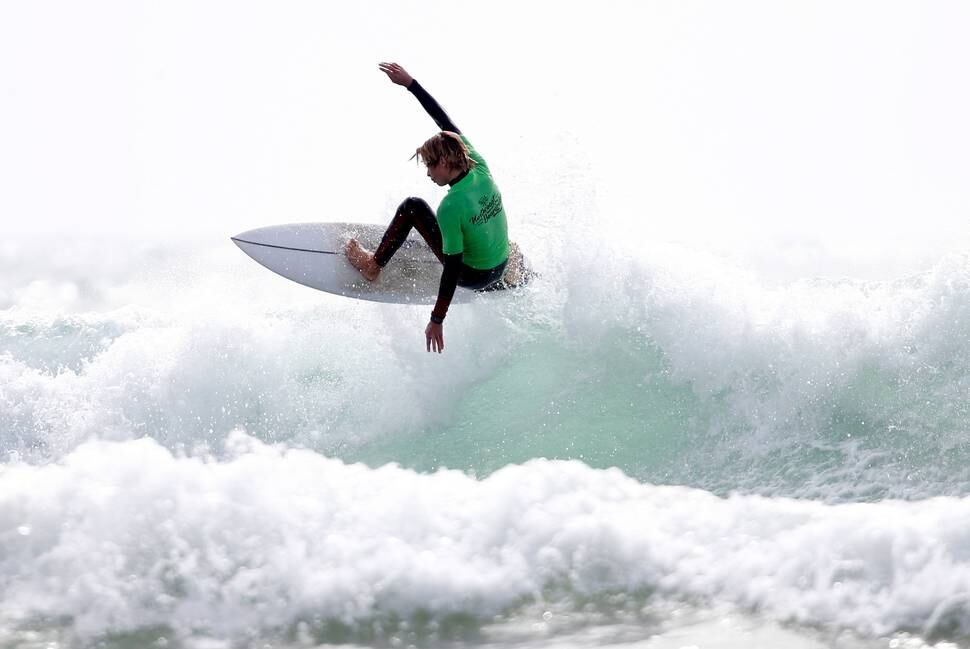 Results:
Under-14 Girls:
1. Charlotte Taylor (Kamo High School/KHS)
2. Saorise O'Brien (Whangārei Girls' High School/WGHS)
3. Jordyn Tana (WGHS)
4. Laurel Suetter (WGHS)
Under-16 Girls:
1. Malindi Reihana-Ruka (Springbank School)
2. Sky Gundry (Kerikeri High School)
3. Pipi Johnson-Philips (Kerikeri High School)
4. Kayla Carter (Bream Bay College)
Under-18 Girls:
1. Grace Pevats (WGHS)
2. Brydie Harrison (Kaitaia College)
3. Laura Lamouric (Kaitaia College)
Longboard:
1. Billy Whelan (Rodney College)
2. Corey Vercoe (Rodney College)
3. Ben Moretti (Correspondence)
4. Luca James (KHS)
5. Darcy Howell (KHS)
Under-14 Boys:
1. Izaak Hayes (Whangārei Boys' High School/WBHS)
2. Tai Erceg-Gray (WBHS)
3. Campbell Mosely (KHS)
4. Journey Lum (WBHS)
Under-16 Boys:
1. Jacob Buckle (Huanui College)
2. Ari D'Anvers (WBHS)
3. Elijah Backhouse (Bream Bay College)
4. Tama Kauwhata (Correspondence)
Under-18 Boys:
1. Corey Vercoe (Rodney College)
2. Aiden Hayes (WBHS)
3. Sam Anderson (WBHS)
4. Nandor Kecskemeti (WBHS)