To say defence is Northland's Achilles heel this Mitre 10 Cup campaign is an understatement. It's becoming septic and the sobering news is Waikato lie in wait in the semifinals this weekend.
Shorn of some key players, the Taniwha gave it their all bar their heart and soul in defence to narrowly lose 38-35 to Bay of Plenty in Tauranga during the last round-robin match on Saturday.
Northland missed 19 tackles to Bay of Plenty's just two in the first spell and the hosts were four tries up after 28 minutes to secure a first half bonus point.
Time in opposition 22 was six to one in favour of the Steamers in the opening half.
Let's be clear on that— those stats weighed heavily against Northland and they still came within a whisker of winning.
Perhaps that's the saddest thing of all to contemplate.
What does that say about them? Well, it means the pressure Northland coaches were under to get aspects of the team's game, and defence in particular, right has now doubled.
That those who sat out the game on Saturday will likely return for the knockout match at FMG Stadium in Hamilton matters not a jot because they have been just as guilty in the past of falling off far too many one-on-one tackles.
There has to be more to come. Even if it is now the wild optimism of the deluded, there has to be more to come.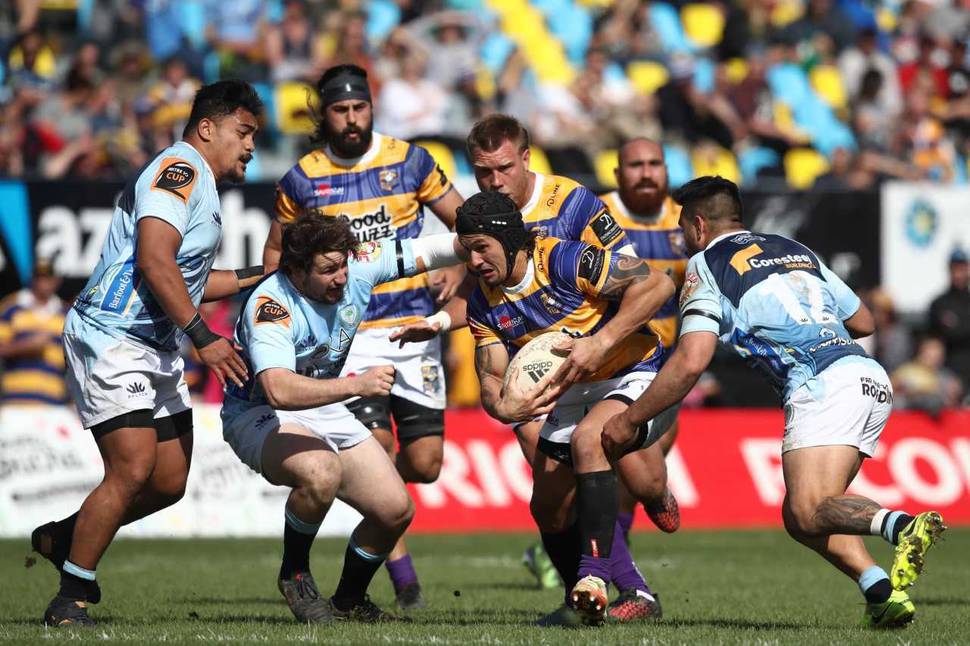 Despite having the breeze in their favour last weekend, Northland opted to run the ball rather than play a territorial game and found themselves pinned in their own half for most of the opening half.
Their lineout went awry whenever they were hoping for some go-forward ball.
Their defence didn't hold firm when the hosts indulged in a little of the unexpected and their basics of pass and catch were only good up to a point.
The Steamers, not one of the heavyweights of this competition, were at least good enough to capitalise on the chaos faced.
Northland wing Scott Gregory booting the ball 105 metres over the deadball line from a defensive scrum suggests the absence of a no-nonsense, clear-headed, bold character that ensured they played with obvious conviction and direction.
With a booming right boot, first five Jack Debreczeni should have been the first receiver off the back of the scrum to hoof the ball into touch in opposition territory.
If the tactic to use Gregory was a ploy to confuse Bay of Plenty, it failed badly because the Taniwha effectively gifted the Steamers their first try to prop James Lay off an attacking scrum.
Another prop Jeff Thwaites scored his team's second try shortly after receiving a well-timed pass from hooker Tom Crozier who found a gap around the fringes.
Taniwha halfback Sam Nock's slight movement off the defensive line was exploited by Thwaites.
The Steamers scored their third after 17 phases of play and their fourth after 19-year-old debutant Emoni Narawa fended off Tamati Tua and Gregory on the way to the tryline.
The energy, enthusiasm and workrate of centre Terence Hepetama, flanker Mitch Karpik and lock Kane Le'aupepe for the home side in attack were impressive.
Northland pulled one back through loose forward Aorangi Stokes who managed to play the ball in corner following a run down the right flank by Jordan Hyland.
The Taniwha started the second half strongly and Ropate Rinakama burrowed over after 11 phases of play.
Debreczeni nailed the conversion, his 18th successful kick in succession.
But it didn't take long for Bay of Plenty to hit back.
Wing Fa'asiu Fuatai gathered a chip kick and touched down in the corner.
Northland mounted a late comeback with converted tries to centre Tamati Tua and winger Jordan Hyland but it was too little, too late.
This will the second year in a row that Northland will play in the championship semi final.
Last year, the team lost to Wellington Lions at Westpac Stadium.
Otago will host Hawke's Bay in the other Championship semifinal this weekend.