Art and collectables auction
More than 200 original artworks, antiques and collectables will be up for grabs this Friday when Hospice Mid-Northland holds its annual Art and Collectables Auction.
Many of the donated artworks for sale are by Ngāwhā prison inmates and include traditional and contemporary carvings in wood and bone as well as paintings. When viewed from the back a striking carved wooden head reveals a figure seated in a prison cell.
Established Northland artists have also donated paintings while astrophotographer Chris Pegman has gifted some of his night-time panoramas of Northland scenes.
Collectable items include World War I relics, china, antique furniture, silverware, vintage vinyl singles and musical instruments.
About 70 items will be auctioned by MC and local lawyer Rick Palmer; another 140 objects donated to hospice over the past year will be sold by silent auction.
The evening includes a buffet dinner and a show by Kiwi comedian/hypnotist Guy Cater.
The event will take place in the Turner Centre Plaza from 5.30pm this Friday. If you want to check out the items beforehand a preview will be held at the same location from 10am to 2pm.
Tickets are $50 or $450 for a table of 10; check at the Hospice office at 464 Kerikeri Rd, phone (09) 407 7799 or email fundraising@hospicemn.org.nz to see if any are left.

Kerikeri reading dog stars in new book
A Kerikeri woman and her labradoodle are the inspiration for a children's picture book which will be launched next week.
Every Tuesday Jannetta Wilmar takes her dog, Meg, to the school library, where the labradoodle listens patiently to reluctant readers.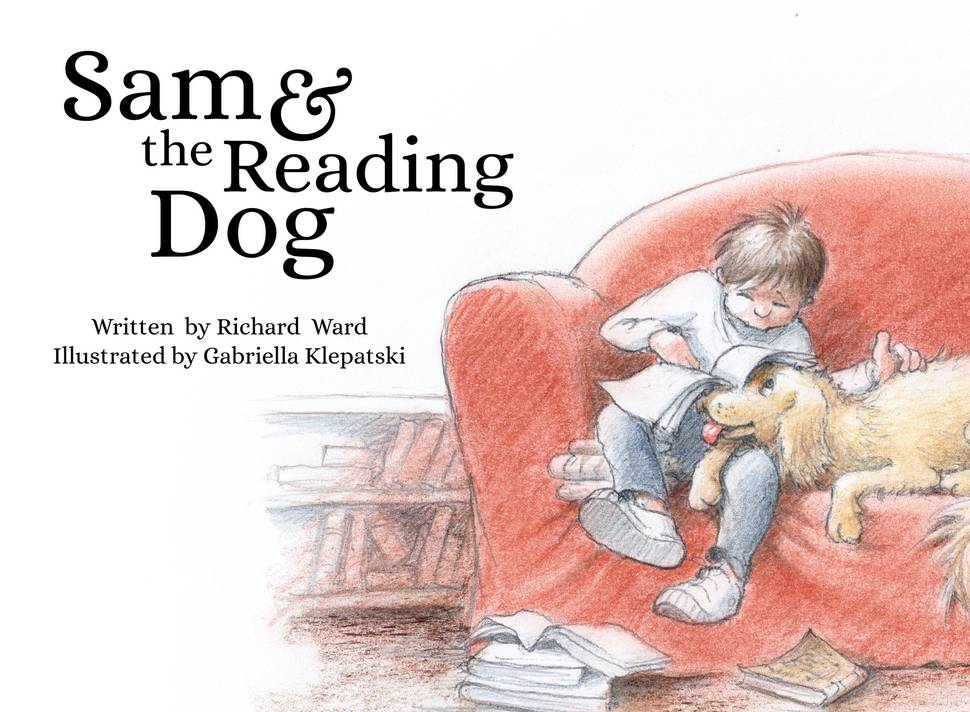 Her visits are part of the SPCA Outreach programme which sees dogs visit hospitals, schools and rest homes to provide comfort and companionship.
In a curious twist to the school reading programme, Meg could end up listening to kids reading to her about Meg the reading dog.
That's because the fluffy labradoodle was the inspiration for a children's book written by author Richard Ward, with illustrations by Gabriella Klepatski.
The book, called Sam and the Reading Dog, will be launched — where else? — in the Kerikeri Primary School library at 10am on Wednesday, October 17. All welcome.
"Some children are more confident reading to a dog," Ward said.
"There's less chance of a correction. And sometimes you're sure that dog is listening."
Ward is a former university lecturer in literacy education who has written teacher resources, articles about education policy and horticulture, novels and short stories.
He now lives in Kerikeri where he "practices bad orcharding".
Teens clean up for surf comp
Sky Gundry and Ben Moretti are in Gisborne this week at the National Scholastic Surfing Championships.
The Kerikeri teens, both aged 14, are the most northern members of the 13-person Northland team competing at the event.
To fundraise for this trip they decided to do something constructive for the environment by conducting a rubbish clean-up along the roadsides between Kapiro Rd and Tapuaetahi Beach.
Seeking sponsorship from individuals and businesses, they raised around $500.
"We are so grateful for the support from our community — not just through sponsorship but also the positive feedback we got from our Facebook posts of our clean-up," Sky said.
The pair collected 10 sacks of rubbish over 3km of road in three hours.
"We were surprised at the amount of rubbish and what we found," Ben said.
"The most common rubbish was Cody cans, pie wrappers and cigarette packets."
Ben and Sky are excited about their first Scholastic surfing competition which will finish this Friday.
— by Sky Gundry
Take a hike
This year's Bay of Islands Walking Weekend boasts 18 walks ranging from an amble around the clubs of Russell to an overnight tramp from Deep Water Cove to Cape Brett and back.
One of the changes this year is that the event will be based at Russell Bowling club instead of the Duke of Marlborough. Walkers will be able to meet at the club, discuss their day's explorations, enjoy some entertainment, and have something to eat and drink.
Other walks include a combined hike and kayak to Haruru Falls, two Opua Forest walks with Māori business Papatūānuku Tours , an overnight adventure on the tall ship R Tucker Thompson, and a mystery "meet the locals" tour.
At least one walk is on private land so the walking weekend is a rare chance to check out normally inaccessible places.
Go to boiwalkingweekend.co.nz for more information or to book a walk. Most walks are limited to 20 participants.

Miss Far North
In a few days from now Kaitaia College student Aaliyah Dane will come to the end of her reign and a new Miss Far North will be crowned.
A total of 22 young women are vying for a title at the Turner Centre on Saturday in three categories — Little Miss Far North (up to 11 years), Miss Teen Far North (12-16) and Miss Far North (17-25).
Contestants will appear in day and evening wear and perform a dance routine in a Polynesian section.
Entertainment will include a performance by hip-hop dance group DDF while Miss Far North 2013 and Miss Universe New Zealand finalist Priscilla De Groen-Hutchinson will be the MC.
Pageant organiser Alaryna Ashby said it would be a night of glamour and entertainment.
"There is some amazing talent and beauty in the Far North, and nights like this give us a chance to show the public just how lucky we are to live in such a unique place," she said.
"The show will be a tremendous confidence booster for the contestants, who are learning poise, etiquette, how to walk in heels, and the finer points of make-up, skin and hair care."
A People's Choice Award will be decided by readers of the Advocate's Kaitaia-based sister paper, The Northland Age.

Sculpture garden fundraiser
Kerikeri sculptor Jaki George is opening up her sculpture garden and studio as a fundraiser for the Red Cross from 10am to 3pm this Saturday.
Her garden is at 10 Urutawa Dr (off Shepherd Rd); entry by koha. Refreshments will be available.
The fundraiser is a way of giving back to the community and to the Red Cross. Jaki and husband Alyn moved to Kerikeri from Christchurch after the 2011 earthquake, when the Red Cross played a crucial role in relief efforts.

Homestead wins pool comp
Kerikeri's Homestead Tavern has won the annual Pride of the North pool trophy for the first time in the competition's 25-year history.
This year's contest was held on September 29 at the Pioneer Tavern in Waipapa with 15 teams from all around Northland taking part.
The trophy was won by Homestead 1 consisting of Toni More (captain), Cheral Reesby, Judith Wiggins and Karina Erstich, with Kaikohe RSA 2 the runner-up and Horeke third.
All teams that lose in the trophy round then contest the plate round. That was won by Homestead 2 made up of Margaret Walker, Raewyn Matheson, Ang Williams and Tash Morgan, with Kaitaia's Kauri Arms Rebels the runners-up.
The winning captain, Toni More, said it was "an awesome day with some awesome pool played".
Next year's competition will be held at the Homestead Sports Bar and Bistro with the date yet to be set. The Pride of the North was first held, according to the trophy's inscription, in 1993.

Lunchtime concert
This Friday's lunchtime concert in the Turner Centre Theatre Bar will feature Kate Sheldon playing piano solos by Scarlatti, Beethoven, Chopin and Bartok.
An ex-student of Larry Jenkins and Jill Cottle, Sheldon is currently studying classical performance at the University of Auckland.
Donations from previous lunchtime concerts have helped fund her music tuition. The concert starts at 12.30pm; suggested $5 donation at the door.

Champion eaters
Paihia's Rei Rei Morgan confirmed his reputation as a champion eater when he won the kina-sucking contest at Saturday's It! Bay of Islands Food and Wine Festival for the second year running. When Rei Rei had finished his quota of kina his rivals had barely started.
The pie-eating contest was won by Alex Ward of Kerikeri while Shaun Hylton-Cave of Whangārei won the oyster-shucking race. Auckland's Matthew Lark also got a prize for drawing blood in an oyster-eating injury.

Law talk
The University of the Third Age (U3A) Bay of Islands is holding a meeting at 10.30am this coming Monday, October 15, at the St John Hall on Kerikeri Rd. This month's guest speaker, retired District Court Judge Tom Everitt, will give a talk called Law: Yesterday, Today and Tomorrow. The meeting is open to the public.

Art show opens
A new exhibition called the Audrey Mac Project opens at Art at Wharepuke this Friday from 5pm to 7pm.
The project is the result of 17 artists engaging with items found within the pages of a second-hand book, including an address typed on a brown piece of paper, a hand-written list of clothing and travel items, and a Russian-luggage label dating to some time between the 1950s and the 1970s.
Project curator John Robinson, from Tasmania, will give an informal talk during the opening.
The exhibition will run until November 5. The gallery, on Kerikeri's Stone Store hill, is open 10am to 5pm daily.

Back to the future
A new show called Ka Mua, Ka Muri — Walking Backwards into the Future will open at No. 1 Gallery in Rawene at 2.30pm this Saturday. It features works by Mike Cameron and explores "the enduring knowledge of our tupuna in a contemporary context". The exhibition will run until November 7.
■ Do you have news or an upcoming event you'd like to see in this column? Send it to us, including your full contact details, to baynews@northernadvocate.co.nz