Bream Bay weightlifters win medals
Weightlifting is taking off in Bream Bay, with two students medalling at last week's national secondary school championships in Auckland.
Shay Aull won gold in under-15s in his weight class, and Ashleigh Kramer took silver in over-15s in her class.
Taitan Moana-Phelan and Leah Bucknell also came close to medalling. The four are members of the recently established New Zealand Weightlifting Academy in Ruakaka, run by former NZ representative weightlifter Caleb Symon and wife Antonia.
"We are so proud of what our kids have achieved in such a short space of time," says Antonia Symon. "They train three days a week and are very dedicated."
Weightlifting is a sport that suits a wide range of ages – academy members range from age 12 to 50.
The Symons, with their baby Ella, have travelled around coaching members and taking them to competitions. Next on the list is the national masters competition in Wellington at the end of the year, where Taitan's father Lindon Johnson will compete.
Caleb has been competing in weightlifting for 10 years, but Antonia is a relative newcomer with just two years under her belt. However she was previously a crossfit athlete for six years. She has also set up a gym in Ruakākā, Jungle Fitness, and runs group classes for people of mixed fitness levels.
Civic Honour for Ruakaka's Warren Daniel
Warren Daniel has been a champion of Ruakaka almost from the moment he arrived here in 1967, and last week he was rewarded for his service with a civic honours award from Whangārei District Council.
A year after Daniel, with wife Jean and family, moved to Ruakaka where he worked as a vet, he began helping the Ruakaka Surf Lifesaving Club. Marsden Jaycees followed, and in 1974 he was an inaugural member of the Marsden Yacht and Boat Club, where he is still an active member.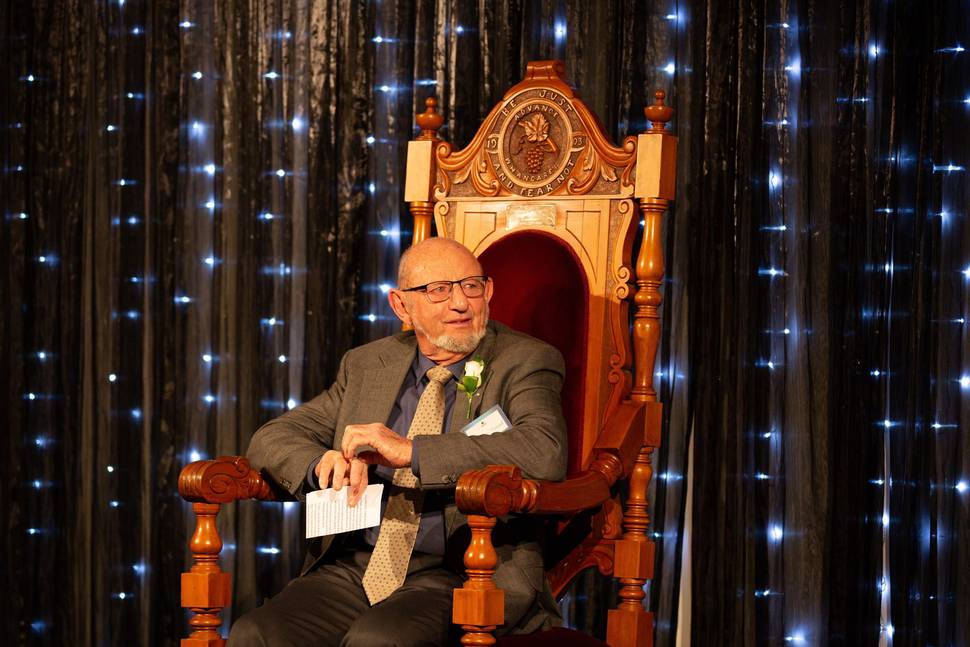 He was secretary of the Ruakaka Scouts Group and Ruakaka Economic Development Group. He chaired Ruakaka Primary School's committee and the Ruakaka Parish Residents and Ratepayers Association. Since 2004 he has been the association's secretary.
In 2015 Daniel was the Ruakaka Citizen of the Year, and in 2017 he received the inaugural Bream Bay Sports Award for Community Impact.
Fifty-one years since his arrival, Daniel says his goal has always been to make Ruakaka an even greater place to live.
"I make no apology for having been one-eyed in my promotion of Ruakaka. It is a great town and I hope to be able to keep standing up for it."
Pulse Dance family fun day
Pulse Dance group are holding a family fun day on October 13 – a touch tournament at the Ruakākā sports grounds with other entertainment.
The tournament is for mixed 10-aside teams with a minimum of two females per side. There are spot prizes and a cash prize for the winning team. There will be food stalls, a pre-sold hangi, live entertainment, face painting and more.
To register your team or order a hangi contact pulseperformingstudio@gmail.com or 022 354 2651.
Teacher Krystal Williams-Tuhoro says her students are fundraising towards the cost of competing at PACANZ, the performing arts national competition in Palmerston North, but are also learning about bringing the community together and motivating each other to make good choices.
Pulse has a team of six seniors performing a contemporary routine at nationals, and a mixed age team of dancers performing a musical theatre. The family fun day event will also lead into Pulse's end of year gala ball fundraiser for mental health support for youth and young adults. The ball will be at the Celtic Barn with guest speakers, bands, meal, silent auction and performances.
Waipu Lions charity walk and run
On October 6, Waipu Lions are once again holding their Child Mobility 10-10-10 Charity Walk and Run.
With 5km and 10km options, the walk/run begins at the Waipu Cove Surf Club at 9am (registration from 8am). Entry is $10 for adults, $5 for children, with all money raised going to the Lions Child Mobility Foundation.
The foundation supports children with special needs by assisting them with specialty walkers, hoists and other items that help to support both the child and their family to make life easier and possibly give them the chance to walk independently.
■ Email Julie Paton at moojoy@xtra.co.nz if you've got Bream Bay news to share with Northern Advocate readers.