Big financial losses for Kauri Museum
The Kauri Museum has had to cut staff numbers in a recent restructure as a result of "substantial" financial losses.
Board chairman Mark Vincent said the losses have occurred in the past three financial years.
"As a result the museum has undertaken a restructure which has seen the departure of three executives who will be replaced by a single general manager in order to recover
some of the losses."
Vincent said that in the 2016-17 financial year the museum made a loss of about $182,000.
"It looks like there will be an even more substantial loss in the 2017/18 year also, although we are still waiting upon final figures from the accountant. There was also a smaller loss in 2015-16 year."
Vincent said the losses are due in part to the museum not adapting efficiently to it's circumstances.
"There was a time, go back 10 years ago, and we had over 80-90 thousand people through the door. Then there was the global financial crisis and a further issue has been the demise of the cruise industry in our region.
"Now we are seeing something like half those numbers i.e. only 40 thousand people through the doors."
Vincent also blames the financial losses on fewer coach tours visiting the museum.
"We're currently getting 2-3 tours a day, but in the past there were days when we were getting 10 coaches through a day."
However there is hope, said Vincent, who believes that with reports more cruise ships will be landing at Marsden Pt in the future will encourage more visitors to the region.
He also hopes the Kaipara District Council gets on board to support the museum in its quest to work more closely with other museums in the district.
"In our submission to the KDC Long term Plan, the Kauri Museum requested the assistance of the KDC in better coordinating and facilitating the activities of the three museums and four art galleries within the district.
"So that they can work to a mutual advantage. That would be one simple cheap way in which the council could support our museum and others."
Unfortunately Vincent said this request was denied.
He also said it would be great if the council could include a section about the museums in its regular activities pages which it advertises to help promote the museums.
Vincent however said the council is very supportive in other ways and only charges them a peppercorn rental.
He also said the museum will be more aggressive about applying for community funds and government grants in the future to stay afloat.
Women of Northern Wairoa set to celebrate 125 years of the right to vote
Women from around the Northern Wairoa are set to celebrate 125 years since the signing of the petition for the right to vote in 1893.
Pauline Hilliam-Olsen's great great grandmother was one of 212 women who originally signed the petition and she and her friend Betty Mason have decided to organise an afternoon tea to celebrate.
Hilliam-Olsen said she is proud of the fact her great great grandmother Eliza Jane Hill signed the petition way back then in her hometown Paparoa and believes there are many other women in the Northern Wairoa with ancestors who signed it.
"Oh I'm absolutely proud, I feel the female line in my family is very strong, Eliza came over from Nova Scotia as a young single independent woman and she made the right decision."
Mrs Hilliam-Olsen said it will be a wonderful opportunity for women through-out the Northern Wairoa to come together to celebrate their right to vote.
"What I'm also trying to do is find descendants of those who signed the petition, hoping that they will come along and celebrate with us.
"She encourages women around the district to Google suffrage 125 petition to see if one of their ancestors may have signed the petition. "There were 31,985 women who signed it."
"I just think it's very empowering for women of NZ to be the first in the world to ask for their own independence for the right to vote."
Whether or not your ancestor may have signed the petition or not Hilliam-Olsen encourages all women to celebrate their right to vote.
The afternoon tea will also see Katie LeNoel owner of Wild West Worcester sauce as well as a large spread of sandwiches, cakes and slices and various raffles.
Celebrations are set to take place on September 15 from 1–4pm at the Lighthouse function centre at Harding Park in Dargaville. Tickets hare on sale for $ 10.00 at the Shoe Box.
For more information contact Pauline Hilliam: 027 270 5760 or email pauline.hilliam@xtra.co.nz
Writing workshop comes to Dargaville
A rare fiction writing workshop is coming to Dargaville thanks to Indie author Michael Botur.
Botur, a Whangarei resident, said he's looking forward to bringing Kaipara writers together – "which doesn't happen often enough".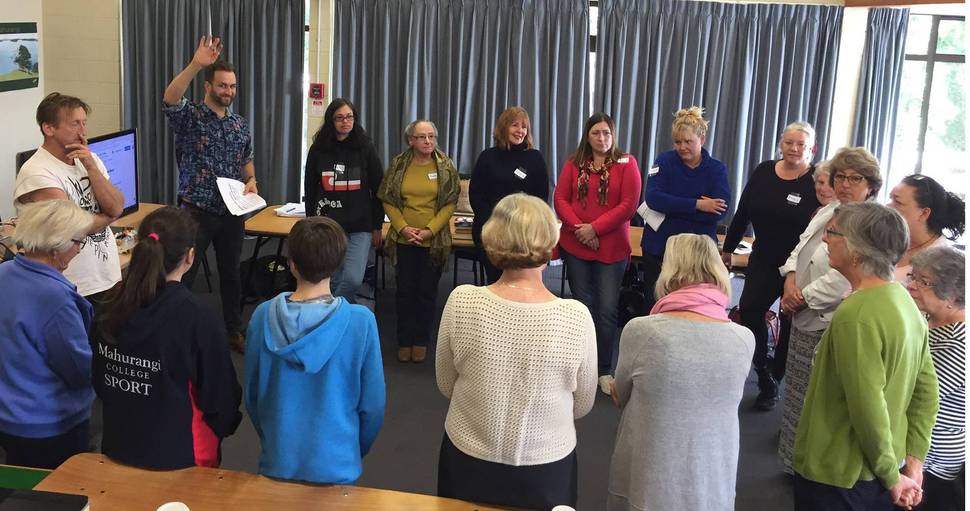 Botur said he follows which Kaipara writers are actively contributing to literature in Northland thanks to his day job writing journalism and providing literary writing services, as well as running the Write Up North website and Facebook page.
"Three of the Kaipara people who are keeping the talent up around Dargaville are Hokianga short story writer Susy Pointon, Jody Reynolds of Dargaville – who is particularly good at managing fans over the internet – and I've been really impressed by Wild Side Publishing emerging from Ruawai.
"I'm hoping at the workshop I can give people who haven't published themselves lots of tools to get their writing read online. The literary industry is depressing and tries to take power away from writers. This workshop is about putting that power back in writer's hands."
The 4-1/2 hour workshop looks at the workflow required to get a story polished on the page so authors can be confident publishing the work in a literary magazine or online.
Also covered in the workshop are voice, character, prose and editing, but Botur said the bigger theme of the day is understanding that words on the page are just the start.
"Reaching an audience these days is about capturing inspiration, checking that the words are good enough to publish, then sharing it with the world online."
"Things move so quickly in the writing world that publication options which made sense 10 years ago may not be relevant any more in 2018. However, the fundamentals of how to get difficult pieces of writing completed remain the same.
"So I'll be offering realistic advice about how to make the most of those hours in front of the computer screen."
Botur is the author of several acclaimed short story collections and a young adult novel, Moneyland, which he said has gained a cult following on the world's largest publishing platform for teenagers, Wattpad – a site which has 65 million unique visitors per month.
Botur said he recently blogged about how writers can have too much dependence on literary "gatekeepers", whereas it is more rewarding to go online and put writing straight in the hands of the audience.
The workshop will include a brief introduction to Medium, Smashwords, Createspace, Wattpad, Bookfunnel, Goodreads and other online self-publishing and Cost is $45 for the day course.
See www.MichaelBoturwriter.com and Eventfinda for more information and updates.