One lane of the new Taipa Bridge on State Highway 10 is expected to open in time for summer.
NZ Transport Agency project manager Chris Hunt said work on the new bridge was progressing well, with piling for a temporary staging platform — from which the new two-lane bridge will be built — 50 per cent complete on the eastern side of the river.
A reinforced concrete abutment had been built on the east side and preparations were under way for the first of three pier headstocks.
On the western, township side of the river, earthworks for a platform extending into the river were nearing completion.
Construction would continue through winter and into next summer with one lane and the footpath open in time for the 2018-19 summer holidays, Hunt said.
The other lane would be used by contractors dismantling the existing bridge. Both lanes of the new bridge were expected to open by late 2019.
From Monday work would begin on laying a new stormwater main through the Taipa shops carpark, including close to the Z service station. That means the closure of some car parks for up to six weeks. Access from Oruru Rd and the west side of Z Taipa would stay open but be subject to traffic management.
Delays on Oruru Rd were possible while equipment was delivered to the bridge-building site, Hunt added.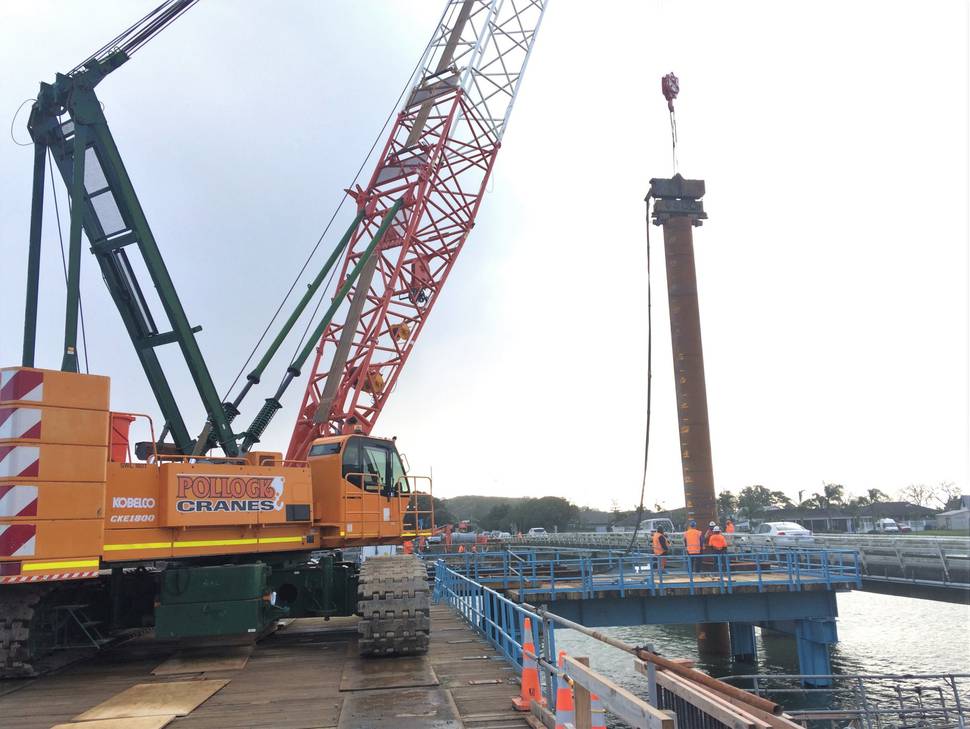 The new bridge was one of 10 originally pledged by the National Government during the 2015 Northland byelection campaign.
NZTA did not respond to questions about the cost of the bridge. The projected cost of all 10 bridges was about $69 million when announced three years ago.
The one-way Whangaroa Bridge, on SH10 just north of Kaeo, was another of the key bridges on the list.
Hunt said NZTA was looking at new options for the Whangaroa Bridge with a tighter alignment and lower bridge to help address flooding issues. The agency would know more when modelling and a detailed business case for the new design were completed later this year.
The Advocate understands securing agreement from landowners has been one of the challenges facing the Whangaroa Bridge project.